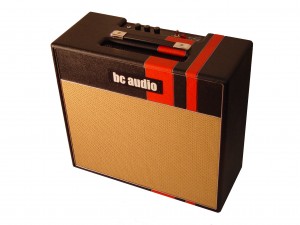 BC Audio has introduced 1×12 combo versions of its tube guitar amps, including the No. 7 and "hot-rod plexi" No. 8. Amplifier No. 7 is a 15 or 25 watt non-master volume amp featuring Bright and Normal channels and Presence, utilizing 6V6 or 5881 output tubes, a 5Y3 or GZ34 tube rectifier and 6SL7 octal preamp tubes. Amplifier No. 8 is a 25-watt high-gain amp with a unique Drive circuit, Volume and Presence, anda pair of 5881s, a GZ34 tube rectifier, and 6SL7 octal preamp tubes. Both are also available in US Army surplus .50 caliber ammo cans and as traditional heads.
BC Audio's cabinets are built with finger-jointed birch
plywood and have a look inspired by motorsports. In addition to the
standard black tolex with red racing stripes, other color schemes are
available and speaker options include Celestion Greenback, G12H30, and Vintage 30. Learn more at bcaudio.com.