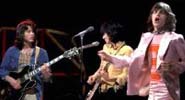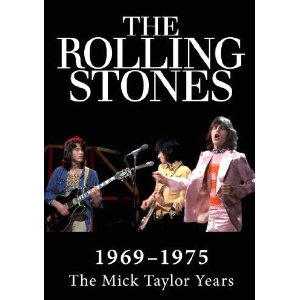 Despite the title, the focus of this "unauthorized" Stones documentary is not directly on Mick Taylor nor his guitar playing, but a general analysis of the band's heyday. That said, there's a lot to learn from The Mick Taylor Years, especially about the political and cultural environment of the day and the role of Taylor's virtuoso blues guitar.
Most importantly, you'll hear about the Stones' critical move from psychedelia and '60s Brit-pop, and toward American country and R&B. This aggregate of events and inf luences – coupled with liberal amounts of hard drugs – created a string of albums and tours that not only redefined the band's career, but also rock and roll as a whole.
Adding perspective are interviews with Taylor's former boss, John Mayall, Village Voice music editor Robert Christgau, and Stones session musicians like steel-guitarist Al Perkins and bassist Bill Plummer. There are also archival interviews with Taylor and passable live footage featuring Taylor and Keith Richards jamming on their beloved Gibson axes (look for SGs, ES-335s, and Les Pauls aplenty).
The Mick Taylor Years succeeds in showing how Taylor raised the guitar standard of the Stones, as well as how Richards rose to the occasion, matching the younger musician's brilliant playing with his own stellar performances, such as on "Brown Sugar" and "Happy." Taylor made his own mark on guitar epics like "Sway," "Moonlight Mile," and especially "Time Waits for No One," one of the most elegant guitar solos of the '70s. You'll also witness the tension between Jagger's controlling persona and Richards' drug-addled muse, how they clashed, and yet ultimately served the music.
The DVD also attempts to answer the question "Why did Taylor leave?" Certainly, a lack of deserved writing credits seemed to have bred a resentment from the guitarist, along with the fact drugs were simply tearing the band apart.
Ultimately, this film will make you reevaluate your opinion of the Rolling Stones and their early-'70s peak. You'll wonder if Exile on Main Street is the classic everyone makes it out to be, or did the Stones actually hit the mark earlier on Let It Bleed and Sticky Fingers? Was Taylor as good, or even better, a guitarist than Brit blues icons like Clapton and Greenie? And how much were the mediocrity of the post-Exile albums related to Richards' destructive lifestyle? This intriguing documentary will make you ask those questions, and more.
---
This article originally appeared in VG's Nov. '11 issue. All copyrights are by the author and Vintage Guitar magazine. Unauthorized replication or use is strictly prohibited.
---