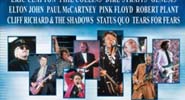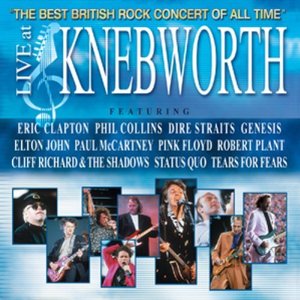 Dubbed "The Best British Rock Concert of All Time," the June, 1990, event featured most of the superstar U.K. acts of the day – Genesis, Pink Floyd, Eric Clapton, Phil Collins, Dire Straits, Tears for Fears, Elton John and Robert Plant… even ol' Paul McCartney showed up. Depending on your views of '80s rock, it was either an endless dance party or proof Hell had frozen over.
From the simple guitar arpeggio that kicks off Tears for Fears' "Everybody Wants to Rule the World," the party begins and this is one damn catchy tune. Next is Status Quo, the popular hard-rock band that never made it in America. This performance won't change that, despite a spirited cover of CCR's "Rockin' All Over the World." Cliff Richard & the Shadows turn in a good performance, but the accent is on Richard's voice more than on Hank Marvin's mighty red Strat. Robert Plant, then at the peak of his early solo career, puts on a rocking set featuring the underrated guitar ace Doug Boyle on "Hurting Kind" and "Tall Cool One." Zep fans will enjoy the feisty reading of "Wearing and Tearing," with Jimmy Page putting the moves on a red Les Paul Standard.
England's biggest act of the time, Genesis gets a full 20 minutes to strut their stuff, from the sledgehammer beats of "Mama" (featuring some spacey lead licks from Mike Rutherford) to a Motown medley highlighting Phil Collins.
Disc 2 gets to the heart of the matter with Clapton, in the midst of a career resurrection, offering a bombastic reading of "Sunshine of Your Love," marred only by an inexplicably long drum solo. Mark Knopfler takes the high road with Dire Straights, guiding the band through a cool, funky version of "Think I Love You Too Much" with a few tasty solos. Clapton guests and fares better than on his own solo tune.
The finale is Pink Floyd, playing The Wall classics "Comfortably Numb" and "Run Like Hell," both sporting iconic David Gilmour solos and riffs. Ultimately, Knebworth feels more like a grand finale for '80s British rock than anything fresh – many of these bands had a few good years left, but their best days were clearly behind them. And, in hindsight, maybe that was a good thing.
---
This article originally appeared in VG's Aug. '10 issue.  All copyrights are by the author and Vintage Guitar magazine.  Unauthorized replication or use is strictly prohibited.
---