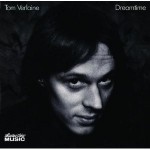 In some circles, Tom Verlaine is a legendary musician. As a member of Television in the late '70s, he and Richard Lloyd cut a swath of influence far and wide. Collector's Choice is now releasing his two solo records that followed the breakup of that band. While 1982's Words From the Front is a strong album, 1981's Dreamtime features some of Verlaine's best songs and playing.
Chock full of great players from bands like Television, the Patti Smith Group, the Pretenders, the Dictators, and the Church, the album is nonetheless more about Verlaine's guitars. He always puts the right note in the right place. If you're more into fabulous chops, this might not be for you. But if you like nuance, taste, and players who know what a song needs, Verlaine is your guy.
Still, don't doubt the chops. "The Blue Rube" is a guitar masterpiece with playing as nervous as a steer in a slaughterhouse. And Verlaine's vocals share the mood – think David Byrne, but quirkier. It's not for everyone, but it's rewarding once you delve in. While Verlaine never had the big "hit record," Dreamtime shows how far and wide his influence was felt.
---
This article originally appeared in VG's Dec. '08 issue.  All copyrights are by the author and Vintage Guitar magazine.  Unauthorized replication or use is strictly prohibited.
---