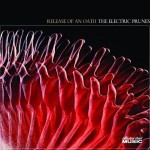 The '60s produced some mighty weird bands, perhaps none odder than the Electric Prunes. The group is primarily known for its 1967 hit "I Had Too Much to Dream (Last Night)" and the album Mass in F Minor, a Catholic mass sung entirely in Latin. 1968's Release of an Oath was the band's forth release, though you couldn't really call them a "band" by this time, since the original members were gone and the venture was being run by manager Larry Poncher, producer David Hassinger, and songwriter David Axelrod. For this album and its followup, new musicians were drafted from L.A. and Colorado (among those floating through the band at the time were future notables like Kenny Loggins and bassist Randy Meisner of Poco and Eagles fame).
Like Mass in F Minor, Axelrod composed all music for Oath, again using a religious theme. The "gimmick" this time was to record a concept album based on a sacred Jewish prayer. The music itself is essentially period '60s rock with lots of strings and vocals. The most interesting bit for musicians, however, is that top L.A. session musicians appeared on the album, such as bassist Carol Kaye, keyboardist Don Randi and jazz-guitarist Howard Roberts. The latter delivers a wild, fuzzed-out lead on "Holy Are You" – all the more intriguing since it's a purely rock lead, bearing none of the jazz stylings Roberts is famous for.
Ultimately, Release of an Oath is for the true connoisseur of psychedelia – all the more so since the entire CD runs a paltry 25 minutes (clearly, it could have been combined on a single disc with another fresh Prunes reissue, 1969's Just Good Old Rock and Roll). Still, one can't help but wonder what influence both Mass in F Minor and Oath may have had on the oncoming waves of Woodstock-era Christian rock, such as "Jesus Christ Superstar," "Godspell," or even Norman Greenbaum's 1969 hit "Spirit in the Sky." Perhaps this early attempt to fuse rock and religion – as weird as they were – is the true legacy of the Electric Prunes.
---
This article originally appeared in VG's Aug '07 issue. All copyrights are by the author and Vintage Guitar magazine. Unauthorized replication or use is strictly prohibited.
---