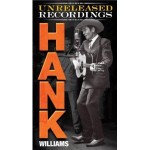 For Hank Williams Sr. collectors who have all his studio material, the Holy Grail has been recordings of his live early morning radio shows, 15 minutes long, broadcast daily over Nashville's WSM in 1951 and sponsored by Mother's Best Flour. The station recorded some of these shows to run if Hank and his band, the Drifting Cowboys, were on tour. After years of legal wrangling over ownership of these transcribed disc recordings, the courts awarded rights to his two children, Hank Williams Jr. and his half-sister, Jett Williams.
This meticulously produced 54 song, three-CD collection features intense renditions of Hank's classics like "Hey, Good Lookin'," "I Can't Help It If I'm Still In Love With You" (not yet released by his label), "I'm So Lonesome I Could Cry," "California Zephyr" (a tune he never commercially recorded) and "Mind Your Own Business." He also sang others' hits, among them a dignified rendition of the Sons of the Pioneers' "Cool Water" and edgy interpretations of Moon Mullican's 1950 hit "Cherokee Boogie" and Ernest Tubb's "Seamen's Blues." Anyone recalling "On Top of Old Smoky" as a sweet folk tune sung mainly by kids will be amazed to hear Hank's eerie old-school rendition, sung as he learned it in Alabama. That said, nearly half the songs here are raw country gospel, traditional hymns, sacred songs associated with other country acts like the Bailes Brothers as well as a few Hank religious originals, which means aside from more upbeat country and religious tunes, there's a fair amount of slow, somber material.
The Cowboys' bare-bones presence frames Hank's vocals and simple but effective rhythm guitar. Along with Jerry Rivers' fiddle, Don Helms' Gibson Console Grande steel and electric guitarist Sammy Pruett, who favored Gibson's or Epiphone, dominate the background. The high-pitched chords Helms played remain the instrumental trademark of Hank's music. As for Pruett, a gifted guitarist, deferring to Hank's insistence that Cowboys play simply behind his vocals, the guitarist stuck to dead-string rhythm and brief solos. His true skills emerged on the Cowboys' instrumental showcases.
Judging from the animated patter between songs between Hank, the band and WSM announcer Louie Buck, it's obvious Hank Williams the man – not the legend – was far more amiable than believed by those who view him through the pretentious stereotype of the "tragic troubadour heading down the Lost Highway." The music here is timeless, yet these live performances reflect Hank's spirit and passion, not to mention the elemental excellence of the Drifting Cowboys.
---
This article originally appeared in VG's Mar. '09 issue.  All copyrights are by the author and Vintage Guitar magazine.  Unauthorized replication or use is strictly prohibited.
---