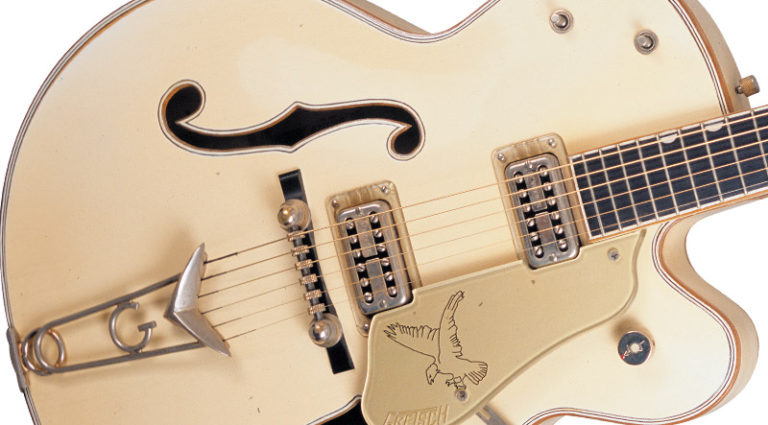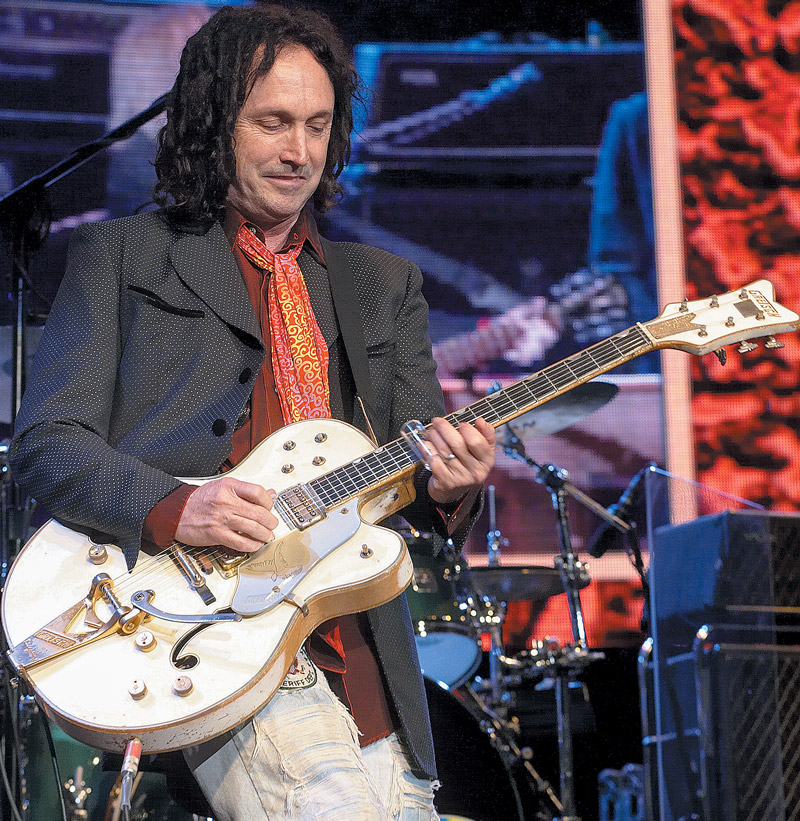 Mike Campbell: Rick Gould.

When it came to fancy electric guitars in the early/mid 1950s, Gibson's Super 400 was ensconced as the undisputed King of the Hill.
Through the years, though, other companies did pose occasional challenges. One prime example is the Gretsch Model 6136 White Falcon. One of the most renowned axes in guitardom, the 6136 was conceived in 1954 by Gretsch sales/demo man Jimmie Webster primarily as a promotional item complete with every bell, whistle, and accessory Gretsch offered at the time.
A player of considerable ability and one of the first to employ two-handed tapping (which he taught in his 1952 book The Touch System for Electric and Amplified Spanish Guitar), Webster hired on at Gretsch after World War II. Part of his duties involved playing company instruments at trade shows and other presentations. And when it came time to truly demonstrate the full capabilities of Gretsch's craftsmen, Webster went all-out, reportedly roaming the factory in a search for ideas about how to dress up a guitar; from the plant's drum division, he grabbed gold-sparkle plastic laminate, and from the banjo side, rhinestones and other ornamental concepts. He then sat with designers and hammered out the basics, giving the guitar a hollow body measuring a substantial 17″ across its lower bouts and 2 7/8″ deep. Combined with the sensitivity of its DeArmond Dynasonic pickups, the resonance of the large body with it spruce top (a spec that may or may not have made it into production) aided his touch-style playing technique.
Webster debuted the White Falcon at the NAMM show in July of '54, replete with gleaming white paint, triple binding (black/white/gold-sparkle) on its body, neck, headstock, and f-holes, 24-karat gold-plated hardware, and an ebony fretboard with real mother-of-pearl block inlays. The array of special touches continued with its unique headstock shape and "Cadillac G" tailpiece, so named because the V-shaped piece that held its strings was reminiscent of a Cadillac logo. Its mechanical elements were also top-shelf, from the Grover Imperial tuners to its Melita bridge.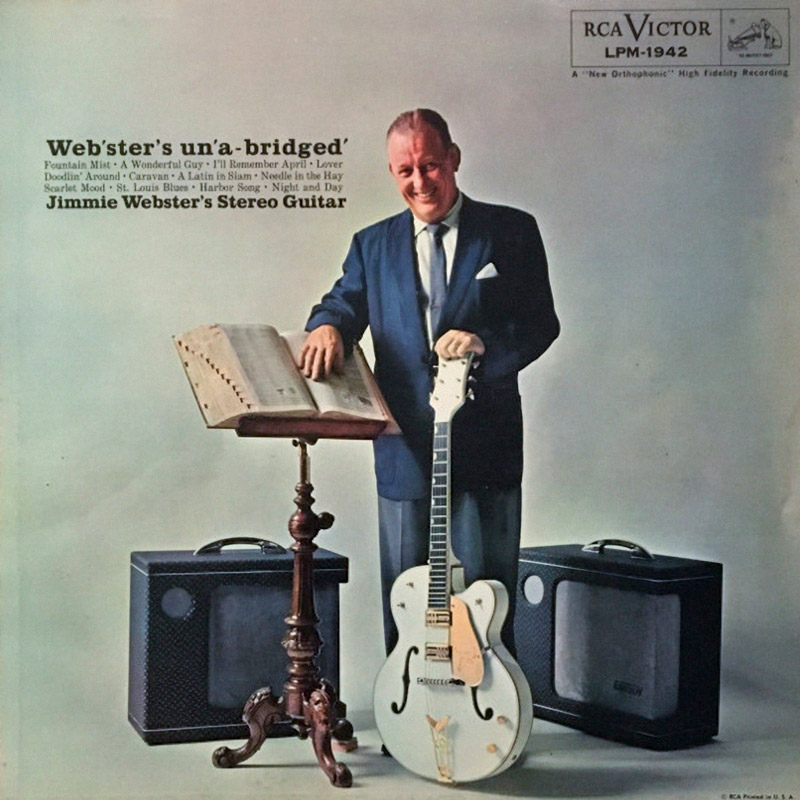 The combination was intended to dazzle, and was very much a case of "mission accomplished." Though never intended for production, response to Webster's appearance was so overwhelming that the guitar was fast-tracked and began shipping to dealers the next year.
Gretsch's premier offering, the White Falcon sold new for $599 and continuously played host to innovations through the years, including stereo outputs and other trick circuits and hardware. Today, it is among the truly prized collectibles.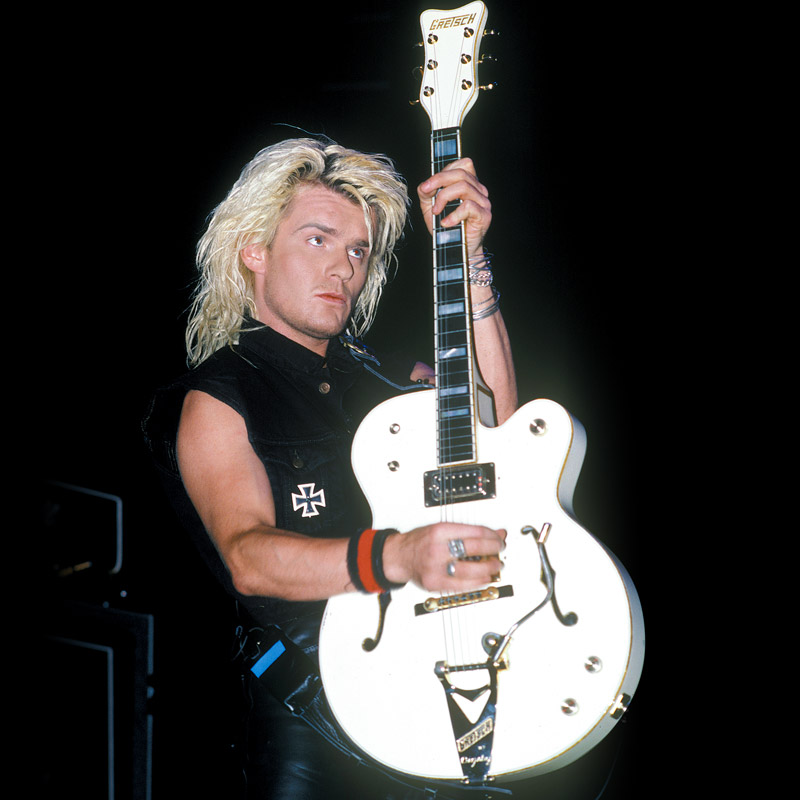 Played By:
Jimmie Webster
John Frusciante
Richard Fortus (Guns N' Roses)
Mary Osborne
Joe Perry
Keith Scott (Bryan Adams)
Billy Duffy
Further Facts:
Originally equipped with DeArmond Dynasonic single-coil pickups.
Neck made of three-piece laminate maple.
All metal parts were plated in 24-karat gold.
A stereo version (model 6137) included Project-O-Sonic wiring and pickups with three pole magnets and one bar magnet.
In '59, Gretsch added its Action-Flo nut, a.k.a. the zero fret.
Body transitioned to 2" deep in 1960.
Bigsby vibrato tailpiece became standard in '62.
Details:
Tubular "Cadillac G" tail strung through V-shaped piece.
Original Melita bridge replaced with Space Control roller bridge in '58.
These two knobs controlled volume for each pickup.
F-holes triple-bound in the black/white/gold-sparkle.
Pickguard is gold with clear acrylic and engraved falcon and logo.
Master Volume knob on upper treble bout.
Beginning in 1958, pickups switched to Gretsch Filter'Tron humbuckers.
Body measured 17" wide and likely started out 27/8" deep before becoming progressively thinner with the rest of the Gretsch line.
In '58, the master Tone control became a switch on the upper treble bout, residing next to the pickup selector.
Neck joins body at the 14th fret.
Fretboard is Gaboon ebony with pearl inlay and gold sparkle-white/black/white bindings, with 22 frets, and 251/2" scale.
In 1957, mother-of-pearl "humptop block" fretboard inlays with bird engravings were r eplaced with Gretsch's "Neo-Classic" half-moon inlays.
Truss-rod cover is cut from same gold-sparkle plastic used for the binding and headstock-logo inlay.
The headstock shape is unique to the model, and until '58 had a white overlay of Nitron plastic drum material.
Grover Imperial tuners.
Vertical "winged" headstock logo replaced with horizontal "T-roof" logo in '58.
---
Special thanks to George Gruhn and Walter Carter.
---
This article originally appeared in VG's October 2009 issue. All copyrights are by the author and Vintage Guitar magazine. Unauthorized replication or use is strictly prohibited.
---
---