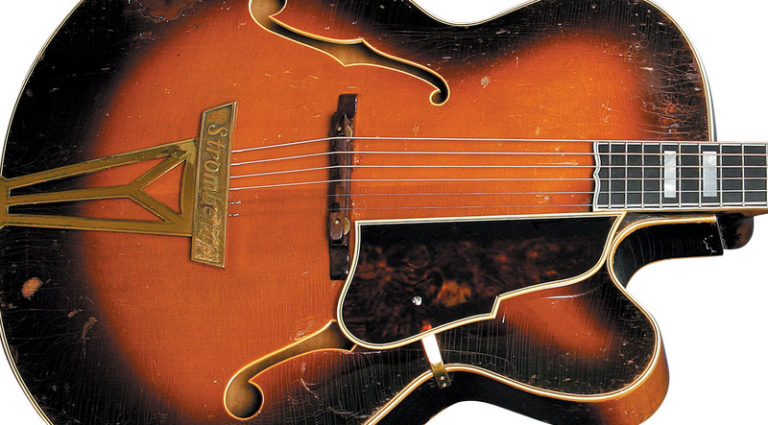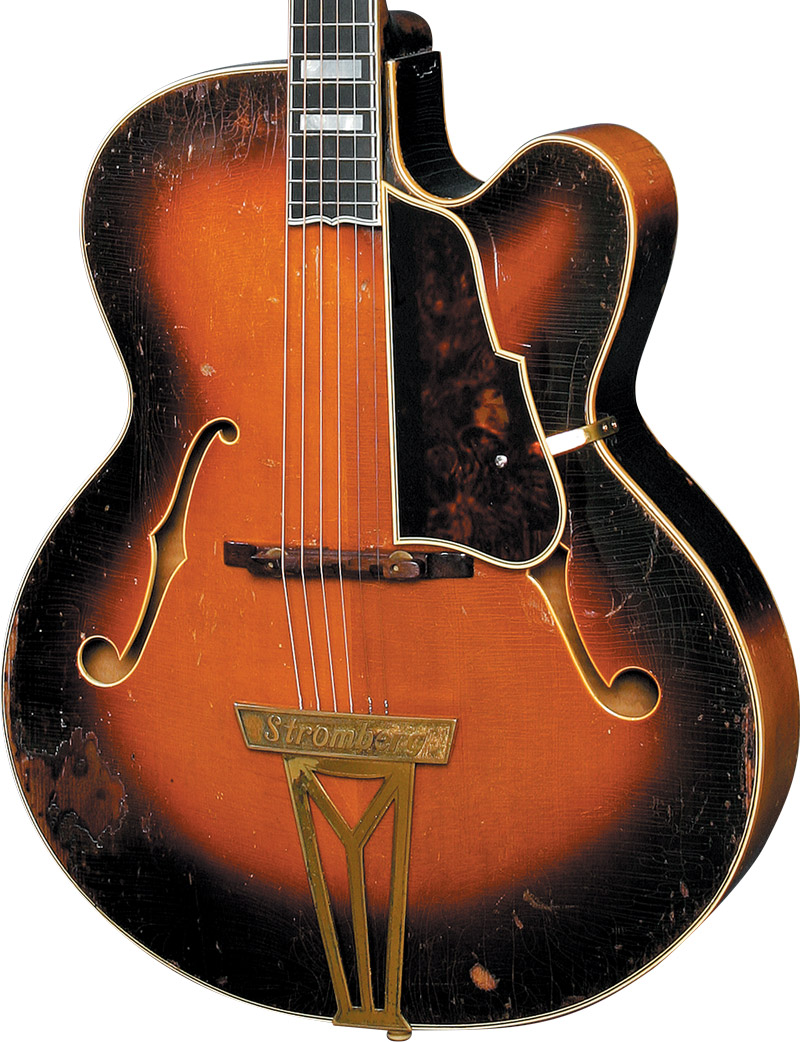 In the world of archtop guitars, the Stromberg name represents the ultimate instrument – in size, at least – in the big-band era of the late 1930s and '40s. The huge 19″ Master 400 and Master 300 models are worthy of their flagship status as the best-known and most revered Strombergs. However, this smaller, short-scale G-5 cutaway from the '50s may be equally important, not only in the context of Stromberg history, but in the overall history of the guitar.
No major manufacturer offered a short-scale archtop guitar when this one was made, but the Stromberg family shop in Boston was open to new ideas. In fact, they'd been changing and adapting the focus of their instrument-making, weathering shifts in American musical tastes for almost 50 years.
Charles Stromberg, a native of Sweden, established the shop in 1906 and quickly built a reputation as a top-level maker and repairman for a variety of instruments. He made banjos, mandolins, guitars and drums, and he was also a highly skilled engraver and a nationally known harp repairman.
Charles' oldest son, Harry, worked in the shop until 1927. His younger son, Elmer, began in 1910. Though Elmer would remain in the family business for the rest of his life (except for a stint in France during World War I), virtually all instrument labels or business cards said "Charles A. Stromberg and Son."
Through the '20s, East Coast tenor-banjo players knew the Stromberg shop as the place to go for a fine custom-made instrument. As the guitar began to supplant the banjo in popular music in the late '20s, the Strombergs continued to cater to the preferences of musicians, and as early as 1927 they began taking orders for carved-top guitars, which were built primarily by Elmer. Based on Strombergs that survive today, serial numbering on guitars started at 300.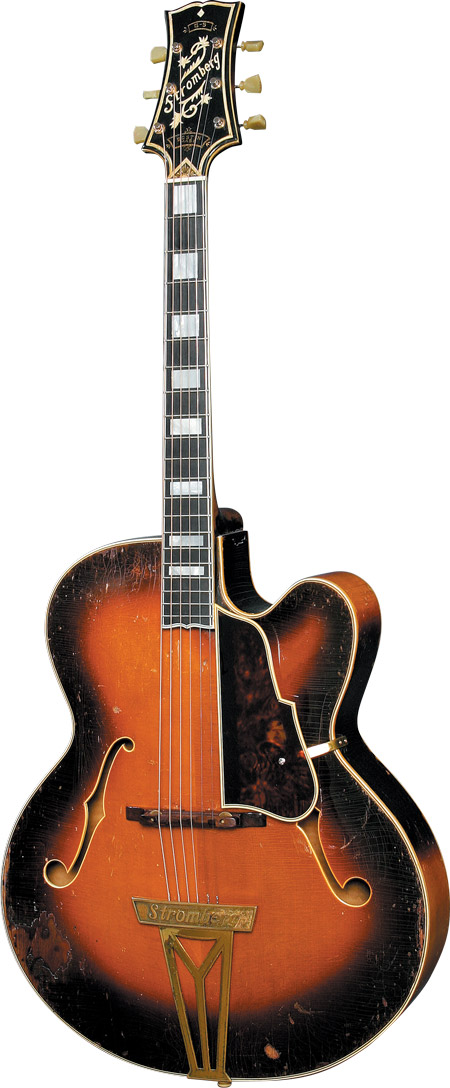 Early Stromberg archtops, like those of Gibson and Epiphone from the same period, were a far cry from the behemoths that would provide the rhythm for the swing bands of the '30s. They were only 16″ wide, and the back and sides and tops were of laminated wood. The tops, too, were laminated, and he earliest had segmented f-holes.
Following the examples of Gibson and Epiphone, who widened the body width on existing models in the mid 1930s and created even larger new models measuring 18″ and 183/8 " (the Super 400 and Emperor, respectively), Stromberg widened his original G-series and Deluxe models to match the Epiphone Deluxe at 173/8″. Then in 1937 or 1938, Stromberg topped all other archtop makers with the 19″ Master 400 and the less-ornamented but no-less-wide Master 300. With these guitars, Stromberg introduced a new bracing design – a single diagonal bar that distinguished his guitars from the double "tone bar" or X-pattern bracing that virtually all other archtop makers used. These guitars pushed acoustic guitar volume – not to mention the size of the guitar – to its practical limit, as demonstrated most famously by Freddie Green's rhythm guitar work with the Count Basie band.
By 1952, Elmer had come up with a new model designed to increase sales. It was a 17″ cutaway that was essentially a Deluxe but with less binding and a shorter, 231/2″ scale. Priced at $315, it was about 25 percent less than the cutaway Deluxe, which sold for $404. Consequently, the G-5 became one of Stromberg's most popular models. Of course, "popular" is a relative term when it comes to a shop that only produced about 340 guitars in a little over 25 years. Total production of the G-5 is estimated at no more than a dozen, all of which are cutaways and probably all short-scale.
Barry Galbraith, who was influential in the careers of such jazz greats as Tal Farlow, Sal Salvador, Jimmy Raney and Joe Puma, was the most prominent guitarist to buy the G-5, and he owned two. Jazz player Tony Rizzi got one, and actor/singer John Payne, best known for his role as the attorney who defended Santa Claus in the 1947 film Miracle on 34th Street, also bought a G-5.
One who ordered a G-5 failed to come through with his payment when the instrument was finished, so Stromberg put the guitar up for sale in his shop. A local guitarist named Murray Nichols bought it. Bearing serial number 620, Nichols owned it until 2008.
Through the years, its nitrocellulose headstock overlay began to deteriorate. A replica overlay was made by Pete Kyvelos, of Unique Strings. Known in the world of Greek instrument as "the Stradivarius of oud makers," Kyvelos used a non-disintegrating material and followed Stromberg's tedious process of hand-engraving and using a camel brush to hand-paint the logo.
Stromberg's reputation as a maker of short-scale jazz guitars spread quickly, thanks in part to Barry Galbraith. On his recommendation, Nashville jazz player and session guitarist Hank Garland ordered a cutaway Deluxe model with the short scale. Garland's guitar was numbered 626, just six guitars later than the featured instrument. It may or may not have been Garland's first short-scale guitar, but he obviously liked it enough to include the short-scale specification on his Byrdland signature model (named for him and his fellow Nashville guitarist Billy Byrd) Gibson introduced in 1955.
Stromberg made only 17 more guitars after this G-5. The elder Stromberg died in '55 at age 89. Elmer, who was 60 at the time, died by the end of the year, leaving one G-5 cutaway unfinished. Hank Garland gained greater fame for himself and more exposure for short-scale guitars through the '50s, but an auto wreck in 1961 ended his career.
Though Stromberg's short-scale cutaway G-5 was arguably as important and as influential as the Master 400, its moment in the sun was just that – a moment – while the Master 400 endured and eventually emerged as the standard bearer of the Stromberg reputation.
---
Special thanks to Jim Speros.
---
This article originally appeared in VG's October 2009 issue. All copyrights are by the author and Vintage Guitar magazine. Unauthorized replication or use is strictly prohibited.
---