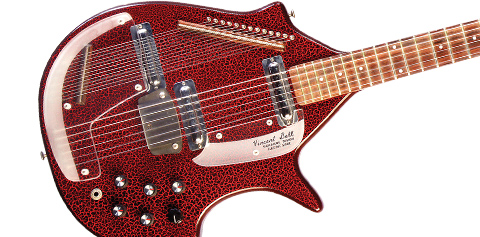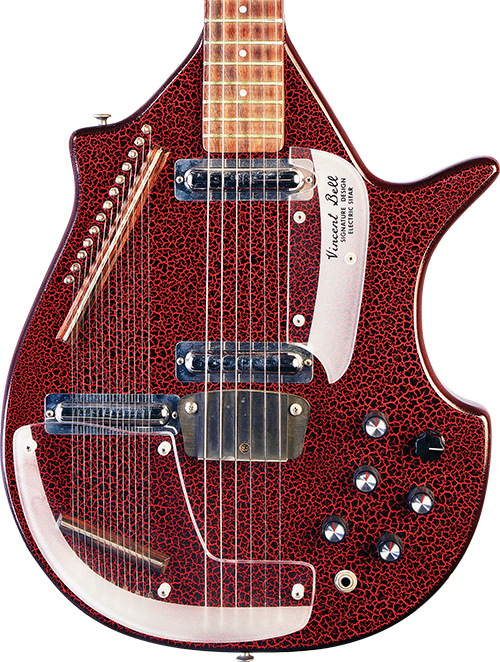 For centuries, Indian musicians have utilized the resonant sympathetic strings of the sitar to create the unique sounds of classical Indian music. Traditional sitar design combines a body fashioned from a large gourd with a long, hollow neck made of teak or tun wood and two bridges made of bone, horn, or ebony at the base of the body.
Typically built with 18, 19, or 20 strings, six or seven primary playable strings run across raised, adjustable frets into one bridge with the remaining drone strings fed through small holes in the fretboard and onto the second bridge in order to pick up sympathetic vibrations from the playable strings.
In the 1950s and '60s, Indian musician Ravi Shankar brought the sitar to a wider audience when he toured the world performing his own compositions and Indian classical music. The sitar then found its way onto popular recordings of the '60s after The Beatles' George Harrison embraced the instrument and studied under Shankar and Shambhu Das. It can be heard on several Beatles songs, and on the Rolling Stones' 1966 hit "Paint It Black."  
The popularity of the Indian sitar led to an inventive American instrument – the electric sitar.
Amplifier designer/builder Nat Daniel founded the Danelectro company in 1947 with the intention of producing well-made budget instruments and amplifiers. In addition, the company supplied instruments to Sears Roebuck under the brand name Silvertone, as well as Airline-branded instruments to Montgomery Ward. In '54, the company began producing electric guitars, and in subsequent years patented a number of innovative instrument and amplifier components.
Daniel found a friend and creative ally in prolific New York session player Vincent "Vinnie" Bell, who designed several electric guitar models for Danelectro, including the electric sitar under its own Coral brand – a slightly higher-priced budget line that included additional Vincent Bell signature models along with several other solid and hollowbody electric guitars and basses. 
For decades, Bell saw high demand for his talent creating guitar sounds and effects; his work was heard on recordings by an extensive list of pop performers (including Bob Dylan and Frank Sinatra) in numerous genres, and featured on commercial jingles, theme songs, movie scores including Airport, Barbarella, and mentor Angelo Badalamenti's soundtrack for the cult television hit "Twin Peaks."
Growing weary of the complications of recording and transporting an Indian sitar, Bell was inspired to create an electric instrument with a similar sound that was not only portable and easy to record, but designed to be played in standard tuning, so it could be picked up and played by any guitarist. The first prototypes were created and hand-built by Bell.
The production version had six strings, along with a set of 13 drone strings on the bass side of the body, which, according to the owner's manual "respond to the vibrations of the main strings transmitted through the sitar body." The one shown here has the teardrop shape with treble horn, six strings with "Sitarmatic" bridge and six-on-a-side Kluson Deluxe tuners, 13 drone strings with two rosewood bridges with metal saddles and metal friction pegs designed to be tuned with a harp-style wrench, three "lipstick tube" pickups (two for the played strings, one for the drones), three Volume knobs, three Tone knobs, floating pickguard with the Bell Signature Design logo, a finish dubbed "Textured Bombay Red," rosewood fingerboard with dot inlays, and a Patent Pending sticker affixed to the back of the headstock.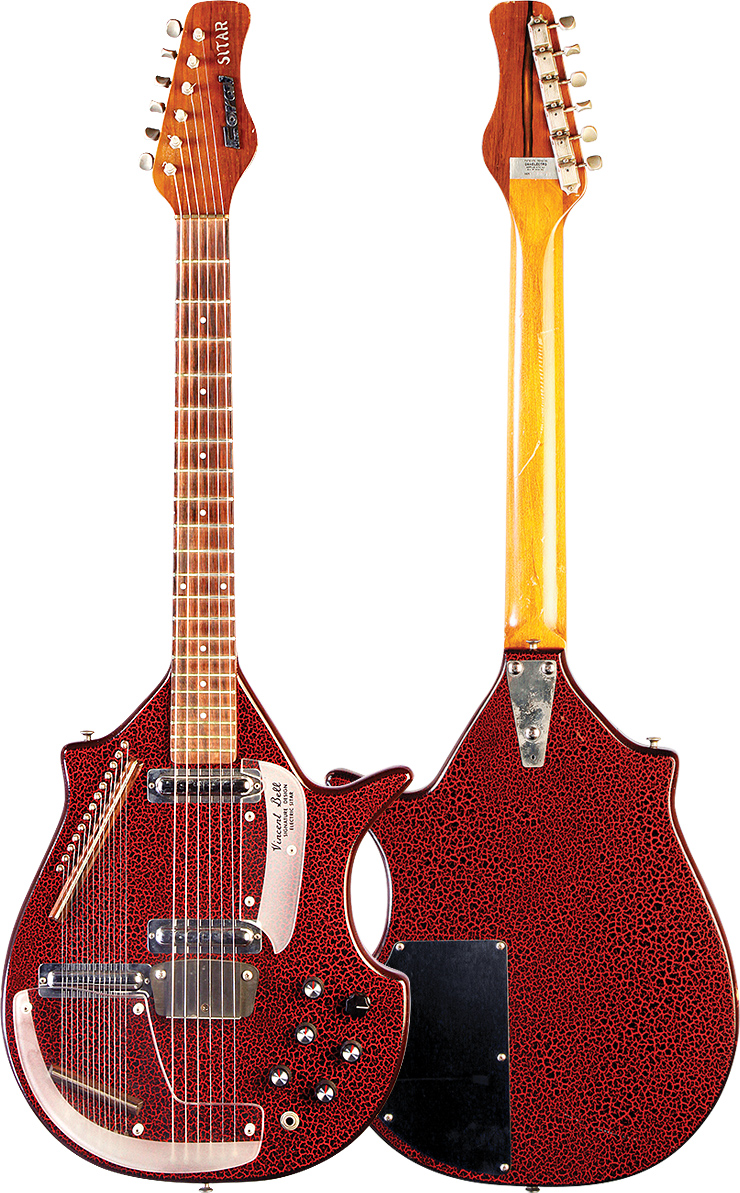 The Coral electric sitar was marketed as an easy and affordable way for guitar players to get a great new sound reminiscent of the difficult to master Indian sitar sound popularized by Ravi Shankar, George Harrison, and others in the '60s. 
Though Bell was not well-known outside the recording industry, Danelectro capitalized on his history and reputation as a musician's musician; further promotion included Bell's cover album, Pop Goes the Electric Sitar, one of his few solo recordings. Press releases and promotional materials from Decca Records and Danelectro (both by then owned by MCA) often described the Indian sitar as a revolutionary instrument for "raga rock" and as "…the 'in' sound for today's popular music."
In an interview conducted in the '80s, Daniel said Danelectro built one left-handed instrument during its 20-plus years of production – a lefty Coral electric sitar for Jimi Hendrix.
Though rare, the Coral Sitar and later reissues by other brands such as Jerry Jones have been played in the studio and onstage by artists as varied as Buddy Guy, Yes, Rory Gallagher, The Clash, and Pat Metheny. Its unique sound has also figured prominently in popular songs during each decade; in the late 1970s, Eddie Van Halen used one for his solo on "Ain't Talkin' 'Bout Love" from Van Halen's debut album. The Eurythmics' Dave Stewart played in the 1985 video for "Don't Come Around Here No More" by Tom Petty and the Heartbreakers. In 1991, Metallica used it for the intro to "Wherever I May Roam" and in recent years, MGMT guitarist Andrew VanWyngarden used one on Congratulations. Musicians seeking interesting sounds will likely always find ways to spotlight the creative innovation of Vincent Bell.
---
This article originally appeared in VG June 2015 issue. All copyrights are by the author and Vintage Guitar magazine. Unauthorized replication or use is strictly prohibited.
---