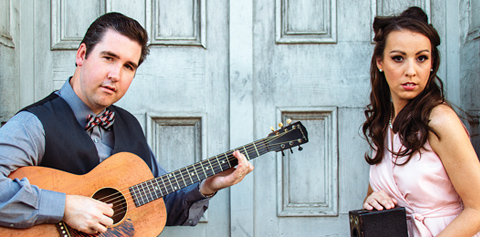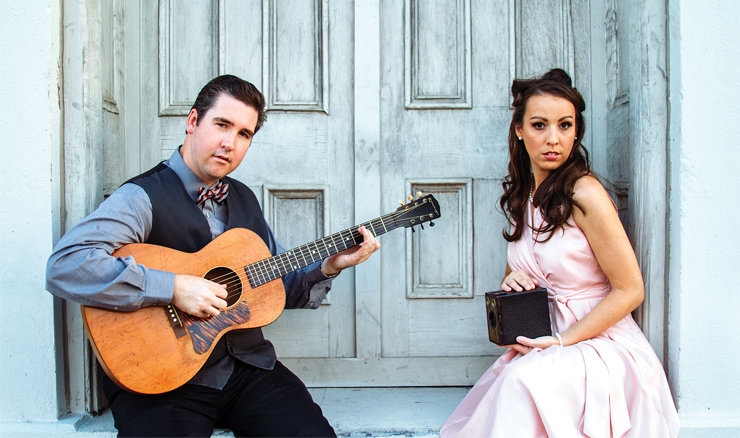 The husband-and-wife duo Darin and Brooke Aldridge are one of the hottest acts on the traditional bluegrass/Americana scene. The couple's sixth release, Snapshots, is a musical scrapbook of contemporary bluegrass, traditional country and gospel tunes marked by spirited picking. We recently spoke to Darin about the album.
What instruments did you use on Snapshots?
A 1937 D-18 Martin for the guitar tracks. For "Wait Till the Clouds Roll By," I used it and a '48 00-18. For mandolin tracks, I used a Gibson F-5V Fern. In the studio, our band recorded with a '60s Kay upright bass, a Huber banjo, and a Meredith resonator. And, I used my Kalamazoo KG-14, which belonged to my grandfather, in pictures for the album; we were shooting for a vintage/retro look to fit the theme.
How did you decide on songs?
We wanted to capture bits and pieces of our past and influences. Snapshots includes songs from bands we've always admired or been a part of, songs we've either written or always loved, songs we grew up hearing, and songs folks have passed along to us that helped them through difficult times. We hope to take folks back to a place and time in their lives.
Your cover of the Everly Brothers' version of  "Let It Be Me" is wonderful, particularly the vocal harmonies. How'd you come to record it?
Who doesn't light up when they hear an Everly Brothers' tune? I remember driving down the road after hearing about Phil Everly's passing in 2014. As the disc jockey was talking about the Everlys' amazing career, Brooke and I looked at each other like we do when we agree on something. The DJ then went on to say "Let It Be Me" had always been a favorite Everly tune of his. We agreed right then we should cut it some time.
The album includes guest appearances by a few well-known veterans. How'd those come about?
We were honored to have some of our biggest musical heroes join us. There's Sam Bush on mandolin and harmony vocals for "Get Up John," a Bill Monroe instrumental that Marty Stuart and Jerry Sullivan wrote lyrics for in the '80s. Bobby Hicks on fiddle for "My Rose of Old Kentucky." He's someone we've always admired, and got to know.
I've always loved the Country Gentlemen tune "Let's," so we wanted to pull in Doyle Lawson. He's the best in bluegrass when it comes to tight harmonies and unique vocal arrangements, so we wanted that third harmony, and Doyle was the only man for the job.
We wanted to add a special touch to "When He Calls," which is an Emmylou Harris song Brooke loves. Ricky Skaggs played with Emmylou at various times so it made sense to bring him back to add that old-time gospel feel. Ricky was amazing.
Where'd you record the album?
At Crossroads in Arden, North Carolina. Our label, Mountain Home Music, is a division of The Crossroads Label Group, and they have a superior studio and a professional staff. We used Van Atkins as head engineer for our last five recordings and he's one of the best. It was recorded mostly live, with a few overdubs.
---
This article originally appeared in VG August 2015 issue. All copyrights are by the author and Vintage Guitar magazine. Unauthorized replication or use is strictly prohibited.
---