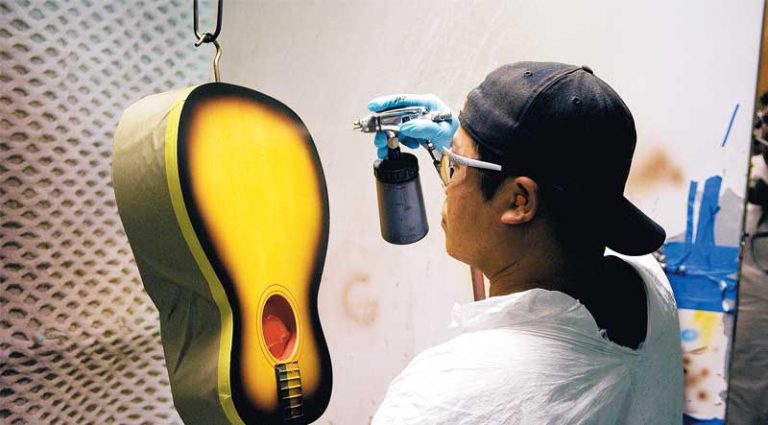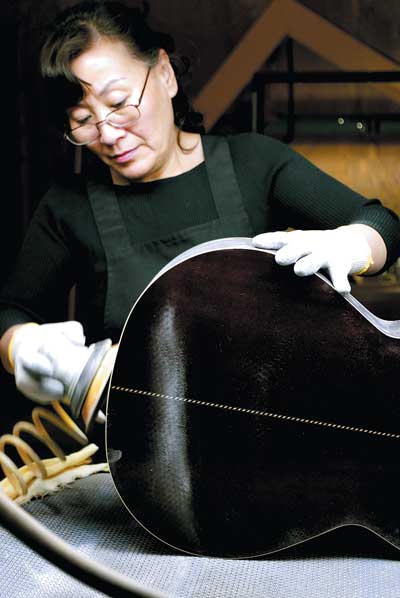 In the 1960s, Guild was the guitar of choice amongst East Coast jazz players. By the late '60s and early '70s, the brand was also extremely popular with the folk crowd; Bonnie Raitt, Richie Havens, Nick Drake, Pat Sky, Jeff Buckley, Dave Van Ronk, Ry Cooder, Paul Simon, Eric Clapton, and even Bob Dylan played Guild flat-tops.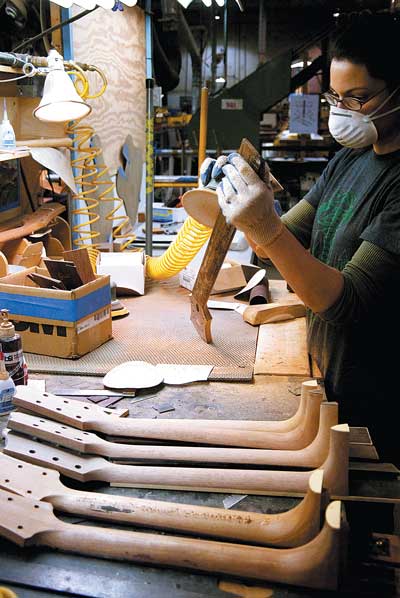 Certainly, Guild had the juice to challenge the big two – Gibson and Martin – as the guitar of choice for a generation of musicians. But instead of becoming the little company who could, in the mid '70s Guild lost its momentum and foundered.
In 1972, Guild's founder and creative center, Alfred Dronge, died in the crash of a light aircraft. Since that time, Guild has had several owners, but until recently, none had a cohesive plan or sense of the company's history. But 1995 saw the beginning of a slow rebuilding process when Fender, Inc. purchased Guild.
The venerable granddaddy of the mass-produced electric guitar moved Guild's manufacturing facilities to Corona, California. Although the Corona factory has decades of experience building electric guitars, the environment was less than ideal for acoustics. But in 2005, Fender acquired the Tacoma Guitar Company and almost immediately relocated all of Guild's manufacturing to Tacoma's plant in coastal Washington. With the move, and now being dedicated exclusively to acoustic guitar production, Guild is poised to regain the momentum of its glory days in the '50s and '60s.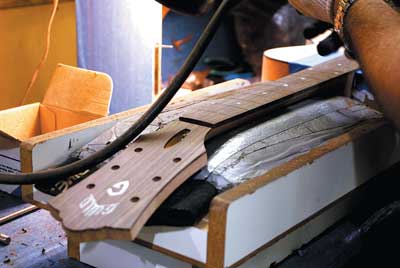 "The whole focus of our efforts at Guild are to return to our roots," says Guild marketing manager Donnie Wade. "All specifications on our current production guitars are as much as possible like the late '50s. Guild flat-tops now have red spruce tops and braces, and although we use CNC machines to do the initial neck carving, all final shaping and finishing is done by hand."
Wade adds that revamping Guild has been very much a team effort.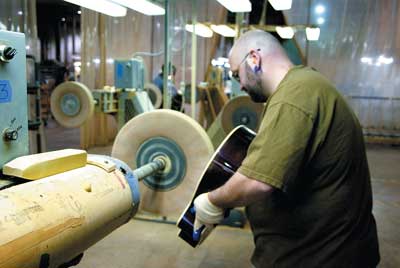 "Without Chris Fleming, a master builder from the Fender Custom Shop, Jason Crow, Guild's new factory manager and production foreman, Rick Anderson, senior vice president of manufacturing, and every Guild builder, our rebuilding process could not have taken place."
Along with a passionate management team, Guild inherited a factory full of experienced factory workers.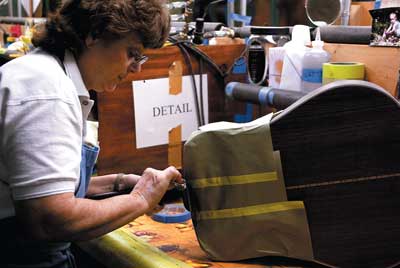 "Everyone in the Tacoma factory has been working with acoustic instruments for years, so they understand what it takes to make a high-quality instrument," noted production manager Nick Ellingsworth.
The Factory
A guitar factory is a place where wood comes in one end and guitars come out the other.
The Tacoma facility has an advantage over most American guitar factories because the city of Tacoma's average relative humidity level of between 45 percent and 55 percent is perfect for working with wood. Tools in the factory range from state-of the-art CNC machines through old side-bending jigs first employed at Guild's Rhode Island factory. At every stage of production, factory personnel focus on making each part and every process as perfect as possible.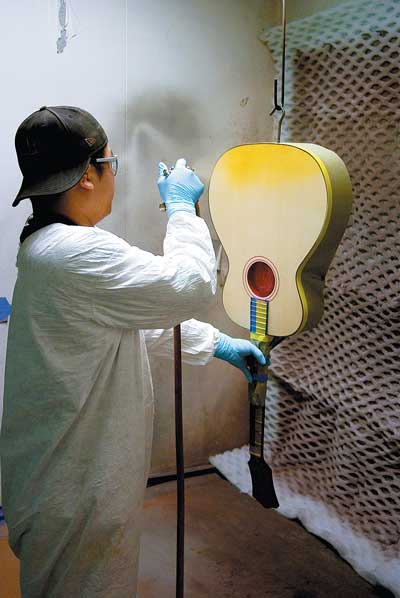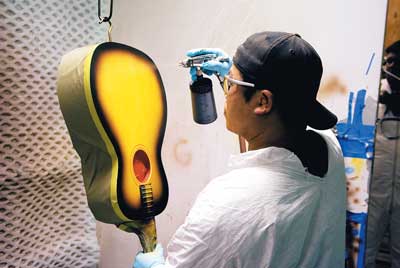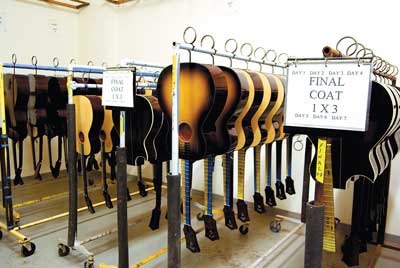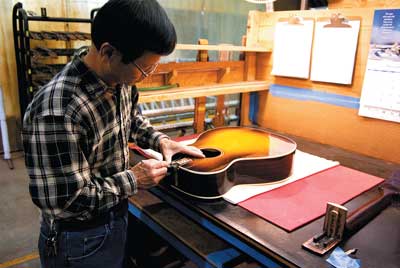 The factory recently installed a new finishing line that uses a proprietary UV curing process to improve the acoustic and cosmetic properties of all their guitars.Unlike traditional air-drying methods the UV process facilitates as much out-gassing in three days as air-drying accomplishes in six months. Rocky Rodgers, finish supervisor, said, "Not only is the final result more durable, but it sounds better, as well."