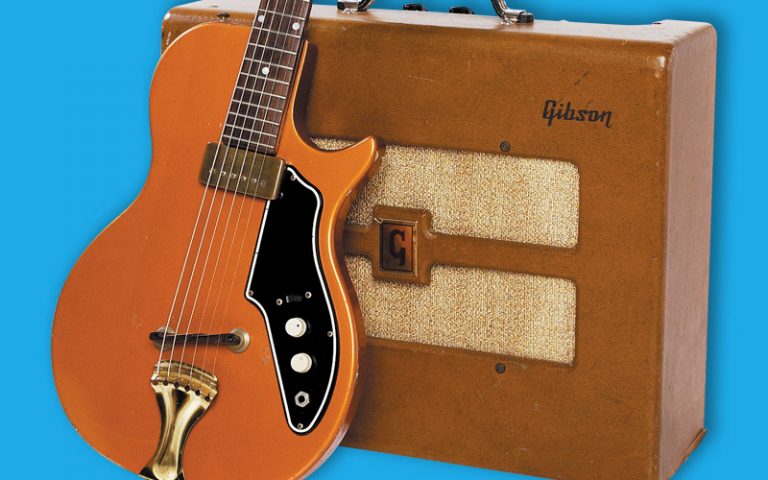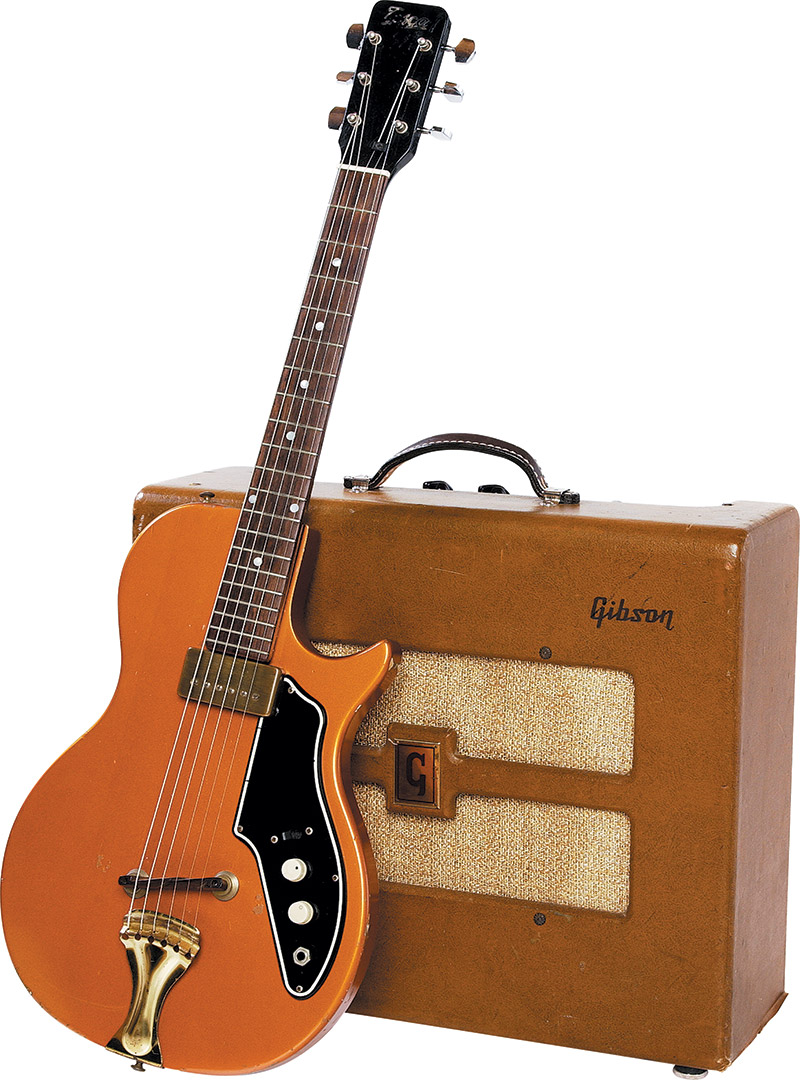 Put your gut money on a dark horse every so often, and you might find the rest of the regurgitating bandwagon world awash in your taillights. Every sublime guitar collection needs an old juke joint under-the-radar flamethrower, and the "Thunderstick" delivers the aforementioned wallop with enough kick to blow the scrotus maximus off a charging rhinoceros from 60 paces… or at least the doors off your local waterin' hole.
This one carries the Tosca brand on the headstock; you might find very similar gee-tars from the golden age of Valco with plenty of headstocks with the "Supro" moniker instead. Was Tosca a fine screw-top-wine department store brand or from some obscure cataloger, like Chicago's Carson Perie Scott? Tough call.
Regardless of the name game, it dates from the early '60s, a time when cars had 3,000-pound steel grills and there weren't no jaywalking problems. Ampex had just built the first videotape recorder, Jimmy Dean had just crooned "Big Bad John," JFK and Fidel were doing the Macarena, while a drunken Kerouac was just getting off the road. And oh yes, Mississippi kingpin Jimmy Reed was deep into the seedy clubs throwin' down with axes like the Thunderstick.
Sure, size matters! So if you're the measuring type, you'll appreciate knowing that the neck on this thang' is hands down the biggest hog you'll come across other than the infamous Lester Junior. It's indeed a 3/4-size body, which in many books is all the more interesting to hammer with a brass slide. While it may be amusing to mine the nut, feel free to unfasten your mental seatbelts and move about the neck. And speaking of necks, the absurdly overwound pickup on these will need no wussy distortion pedal – it roars from the starting blocks and never looks back. That's not bacon you smell, pal. That's the Thunderstick. Nothing like the feeling of unzipping your gig bag and whipping out the biggest rectifier in town.
Knock, knock. Who's there? Ry Cooder and David Lindley, sir. They'd like to come over and jam. Well, open the damn door and put some Dickel whiskey on ice.
---
This article originally appeared in VG's August 2008 issue. All copyrights are by the author and Vintage Guitar magazine. Unauthorized replication or use is strictly prohibited.
---