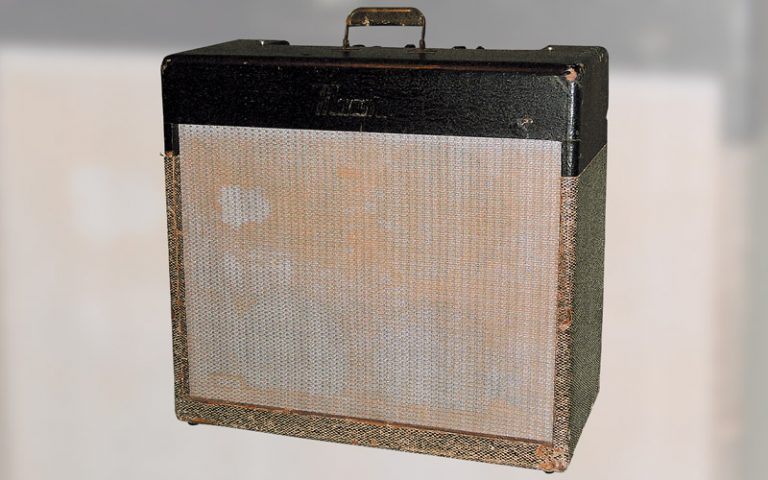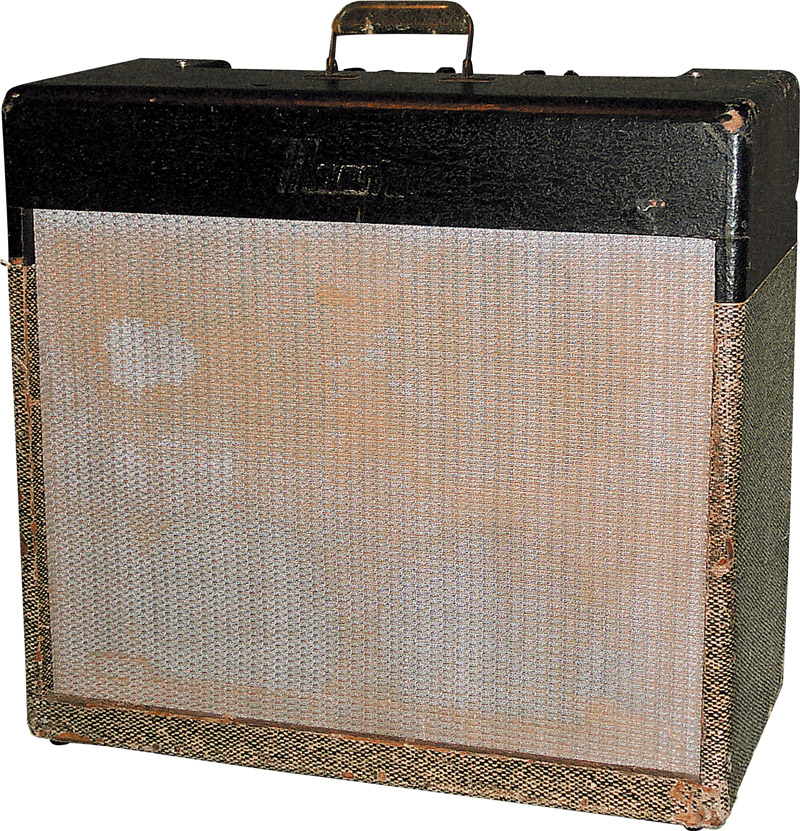 Until just a couple years ago, Fender really was the only major name in collectible vintage American-made tube guitar amplifiers. Sure, Magnatone, Standel, Danelectro/Silvertone, Supro and the other Valco-made amps have their followers, and dealers have always been fond of selling a vintage Gibson or Gretsch guitar in a set with its corresponding amp. But for big bucks, it's Fender all the way. Even Gibson, which conversely delivered the most prized of vintage electrics in the 1958-'60 Les Paul with sunburst finish, couldn't produce an amplifier to dent the timeless desirability and escalating value of the tweed, brownface, and blackface Fenders.
Gradually, however, the underdog tubesters from the golden years of Yank-built tone are redressing the balance. Prior to the new millennium you could have landed any early Gibson amp for way under a grand. Keen-eyed collectors and players have noticed, though, that GA-40T Les Paul models of the mid 1950s to early '60s have climbed steadily in price – right in to the $2,500 range and beyond for good examples – and their newfound glory has had a knock-on effect on lesser models such as the GA-20 and GA-30 from the same period, as well as other related models. Players have discovered that all of them can be hip-sounding electronic suitcases in their own way, but the 5879 pentode preamp tubes of the GA-40T push its juice factor over the top. Suddenly, the Kalamazoo amp shop haps of 50 years ago are happening, and if you want to get on the bandwagon you'd better leap fast.
Alternatively, you find yourself, uh… an alternative. Enter our 1957 Maestro GA-45T. Released in 1955 and manufactured by Gibson, the Maestro combo was billed as an amplifier for use with accordion and electric bass. It comes in the same cabinet as the Gibson GA-40T and looks nearly identical, except that its two-tone covering is black and luggage-grade tweed (which with wear can take on a snakeskin look) rather than the Gibson's maroon-and-buffalo-tweed (later standard tweed) outfit, and the Maestro's control panel is chrome rather than brown enamel.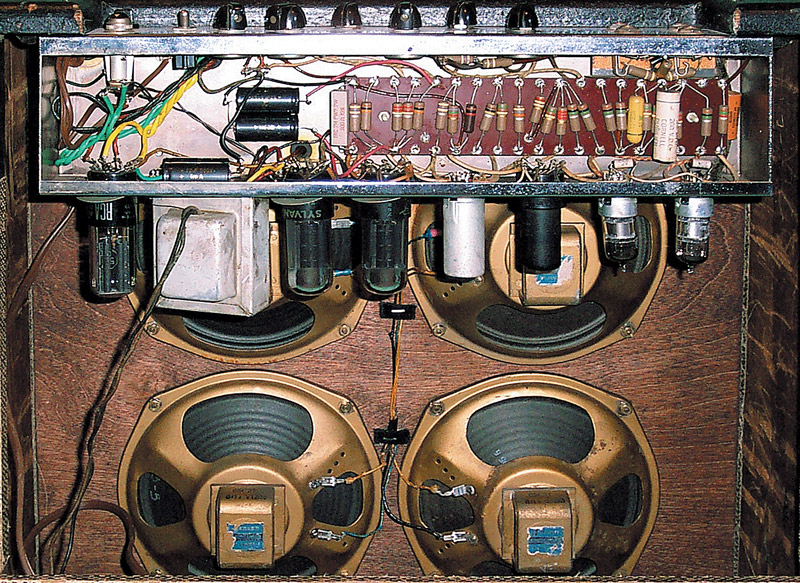 They are even more similar internally. The GA-45T uses the same tube complement and circuit as the GA-40T, except that it carries Bass and Treble controls instead of the single Tone, and both channels are intended for "Microphone or Instrument" rather than one being for Mic and one for Inst. Finally, the GA-45T's cab houses four 8″ alnico Jensen speakers rather than the GA-40T's single 12″. This was done in the same spirit as the four 10″ Jensens in the Fender Bassman, in a bid to shelve the low fundamentals of the notes of these two bottom-heavy instruments and avoid "farting out" the speakers. Notable but minor differences, and yes, the GA-45T can easily be reverse-engineered into a GA-40T.
The cliché "poor man's Fender…" (too often completed with the word "Deluxe") gets slapped on unsuspecting Gibson combos far more often than deserved, but in this case – despite the use of a 5Y3 rectifier and a pair of 6V6GT output tubes to spew around 15 watts – you're looking at two amps that really couldn't be more different in 1957. Instead of the cathodyne (a.k.a. "split-load") phase inverter in the 5E3 Deluxe, the GA-45T has a paraphase PI like tweed Fenders from earlier in the '50s. The Maestro also carries a choke, but more significantly, those 5879 preamp tubes are simply nothing like the 12AY7 or 12AX7 found in Fenders. A little closer to the more familiar EF86 pentode than anything else, they are less microphonic than that occasionally troublesome tube of the vintage Vox AC15, and just fat, wide, warm, and greasy-sounding all at once. In short, they're the bedrock of a tone all its own. As well as having more gain than the more common 12A-7 dual-triodes, they also handle input voltage more elegantly, which means they don't fizz up into hairy dirtballs of tone, and instead pass a thick, rich frappe of a soundstage along to further stages of the amp. In addition, the EQ stages of the Fender Deluxe and Gibson/Maestro are entirely different, the latter being an odd configuration that follows the PI, rather than a treble-bleed network between preamp and output stages as on the 5E3. Top it off with a very hip-sounding tremolo and you can wave farewell to Fullerton.
Aside from the differences in the speakers, the two-knob EQ seems to rein in the GA-45Ts gain just a little from that of the GA-40T, but that's not entirely a bad thing. Those 5879s are fat-sounding tubes, and ramp up the gain in a big way in the first place, so it survives the two-pot journey well. If anything, you get a jot more twang than in the GA-40T, although all bets are off once you crank up either one of them past half way.
The other disparity between the Gibson and the Maestro is, of course, the speaker configuration. The GA-45T sounds good with guitar with its stock 4×8″ rig, but plug it into a 1×12″ extension cab with any reputable driver and it really comes to life. A Jensen P12Q, Celestion G12H-30, or Celestion Alnico Gold produces great (if varied) results, and the amp reveals firmer lows, more aggressive and blooming mids, and much more giggable volume levels. The 22″ (wide) x 20″ (high) cab even allows for a 15″ speaker, if you want to cut such a baffle. Being spec'd for accordion, the four 8″ speakers also work a treat for harp, of course, and the fact that blower extraordinaire Little Walter wailed on a Maestro GA-45T lends kudos to the model.
The output transformer on Gibson's GA-40T Les Paul is already a little larger than that of a 5E3 Deluxe, but many tell how, in the Maestro, they used the OT from the larger, two-6L6GC-equipped Gibson GA-77. Indeed, the OT on our example is a little longer than that of a GA-40T, and mounted at a slight angle to fit between the rectifier and output tubes (it's not an anomaly or an aftermarket OT – it exists on others). That said, open-frame OT's have been seen on GA-77s, and this is an enclosed part with bell ends (if you know the story, please drop a line to VG). However you slice it, though, this is one hairy, happening amp!
Dave Hunter is an American musician and journalist who has worked in both Britain and the U.S. He's a former editor of The Guitar Magazine (UK).
---
This article originally appeared in VG's May 2008 issue. All copyrights are by the author and Vintage Guitar magazine. Unauthorized replication or use is strictly prohibited.
---
Gibson 1958 Maestro GA-45