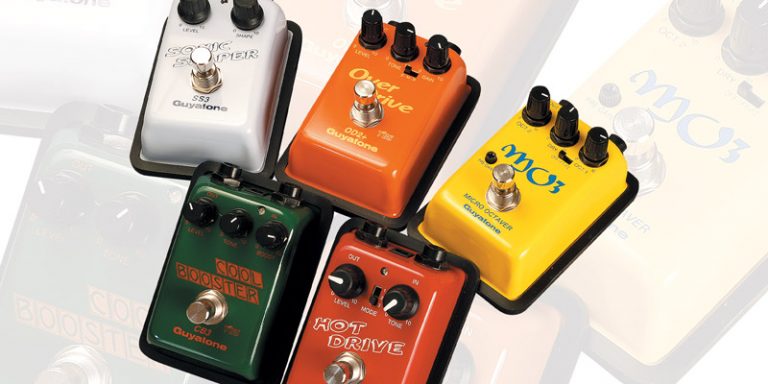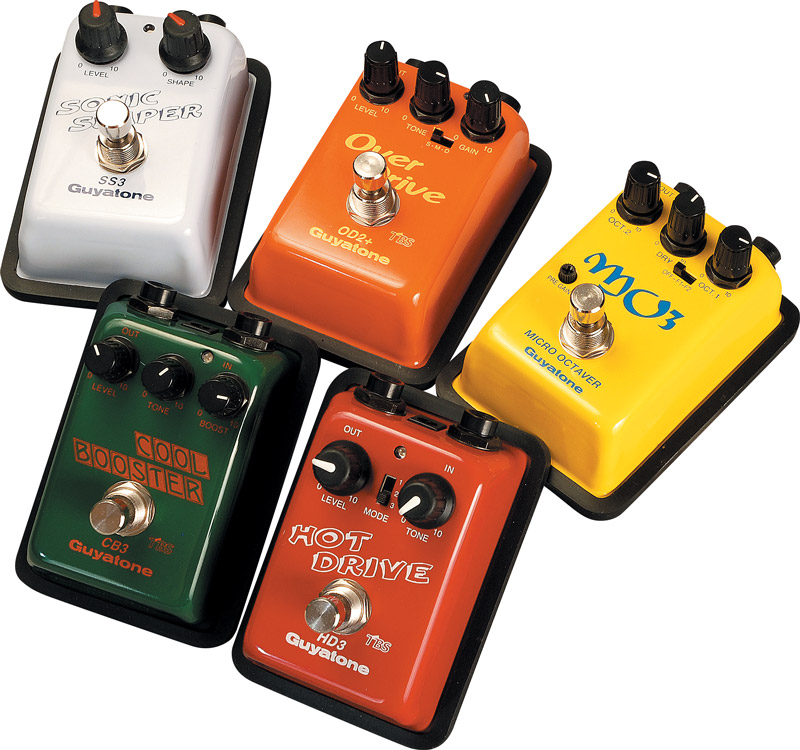 Musical-instrument accessories importer Guyatone introduced its first series of Micro Effects three years ago to widespread praise. Knowing it was on to a good thing, the company recently added five pedals to the line for players looking to add new flavors of boost, drive, and other effects to their sound.
The Micro Effects CB-3 Cool Booster, HD-3 Hot Drive, SS-3 Sonic Shaper, MO-3 Octave, and OD-2+ Overdrive are housed in small (37/8″ x 23/4″ x 11/2″) stamped-steel boxes with a flanged bottom and a rubber gasket that holds a steel bottom plate while acting as an anti-skid foot. They have grounded/chassis-mounted 1/4″ input jacks, DC adaptor jacks, heavy-duty stompswitches, and ultra-bright LED status indicators. Access to their 9-volt battery is quick and easy and requires no tools; you simply slip off the rubber gasket and remove the bottom plate.
The HD-3 Hot Drive has a true-bypass footswitch, Output Level control, and a hi-cut Tone control with a three-position slider that adjusts the center frequency of the hi-cut filter. Running between a PRS McCarty and a 65Amp SoHo (EF86/12AX7/EL84) with an open-back 2×12″ cab, it offered aggressive but very musical distortion with obvious overtones. The three-position Mode switch and Tone control work well together to manipulate the HD-3 from smooth, creamy distortion to bright, in-your-face crunch. The unit does not have a control for its drive/overdrive, so it's either on or off and running at full throttle unless the Volume control on the guitar is rolled off. But even with its heavy gain sound, its tones never get overly soft or lose note separation.
The MO-3 Octave box controls include Oct. 2 (two octave down from the root), Oct. 1 (one octave down), Dry (mix), a three-position filter slide switch and a preamp control. The unit offers excellent tracking and produces a very musical square-wave distortion/octave effect that's easy to manipulate, from a straightforward to over-the-top. With the pre-gain control turned completely counterclockwise, the filter switch set at F2 (minimum distortion) allows you to essentially bypass the distortion effect and dial in a simple bass guitar line with the one octave control.
The OD-2+ is an updated version of Guyatone's OD-2 and has a true-bypass footswitch, controls for Output Level, Hi-Cut/Hi-Boost Tone, Gain and a three-position overdrive Mode slide switch with settings for S (shallow), M (middle) and D (deep). Like the HD-3, the OD-2+ offers excellent overdrive/distortion, but with slightly less drive and more tube-style voicing. The Mode switch not only changes the overall tone from a mellow, round, clean boost in Shallow position to classic saturated tube overdrive in the Deep position, it also ramps up the amount of gain you get from the Gain control.
The CB-3 Clean Boost has controls for Output Level, Hi-Cut/Boost Tone and a Boost that ups signal as much as 18db before clipping. Its transparent boost works well as a straight clean/solo boost as well as a gain boost to overdrive the front end of an amp. The active Tone control is voiced well and did a very nice job of adding sparkle to the neck pickup of the PRS or softening the high-end response of the bridge and middle positions on the PRS with its coil splitter engaged.
The SS-3 Sonic Shaper has controls for Output Level, and a Shape control that emphasizes or boosts different harmonics – somewhat like turning the Tone control on a guitar to 11. It also adds a subtle but effective boost to the high harmonic. Like the CB-3, the SS-3 works well as a clean solo boost because of the gain dialed in via the Level control, which boosts signal while adding life to the tone.
All five new Guyatone Micro pedals produce good-quality sounds and offer nice features in a small, well-made package. Even if you don't have "real estate issues" on your pedalboard, these little boxes run with the big boys in terms of performance. – Phil Feser
---
This article originally appeared in VG's June 2008 issue. All copyrights are by the author and Vintage Guitar magazine. Unauthorized replication or use is strictly prohibited.