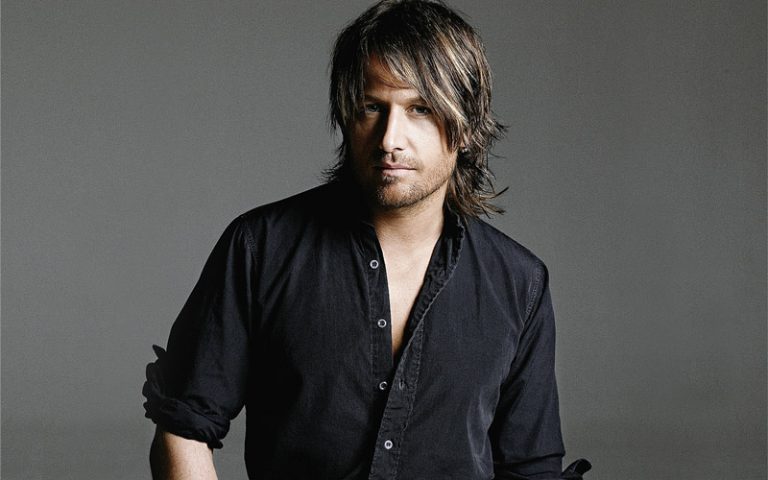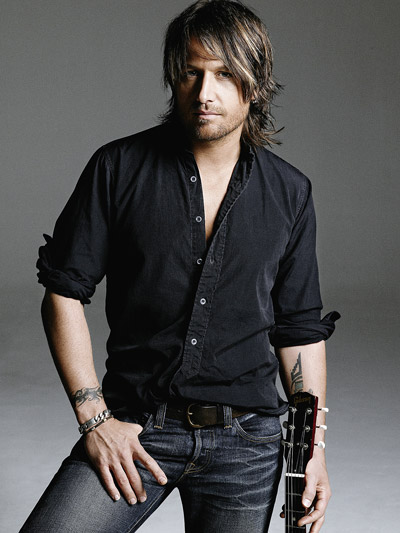 For a guy born in New Zealand and reared in Australia, Keith Urban certainly knows how to grab the attention of Yankee music fans.
The supertalented artist not only writes hit songs, gather accolades, and recently married a movie star (that'd be Nicole Kidman!), he is also a straight-up hellacious guitar picker and gear lover of the highest order.
Urban's songs, heard mostly on country radio, are loaded with decidedly "un-country" arrangements propelled by his rock-influenced guitar style. And when he recently received the Country Music Association's Entertainer of the Year award, the hitmaker joined an exclusive cadre of country artists/guitarists that includes Glen Campbell, Ricky Skaggs, and Vince Gill. Other new prizes include his first Grammy Award, and being chosen – along with the likes of Sting, Jackson Browne, and Bruce Springsteen – to pay tribute to James Taylor when the latter was chosen 2006 MusiCares Person of the Year.
Urban's musical education began when he took up the ukulele at age 4, followed by guitar a couple years later. Through lessons, time, and listening to the likes of Mark Knopfler, Lindsey Buckingham, and Ray Flacke, Urban began to hammer out his own style. He then played in cover bands and eventually began writing his own music. Diligence, patience, and dedication would eventually lead Urban to write the majority of his own material, including his hits.
After spending years on the club scene in Australia, he signed and recorded an album for EMI/Australia that did well in his homeland. But his sights were set on a bigger prize – the U.S. After several visits, he moved to the U.S. in 1992. The change of locale also brought about a change in label affiliation when Warner Brothers signed him to a developmental deal that would sustain him as he wrote songs and created his sound.
Audiences in the U.S. were introduced to Urban through the country-rock trio The Ranch, which spent years recording and playing in Nashville clubs until their self-titled debut was released in '97. The album didn't produce any hits, but did help Urban score guest appearances on records by other artists, including the Dixie Chicks and Garth Brooks, who used his funky, twangy Tele playing to dress up their music. After The Ranch split, Urban resumed his solo career with a self-titled release in 1999.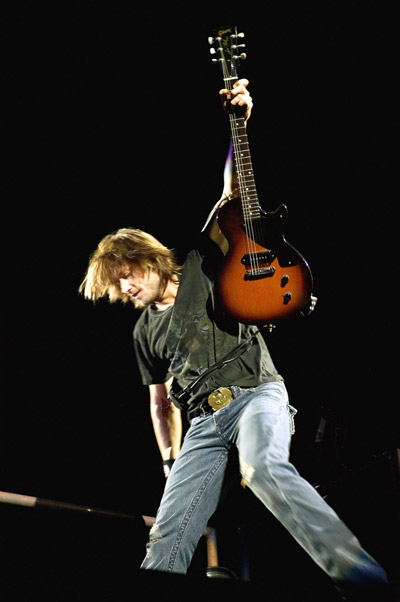 In '02, veteran studio guitarist Dann Huff signed on as Urban's producer. The fruits of the union came quickly, as their first collaboration in the studio, "Somebody Like You," spent eight weeks atop the country singles charts and the album Golden Road introduced a new, more guitar-oriented sound that mixed acoustic instruments, overdriven guitars, and a driving beat. Songs like "Who Wouldn't Want To Be Me," kicked off with the sound Urban's Telecaster being tuned down, followed by twang-filled licks and distorted wah fills: the "Keith Urban sound" had taken shape. The followup, 2004's Be Here, further cemented the sound with more hits and platinum sales. And this time, Urban hit the road with a band of studio players and top touring veterans.
His newest release, Love, Pain & The Whole Crazy Thing, finds Urban's songwriting and guitar-playing muscle flexing in a whole new way, melding influences and guitar tones with the freedom granted by multi-platinum sales, hit singles, and sell-out concerts.
Vintage Guitar recently sat with Urban to talk about his musical beginnings in Australia, his hardfought rise to prominence in the world of country music, and of course, guitars.
Vintage Guitar: How did you start playing the guitar?
Keith Urban My dad gave me a ukulele when I was four years old. I never learned to play any chords with it or anything – I just used to strum it in time to the radio. Dad was a drummer, and I kind of inherited his love of music.
What kind of music did he perform?
He played in a band in the 1950s, so they were playing Top 40 stuff of that era. He loved Bill Haley and the Comets, Elvis, and Buddy Holly; the beginnings of rock and roll. In the '70s he moved to country music. I strummed the ukulele until I was 6, when my parents decided that an acoustic guitar might be a good idea.
Did you take lessons?
My parents had a general store, and one day a lady came by, wanting to put a sign in the store offering lessons. They told her that if she taught me, she could put a sign in the window. That's how it started.
What was your first guitar?
I think it was a Suzuki, a 3/4-size guitar. I don't know why, but I put a Pizza Hut sticker on the front, and when I took it off, it left this sticky mess… I seem to have picked up this "not so precious" look at guitars.
What was the first song you learned how to play?
I'm not sure. I think maybe "When the Day is Done," by Pete Seeger, or a Peter, Paul, and Mary song.
What was the first guitar riff you wanted to learn?
Probably something by either Ray Flacke or Mark Knopfler. I think Ray's playing on Ricky Skaggs' records like "Highway 40 Blues"… he had such a distinctive guitar style, the chicken-picking thing. It really got my attention.
Did you work out any of their solos?
Yes, especially Mark Knopfler's solos on "Sultans of Swing." I slowed down the vinyl and learned all of the solos, note for note – or at least what I thought was note for note (laughs)! "Tunnel of Love," was another one I learned. The end solo on that is just unbelievable.
What happened next with the young lad with the "Pizza Hut" guitar? Did you perform with your dad?
Dad had long given up on performing – he had to get a real job. I was in a guitar group with a dozen or more players, and we would go to retirement homes to play. Those were my first performances, kind of guitar recitals. Then I joined a theatre group that was kind of like the Mouseketeers. We did musicals and I had to learn a bit of dialog and do a bit of dancing. I did a bit of guitar playing and singing, also, which taught me a lot about melodic structure, which came in handy when I started to write songs.
Did you continue to take lessons?
Yes, but we moved around a bit at the time, and I ended up not liking my teacher. So I started just listening to records and picking things up by ear. I disliked the teacher so much that I would scoot away on my bike when it was time for my lesson. That really infuriated my dad, who was by that point paying for my lessons. But I just started to learn songs that I heard on the radio. Then, when I was eight or nine, my parents joined a country music club. At that time, there were lots of them in Australia, and we would go to gatherings once a month where there would be house bands. Eventually, I wound up doing a couple songs with the house band, then I started competing in festivals; I'd do Dolly Parton, Tanya Tucker, and Charlie Pride stuff – whatever was going on at the time. That's how I started performing on my own, at these country festivals.
What instruments did you have by then?
I was nine when I bought my first electric – an Ibanez Tele Deluxe copy. It was a dark walnut color with a fake mother-of-pearl pickguard. I had an amp made by a company called Coronet. It was about 30 watts. I also had a Morley Fuzz Wah… I don't know why I bought it; I certainly didn't use it with the country stuff. I also had to have a curly cable – that was important! This was about 1976, so it was all about pedals and curly cords and such!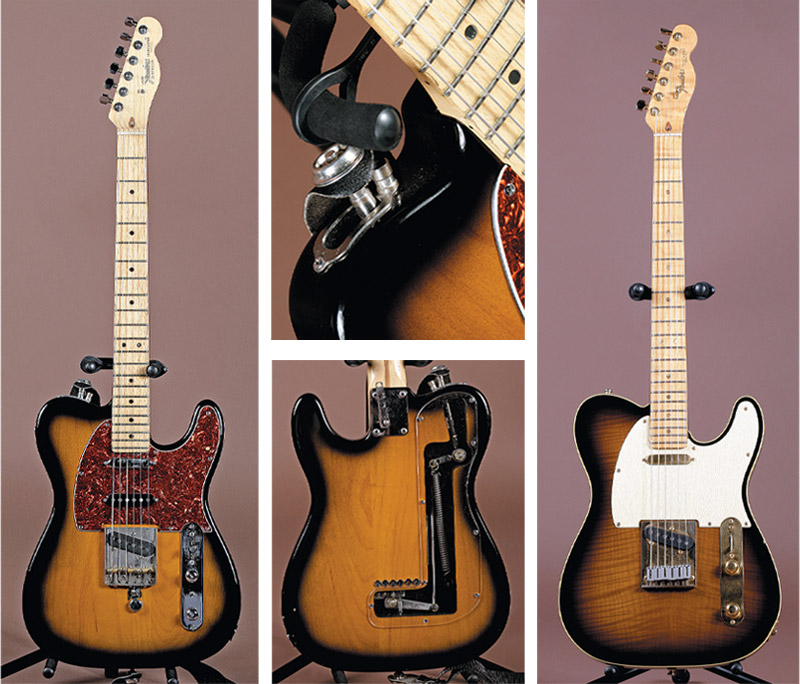 Were you playing your own lead at that point?
I was trying to learn a few simple things. Tanya Tucker had a song at the time called "San Antonio Stroll" that has the most rudimentary one-string solo. I'd play it, and it'd go over big at these country festivals.
Did you eventually start your own band?
I think when I was 12, I began sitting in with a band. They had a singer, so I just played guitar. My mom and dad would drive me to the gigs, wait for me, then drive me home. Then I'd get up and go to school the next morning. That gave me a taste for playing gigs at night. When I was 13 or 14, I put together my first band – California Suite. I don't know why, but I thought it was a good name. We did a lot of West Coast rock like Fleetwood Mac, Jackson Browne, Eagles, and Linda Ronstadt. So we thought a West Coast name would be good. The bass player and drummer were brothers – the bass player was the old man of the group at 17. He had a license and would drive us. I was 14, and my girlfriend was 14 – she was the Stevie Nicks of the group [laughs]! And we, of course, had the Lindsey and Stevie ending – it was a bit inevitable!
Were you still playing the Ibanez?
No, I'd moved on to a Candy Apple Red Fender Stratocaster with a matching headstock – Mark Knopfler had one, so I had to have one, it was that simple! When I started /I>really looking at guitars, the first electric I ever wanted – this was about 1976 and I was completely into ABBA – was a black Les Paul Custom with gold pickups, like Bjorn (Ulvaeus) played. And they had a copy of one that I kept playing at this guitar store. Then the guy saw me one time and said, "You oughta get the Tele copy, it's a much better guitar." I kept thinking I wanted the Paul copy, but my dad, who was paying for the instrument, took the advice of the expert and went for the Ibanez! But I'm glad he got me that guitar. It was pretty cool.
And when did the Strat come along?
I got it in about '81.
With just the "Strat" logo on the headstock?
Yes.
So it was a Fender The Strat model…
Yeah. It had heavy brass hardware and weighed a ton! My friend had a cream-colored Strat and a Roland JC-120 amp. I loved its chorus sound, and the clean Strat sound. So I ended up buying the red Strat and a little JC-50. I don't know why I got the smaller one.
That was your rig in California Suite?
I also bought a Peavey Renown, and I loved that amp! I still love that amp. It was just incredibly loud and reliable. The JC-50 had an output that you could send to another amp for a faux stereo effect. So between the Roland JC-50 and the Peavey Renown, it sounded pretty stellar. I used those two amps for a long time.
What was your next band?
I was in a duo for a while. I'd record backing tracks – bass and drums – on a cassette, and we'd play along with them. We both sang, I played guitar, and she played keyboards. It ended up getting pretty elaborate. We bought a truck and a P.A. and started playing five nights a week.
Describe the rest of your time in Australia.
The duo ended because we were dating, and I thought we could work together even after we broke up. Didn't really work out. We parted ways and I joined a band led by a guy from Florida named Rusty. He had a popular cover band that I'd go out and see in Brisbane. My day gig at the time was working for a lighting company. I'd assemble lights and sometimes go out as an operator. I ended up joining a band as their lighting director. It was a way that I could be at every gig and learn all the material, and also be there in case their guitar player didn't show up. The crew would show up and unload this eight-ton truck. I'd get there at noon, set all this stuff up, change clothes, and play as the opening act, doing a half hour set of C.C.R., Leo Sayer – all these cover songs – then get changed into my black clothing to go back to being a lighting operator.
I finally ended up joining the band when their guitar player left. I joined as guitarist and keyboard player, and played with them for about a year, then formed a three-piece of my own, with a drummer and bass player. I wanted to do original material.
How did you get into playing the ganjo (banjo with a guitar neck)?
I got one at Corner Music, here in Nashville, in 1995. I was working on what would become the first record by The Ranch. We were at a studio called the Castle, working on a tune I really wanted banjo on – I just wanted that sound. We had a session guy come over, and I was trying to explain what I wanted, and it was driving me insane. I could hear it in my head, but I couldn't articulate it. I realized that I was probably hearing what a guitar player would play if he played banjo. The banjo player was completely lost, and maybe the things I was hearing in my head required six strings, not five, and the different tuning. So I wanted more of the texture without the technique. The session guy and I were both frustrated, and I remember thinking "If I just had a six-string banjo – if such a thing existed – I'd be in heaven." So I went down to Corner Music just to get some strings or something, and there sat this six-string Deering banjo… It was amazing because it was on a stand, and I saw the six tuning pegs and thought "No way!" I picked it up and played it, and it was like a $1,000, so I bought it right there, went back to the studio the next morning, and the song came to life. I put the ganjo on four songs on that record. It's a good, energetic, tempo lifter. You can lift choruses with it.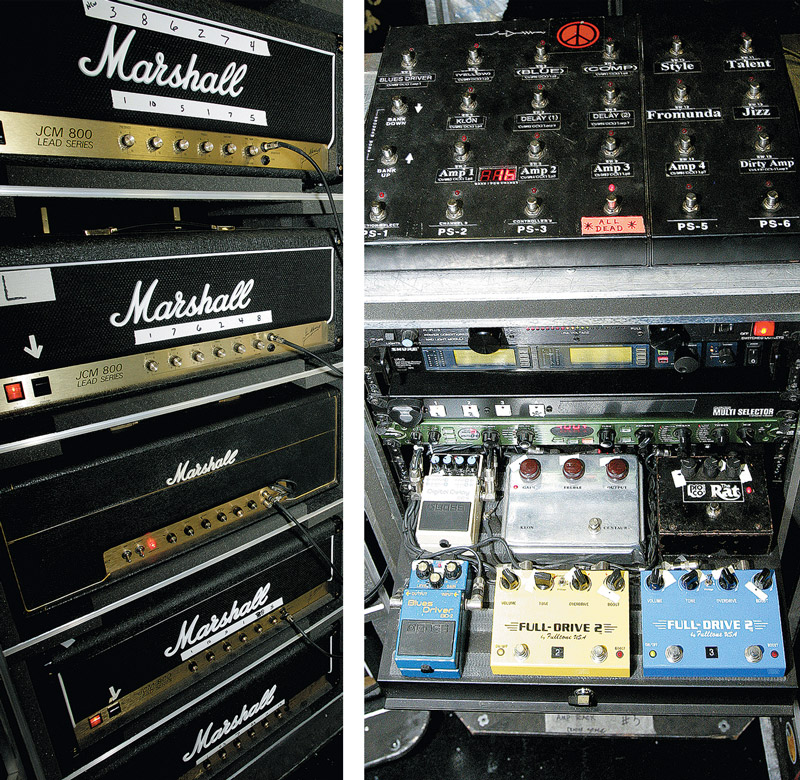 You were already writing songs?
I started about then, while in Rusty's band. But every time we came to one of the original songs in the set list, Rusty would skip it and do "Brown Eyed Girl."
Why did you start writing?
Frustration. I thought, "Where are you going to go, playing covers?" You can only go so far, and by that stage, in 1988, I'd found Lonesome Jubilee by John Mellencamp, and it changed my whole world. I couldn't decide if I was going to do rock or country. Then along comes Lonesome Jubilee – here was a guy with these really rural lyrics, with fiddle, accordion, acoustic guitar, and this badass rhythm section with straight-up rock guitars. I didn't hear it and think, "Oh, I'm going to do that," but what I heard was that you could blend all of your influences. That's what John really inspired me to do.
So I broke away and formed a band. We played covers to make money, but at least we did mix some originals into the set. We played as a three-piece for a couple of years, then moved to the States. Our bass player left, and after we found another, we became The Ranch.
Who were some of your other guitar influences?
Besides Knopfler and Ricky Skaggs, it was Fleetwood Mac. I'm a huge fan of Lindsey Buckingham. He was an enormous influence on my playing. I saw him play the other night, and was reminded how much of an influence he was.
Was he one of the reasons you play a ganjo?
Yeah, I think so. I got to talk to him about that after a concert the other night. I'd never met him before, and I couldn't get it out of my mind. It was very cool and casual backstage, then, as I drove home, I thought, "That's pretty amazing, that was Lindsey Buckingham!" I asked him about the banjo, and it was defiantly an influence on his guitar playing. I think his fingerpicking was also influenced by the Chet Atkins thing, as was Mark Knopfler's playing. Even though Chet didn't influence me directly, I think pretty much all roads lead to Chet.
What sort of things did you talk about with Lindsey?
We mostly talked about living in Tennessee. I didn't want to bother him, especially right after a show. I was so fascinated by the myriad tones he got on those Fleetwood Mac records. Most guitar players layer parts with similar tones, but he had the ability to do these radically different layers. Sometimes the parts would come in for one or two bars, then they'd be gone. They didn't sound like anything else. He's the only guitar player I can think of who layers so distinctly.
The guitar was so precious that I didn't want to play it live, so I played my beat up old Strat. I just kept the Tele under the bed. I'd come home after a gig and pull it out and play it, and just marvel at the neck. It was incredibly easy to play. And finally I thought, "Why am I not playing this live?" It was so much easier to play than my Squier. So I took it to a gig, and watched my belt, making sure it didn't get scratched. But after it got one or two knocks, I didn't care – I let it get beat up.When you moved to the U.S. in 1992, did you have most of the same gear?
Yeah, plus a Squier Strat that I wish I hadn't sold. It was a great guitar. The red Strat was my main guitar when I came to the States. In 1989, I came over with my manager for a new-music seminar in New York. I went to Manny's and saw this amazing 40th Anniversary Custom Shop Telecaster. It was unbelievable, and it had my name written all over it. I think it cost maybe $2,500, which was a fortune. So I borrowed money from friends, took it back to Australia, and used it to cut my first solo album for EMI/Australia in 1990.
Is that your main guitar?
Yeah, but I just bought a second one.
Is it sunburst, also?
Yes, they're part of a run of 300. My first one is number 188, and the newer one is 279. What's funny is that over the years, my original one has gone through pickup changes and such. I've changed pickguards around and ended up with just the back pickup, because it was all chicken-picking stuff I was doing, anyway, and even on rock stuff, it still sounded best back there. I ripped out the neck pickup, and for a while had three pickups in there – I was trying to get a Strat sound out of it. For some reason, though, the guitar never responded well to trying to be a Strat! So I ended up with two holes in the pickguard, which my tech at the time replaced with a nice clean one. But it ended up looking like an Esquire, so I asked him to put the original back on, and that's the way I have it set up now.
What type of bridge pickup does it have?
An EMG. We were in Los Angeles, and my tech was at the Guitar Center, and he calls saying, "You won't believe this, there is a 40th Anniversary Tele here for sale." So I went over and tried it, and it felt amazing. It was all stock. I took it to soundcheck, plugged it in, and it just ate my other one. It sounded so amazing, I couldn't believe it. All these years of changing pickups, and this thing sounded incredible, including the neck pickup. I'm using that guitar almost all the time now – I almost never play my other Tele.

So you're using the newer one that's bone stock?
Yes.
Have you picked up anything else lately?
That same day, I bought a '63 Gibson Melody Maker that I ended up using on the long guitar outro on "Stupid Boy."
What were you plugged into?
I think I used a Diezel that Dann Huff was borrowing; it might have been John Shank's. He turned me on to those amps. Also, Justin Niebank has a '64 Fender Deluxe we used on "Faster Car." James Burton used that amp on a session for Brad Paisley, and the week before, Albert Lee used it on a Patty Loveless record. It's such a good amp – turn it up to 10… done!
How did you end up making The Ranch?
We had a deal with Warner Brothers. I had started recording an album, and went through so many producers and session players. It all sounded like karaoke to me. I couldn't find my voice in the studio. So finally, I said, "Why can't I just use my band? I've got a bass player and a drummer."
So we cut a couple of tracks, and I thought it was great. But Warner Brothers didn't like it. Then we were shuffled around to different producers – everyone from Barry Beckett to Monty Powell. We sort of ran the gamut, and nothing really panned out. We ended up recording at 12 different studios with 17 different engineers and four different producers. And we had three or four versions of every song -just a mountain of stuff. Then the band started to implode.
So we picked the best versions of the songs we loved, put 12 together, and went to Warner Brothers and said, "Here's your record." Well, they rejected the whole thing; said there were no singles, and told us to go do it again. Right at that time, Scott Hendricks, who had just taken the helm at Capitol Nashville, heard the record and signed us. And Capitol put out the record just as it was.
During the process, I got so tired of being tossed around by the machine that I lost so much of my self-esteem. So when we went to Capitol, I moved on the condition that all three of us would be signed. I figured I had nothing to lose if it got rejected, being part of a band.
How did your first solo album for Capitol come about?
Again, a lot of trial and error. Trying different producers, and ended up with Matt Rollings. I saw him producing an album that I was asked to play ganjo on, and as I was watching him direct traffic, I was impressed with his sense of rhythm. I thought he would be really good to work with in the studio. He was a bit of a rookie, but he knew how to work the players, since he was one of them. Matt has a great sense of rhythm, and that's what I was struggling to find. I went to Capitol and asked if he could produce me. And of course they asked, "What blockbuster records has he produced?" and he had never done anything. So they told us to go and record a handful of songs, and if they liked what they heard, they would let us know. We recorded four songs, and all four of them became singles. So they indicated for us to go ahead and do the whole record.
Your tone got a bit gainier after The Ranch made its record. What do you attribute that to?
The problem with The Ranch was that it was a three-piece, and bass and drums were not enough to support a chicken-pickin' solo. So I started adding a bit of overdrive. That's where it started shifting. If anything, The Ranch did so much touring that the songs started to take on more of an edge and grit. When I went to do the solo record, things calmed down a bit. I had gone through a lot, the band ended, and I didn't know how to record myself. Lots of dark stuff. Relational stuff, personal stuff. By the time we did the solo record, I had a lot of humility. So the record has a lot of calm safety, because that's where I was. Glad to be alive and happy to make music.
Besides the 40th Anniversary Tele, what other guitars do we hear on that record?
I also used a Levinson Blade on things that had a Strat vibe like, "But For The Grace Of God." It was again harkening back to the Knopfler thing.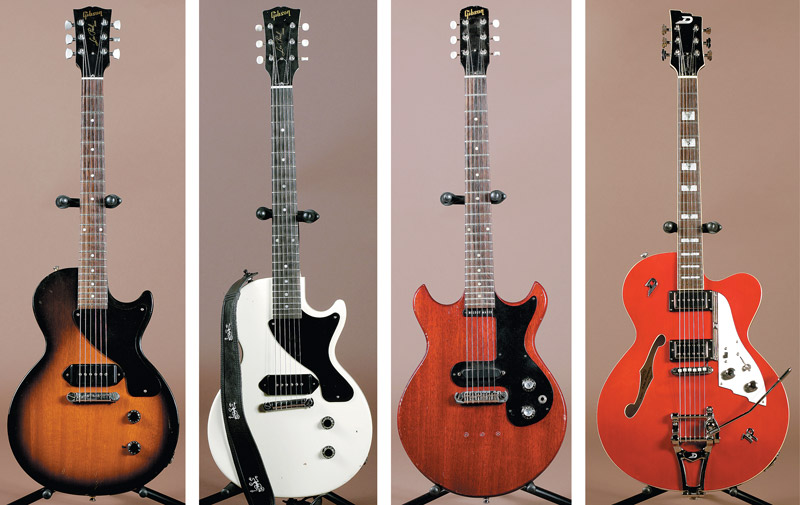 How did you start working with producer Dann Huff?
Through my manager, Gary Borman, who also manages Faith Hill, who Dann also produces. He suggested Dann, and I wasn't that thrilled at first, because his records didn't reflect the kind of record I wanted to make. But I knew he was a great guitar player. But I thought "Here's a guy who could help me achieve better tone in the studio." I thought it might be cool to bring out more of the guitar. I had scheduled a week of sessions out at the Sound Kitchen in Franklin (Tennessee). I'd worked with so many producers that really didn't do anything – didn't really justify their role or their title, and certainly didn't justify their percentage points on the record. So I was a bit wary of what Dann was going to bring to the table. So I made it very difficult for him. I decided he would have to use my engineer, my players, and the studio I chose. Basically, he was going to get to walk in and I was going to see what he actually brings. Not people, but what does he bring to the session. So we did a week of recording at the Sound Kitchen. I had already assembled the band, and I had a song to work on, called "Somebody like You." And it was extraordinary how he affected the session just by being there. Everybody played better, he had a great sense of arrangement, where to put accents, how to lift choruses, turnarounds, it was amazing. By the end of the track, I was totally sold on his musicality and the fact that we could really work together. He's incredible. I don't know many producers who could walk into a session and do what he did. On his own, he elevated the whole thing. It was very impressive. We've been together ever since.
What players did you assemble on that first session with Dann Huff?
Chris McHugh on drums, Jimmie Lee Sloas on bass, and Tom Bukovac on guitar.
How did you start working with Tom Bukovac?
Through Chris McHugh, same as Jimmie Lee Sloas.
What does Bukovac bring to your records?
(laughs) A real "brown" sound – and an approach I wish I could play more like. He kind of comes from that Mike Campbell school. Vintage cool, and great textures. And he comes up with very cool riffs. Like in the beginning of "You'll Think Of Me," the predominant electric riff. It's almost David Lynch in its cinematic eeriness. Buk is so eclectic. I just love his playing. He's really good at listening to what I am playing, and playing stuff to complement it. He is great at that.
What does Dann bring, playing-wise, to your albums?
He's got the wrist. That's Dann's thing. He's got this particular wrist. His pocket is incredible, he has a very particular touch, and he can shimmer across stuff real well. The three of us don't play anything alike. I think that's what works so well.
How do you prefer to track songs, with acoustic or electric?
Depends on the song. On the new album, things were different, and I even tracked some songs on piano. Other songs were acoustic or electric. I wrote "Faster Car" on the bass, so that's the way we tracked it – just me and Chris McHugh, drums and bass. And I added two electrics, both Dann's guitars. One was this really great old Rick from '64, and a '60s Gibson 335. Those through the classic '64 Deluxe amp.
What are some of your favorite tracks on the new album, guitar-wise?
"Faster Car" I really dig because it was the last song we did for the record, and the combination of the Rick and 335 panned left and right. A lot of time, they're playing the exact same thing. They were both played through the '64 Deluxe through a Bogner 4×12″ cabinet. No pedals, no nothing. And I learned to play a whole lot lighter. I have always played very hard, and Dann said that on a lot of records, like the AC/DC records, the guitars were not played hard at all. Angus has quite a light touch, and so does Malcolm. So I gave that a shot – I turned it up and played a lot lighter, and was blown away by how cool the tone was. I wished we had started the record at that point. I'm looking forward to the next one.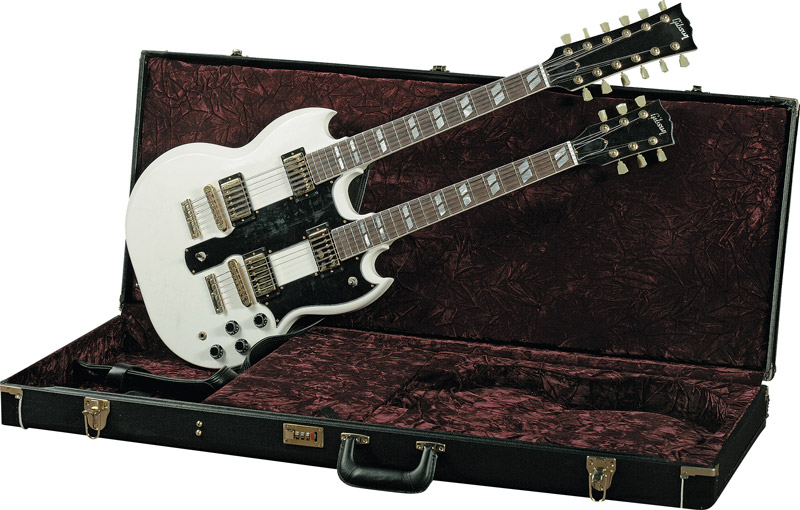 Tell us about getting to perform with John Fogerty on CMT's "Crossroads" series.
It was amazing. CMT asked me long ago to do a "Crossroads" special, and I couldn't think of anyone. Then I thought about Credence, and about how many of their songs I had performed in my life. I thought it would be great to play with John, and I knew the songs – no rehearsing those! He had performed at the Ryman, here in Nashville, and I went and saw him. When I played in California, he came to see me at the Wilshire, in Los Angeles. We met a couple weeks before the taping at somebody's house, and we sat in a room with two acoustics. He'd learned a couple of my songs, and I knew everything of his. And I must say, it was amazing to sit that close to him and hear him sing. It's mind-blowing – so good and so loud. He is an amazing singer.
How did performing with him impact you?
It was just overwhelming… the conviction he sings with is very inspiring. Nothing is half-hearted when he sings or plays.
Can you list a few guitar players who currently inspire you?
Mike Campbell with Tom Petty, and (U2 guitarist) The Edge. I tend to gravitate to guitar players who play interesting stuff in the context of the song. I have a lot of respect for the Eddie Van Halens and guys like Eric Johnson, but that's not my thing. I like the textural guys, the ones who elevate a song. David Gilmour would be another one… and Clapton. The guys that just keep getting better and better with age. Also, I sat in with Sheryl Crow last night, and her guitarist, Peter Stroud, is a bad mamajammer. I ended up playing through his 65 amps – crazy good. I'm going to end up taking some of those out on the road with me next year.
What is your current stage rig?
I'm using Marshall JCM 800 heads through an old Marshall cabinet. I bought a '73 head and matching cabinet with light grey covering. It's a little ratty, but it sounds amazing. I use it on the road, along with two 4x12s onstage, almost laying flat, Springsteen-style. The first time I saw him, I couldn't figure out why he had them leaned back so far. But then I realized you could crank the hell out of them without it blasting through the vocal mic. I adopted that, and it's working rather well.
Guitar wise, what do you carry with you out on the road?
The 40th Anniversary, plus two new Les Paul Juniors in sunburst, which I love. I probably used those on four or five songs on the new album, including the first single, "Once In A Lifetime," plus "When God Made Woman," and I used one on the solo to "Shine." They're great guitars. I just played one with Sheryl Crow last night, and through the 65 amp, it sounded killer. I love the simplicity of a P-90, with a neck that's a little chunky. So I have been using that quite a bit. The Melody Maker is proving troublesome because it's a bit microphonic. It freaks out a bit. On tour last year, I had two cabinets under the grill in front of me onstage. Which was good for me to keep a guitar near the amp and not have it in the microphone, but it sort of freaked out the little pickup in the Melody Maker. I couldn't use it as much as I wanted to. I also used it on "Stupid Boy." I have a Clapton signature Strat I use on a song – I love that mid boost. I used it on "I Can't Stop Loving You," on the new record. I used the Tele on "Raise the Barn" with Ronnie Dunn.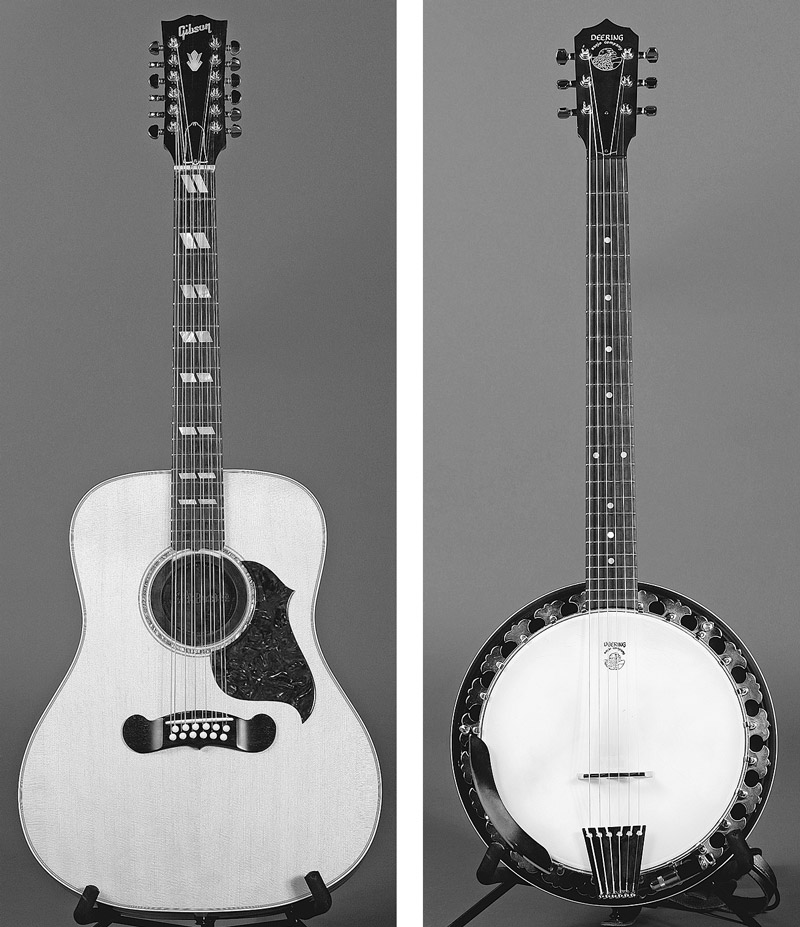 What about working with vocalist Ronnie Dunn, of Brooks and Dunn?
(laughs) We recorded our vocals separately, at the barn at his home, where he likes to record. I went over there because I wanted particular things. And it was pretty amazing, being four feet from Ronnie at his microphone, and me telling him what I liked. You just sit there marveling at the tone. I think he has a Nieve console in his throat. He has an amazing voice. I call him "Nieve throat."
What about co-writing with guitarist/producer John Shanks?
I also met him through my manager, Gary. I looked at the songs John had written, and him being a guitar player had quite an appeal. The first time I wrote with him, we wrote "Somebody Like You." Great chemistry, great guitar player.
Who are some guitar players you've heard recently who've impressed you?
John Mayer. He was on the bill with Sheryl. I stood side stage and listened to him. He's got the tone going on. He's great, and he's still so young. He is certainly an artist to watch. Also, the two guys who play with Paul McCartney, Rusty Anderson and Brian Ray. They are fantastic players, as well.
Other than the 65 Amp, are you on the lookout for any other pieces of gear?
I just bought a 2002 Marshall JTM 45 offset reissue. Bukovac recommended it, and Frampton had said that it was one of the best amps he had played through. I just got that last week, and have not had a chance to play through it yet. I'd also like to pick up a couple of old Voxes. Can't go wrong with a good Top Boost Vox in your arsenal. And I'm definitely on the search for a Fender Deluxe after using Justin's on the record. I have a long list of amps I'd like to get. I think Orange is making great amps. And a Dumble would be nice if I could find one and not have to mortgage the house for it.
---
This article originally appeared in VG's March 2007 issue. All copyrights are by the author and Vintage Guitar magazine. Unauthorized replication or use is strictly prohibited.
---
John Butler Trio & Keith Urban – Funky Tonight (Live)