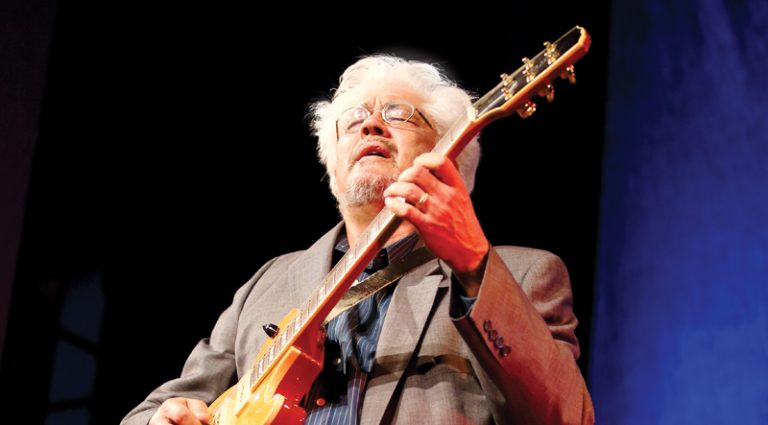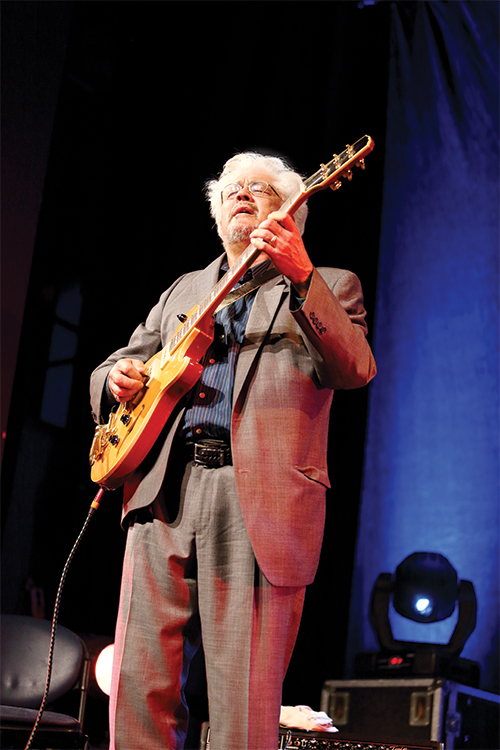 Legendary jazz guitarist Larry Coryell's new album, Barefoot Man: Sanpaku, is a simpler, intentional step backward. It draws inspiration from his 1971 disc, Barefoot Boy, which included musical assists from Steve Marcus and Roy Haynes and was recorded in one evening at Electric Ladyland Studios.
Barefoot Man starts with the title track, which clocks in at more than 10 minutes. There's a lot of note-for-note passages, and all of the participants get to solo.
"'Sanpaku' was the first thing I composed for the project," Coryell explained. "It sounded like a good idea to have it as the lead-off track. Its melody line is basically a linear intersection between the saxophone and piano, leading to a unison figure joined by the guitar just before the bridge. The bridge has another intersectional multi-line, this time between saxophone and guitar. The piano just plays those ninth chords underneath.  And just because I wrote the parts doesn't mean it was easy to play. I really had to practice, especially on the bridge, to get the precision."
Coryell gave a lot of thought to song titles.
"'Back to Russia'  is actually part of the third movement of 'Anna Karenina,' my second opera. I took a melodic section from that and turned into a track for the record. We had a hard time synchronizing the various parts for the quintet, but we worked it out and then set up an open section for improvising. To get to that section required an accelerando, so we had to stay alert and do that increase in-tempo together, reminiscent of some of the fusion stuff we did in the '70s."
"'If Miles Were Here' was inspired by my short-lived (but intense) association with Miles Davis in 1978.  What came out of that experience was Miles' take on how to play or improvise without resorting to clichés.  He told me, 'Never finish a phrase.' Very helpful suggestion. I tried to compose in a way that would honor Miles, not copy him."
Coryell's arsenal for Barefoot Man totaled two guitars – a '67 Gibson Super 400 electric and a Martin acoustic.
"I felt those two were all I was going to need," he detailed. "I chose the Super 400 for playing ease; it has a Florentine cutaway. The Martin is a custom prototype Larry Coryell model. They never made more. It's harder to play – a wound third string as opposed to the unwound third on the Gibson – but what a sound! I'd rather have a good sound than racehorse fretboard action on a thin-sounding acoustic."
He also kept effects to a minimum, noting the use of wah on a Dizzy Gillespie composition.
 "I mainly wanted wah for 'Manteca,' just to revive some of the spirit of Barefoot Boy," he said. "I felt the judicious spirit of the wah would be appropriate for the new album's spirit."
Another facet kept to a minimum was overdubbing.
"The only track that contains electric and acoustic is 'Back to Russia,'" Coryell averred. "The repeated arpeggios on the back end were added to what was played up to that point, so it was kind of an overdub."
The veteran guitarist had praise for the Rob Allen fretless bass used for the album by John Lee. On some songs, Lee's instrument sounds like both an upright and a funk electric playing at the same time – solos on "Penultimate" and "Blue Your Mind" are exemplary.
"John got that bass for an Eleventh House Blue Note gig about a year or so ago," he said."Wow! What an incredibly appropriate instrument for this recording. That sonic versatility coming out of the bass was perfect for the material."
Coryell was asked if the finished version of Barefoot Man accomplished what he was trying to achieve, even if there was a bit of a "retro" line of thinking.
"The answer is a resounding 'Yes!'" he enthused. "I got lucky on this one; they don't always work out this nicely. I agree that it was a bit retro, but there's bad retro and good retro, and I think in this case it was relevant."
Among his future projects, Coryell is seeking to do a sequel.
"I'd like to do a follow-up with the same personnel, especially the drummer, Lee Pearson," he said. "I would write some new charts, try to be appropriately ground-breaking in certain areas, and keep this good thang going."
---
This article originally appeared in VG April 2017 issue. All copyrights are by the author and Vintage Guitar magazine. Unauthorized replication or use is strictly prohibited.