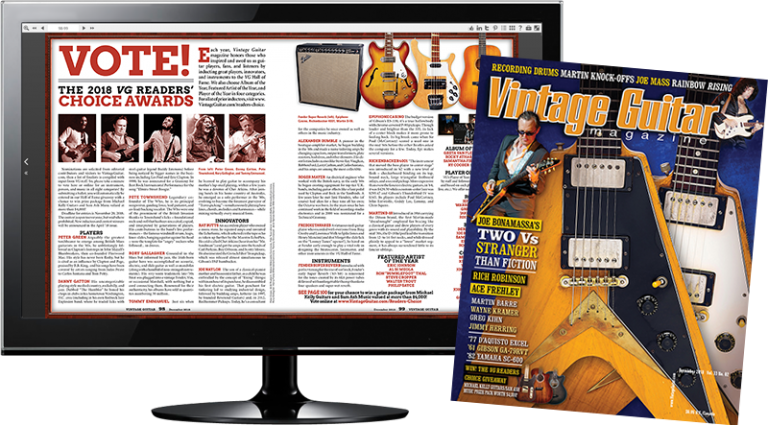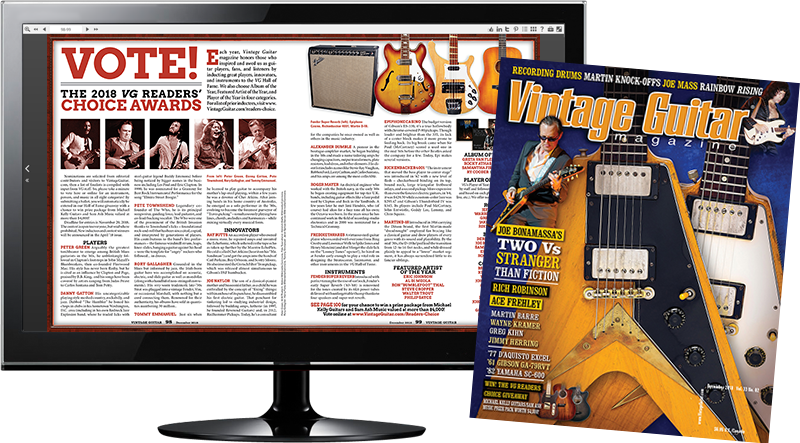 Find what's in this issue, enter the latest exclusive VG contests, or learn the 3 ways to get your Vintage Guitar fix! Don't forget to check out VG Classifieds and the playlist for this issue of VG on Youtube.
Table of Contents
Just when we think there can't be even one more hidden treasure left to emerge from an attic, blues-rock superstar Joe Bonamassa surprises the world. Read how he added a second '58 Flying V to his collection. We also speak with journeyman guitarist Joe Mass, who continues to hustle great gigs while gathering very cool vintage guitars. Martin Barre, Ace Frehley, Rich Robinson, Wayne Kramer, Greg Kihn, Jimmy Herring, Ronni Le Tekro, and Billy Gordon talk about their latest projects, and VG's famed profiles dish all the vitals on a custom-made D'Aquisto Excel, the Yamaha SC-600, and Gibson's GA-79RVT amp. Dave Hunter wrote the book on home recording, and this month he talks about the art of tracking drums. Our new "Pop 'N Hiss" feature digs into Rainbow's classic Rising album, and Peter Kohman tells the story of the many builders who've copied Martin's famed dreadnought.
Be sure to vote for your favorites in this year's Reader's Choice Awards and VG Hall of Fame entries. Everyone who votes is eligible to win a Michael Kelly and Sam Ash Music prize package worth $4,000! Our "Hit List" reviewers are ready to help you choose the best new music, while VG Approved Gear is here to show you great new additions to your arsenal. You're sure to enjoy the December issue, available now!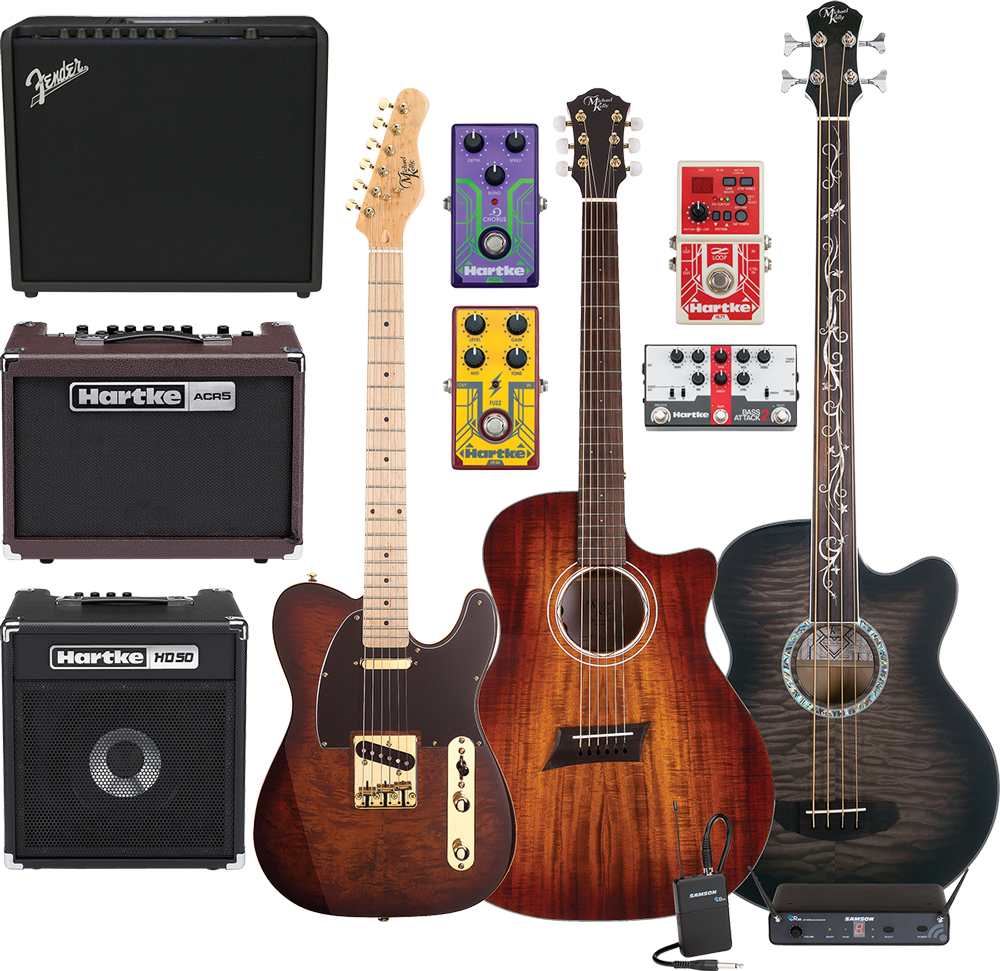 34 Custom-Build Complications
The D'Aquisto Excel
The joys – and frustrations – of ordering a custom-made instrument have historically been much the same for client and builder. Legendary names like James D'Aquisto offered no exception. | By George Gruhn and Joe Spann
38 Reimagining "Vintage"
The Yamaha SC-600
The landscape of the post-lawsuit era coincided with the fracturing of pop music into subgenres with fans drawn to various camps. Guitar makers likewise adapted, and one entry included the curious SC line by Yamaha. | By Michael Wright
44 Driving a Wedge
The Gibson GA-79RVT
Gibson rode the stereophonic wave of the early '60s, and this was its best foot foward. A full exposé of what's going on inside this stylish box takes some digging. | By Dave Hunter
80 The Art of Home Recording
Part Five: Drums
Home recording often means taking on a range of skills beyond how to make guitars sound great in a mix; the full-range recordist will also want to develop techniques for tracking the rest of the band. | By Dave Hunter
86 Formation Flyin'
Joe Bonamassa's Twin Gibsons
The renowned blues-rocker is also a world-class guitar collector for whom not one, but two recent finds provided the twist of a lifetime. | By Ward Meeker
94 Joe Mass
Philadelphia Journeyman
No matter how much you practice guitar, chances are you won't end up cresting the stratosphere of fame. But that doesn't mean you can't earn a living doing what you love. Joe Mass is living proof. | By Oscar Jordan

first fret
14 Reader Mail
18 Wayne Kramer
Still Kicking Out the Jams
19 News and Notes
Cornish Recovering; In Memoriam
22 Ask Zac
22 Ronni Le Tekro
Epic Norwegian Guitar
24 Martin Barre
Road-Ready
26 Ace Frehley
The Spaceman Cometh
28 Rich Robinson
New Avian Adventures
30 Greg Kihn
Kihnventional Wisdom
32 Jimmy Herring
Mahavishnu and Beyond
33 Billy Gordon
Meanin' Business
departments
50 Vintage Guitar Price Guide
78 Home-Recording Roundup
98 The VG Readers' Choice Giveaway
Vote for a chance to win a Michael Kelly prize package worth $4,000!

ENTER YOUR VOTE NOW →
102 Upcoming Events
116 Vintage Guitar Classifieds
128 Showcase
136 Readers Gallery
columns
54 Pop 'N Hiss
A Rainbow of Flavors: Rising
56 The (Way) Back Beat
Nazarene Knock-Offs | By Peter S. Kohman
64 Fretprints
Rich Robinson | By Wolf Marshall
72 Acousticville
Player, Know Thy Instrument | By Steven Stone
74 Shop of Hard Knocks
Tele-Paul Pickup Swap | By Will Kelly
reviews
108 The VG Hit List
Bloomfield and Butterfield, Billy F Gibbons, Led Zeppelin, Tony Joe White, Elvin Bishop, Joe Ely, John McLaughlin, King Of The Road: A Tribute To Roger Miller, more!
109 Check This Action
Rick Allen and the Nature of Music Journalism | By Dan Forte
122 VG Approved Gear
Electro-Harmonix Oceans 11, Fryette Power Load, Gibson J-45 Vintage, Grammatico ATX Jr, Ibanez NTS Nu Tubescreamer, Schroeder Amplification Ramjet, Rick Turner RS6 Standard Deuce, Washburn Revival Solo DeLuxe
123 Gearin' Up!
The latest cool new stuff!
FROM READERS
› Reader Mail
Send letters to ward@vintageguitar.com or mail to: Vintage Guitar, Inc. Attn: Reader Mail, PO Box 7301, Bismarck ND 58507.
› Readers Gallery
Send your photos to: ward@VintageGuitar.com or mail to: Vintage Guitar, Inc. Attn: Readers Gallery, P.O. Box 7301, Bismarck, ND 58507.
Readers submit photos with the understanding that they may be used in any VG, Inc. project. Due to the volume of photos we receive, we are unable to return them, please do not send us your only print.
3 WAYS TO GET YOUR VG FIX!
1. Print › › Receive the print edition by subscribing now. Order print copies of the current issue or back issues in the VG Shop.
2. App › › Download the FREE "Vintage Guitar magazine" app at the Apple app Store or Google play. Subscribe to Vintage Guitar through the app or Digital Subscription Service for access to a downloadable version of VG.
3. Browser › › Read for FREE in a web browser (Chrome, Firefox, Safari, etc.). The browser edition works on most computers or hand-held devices.