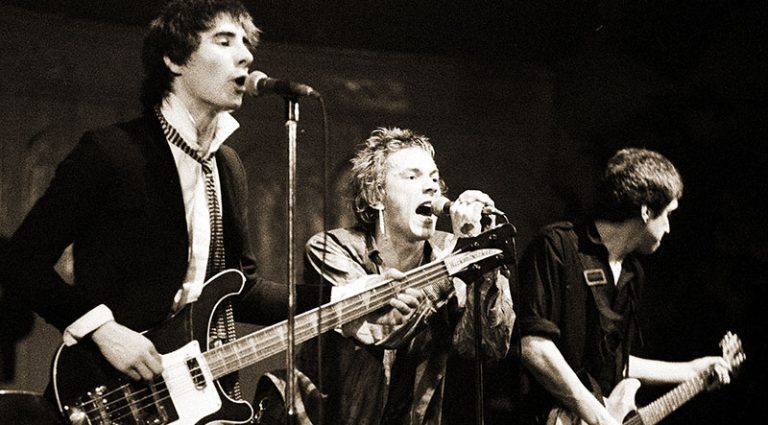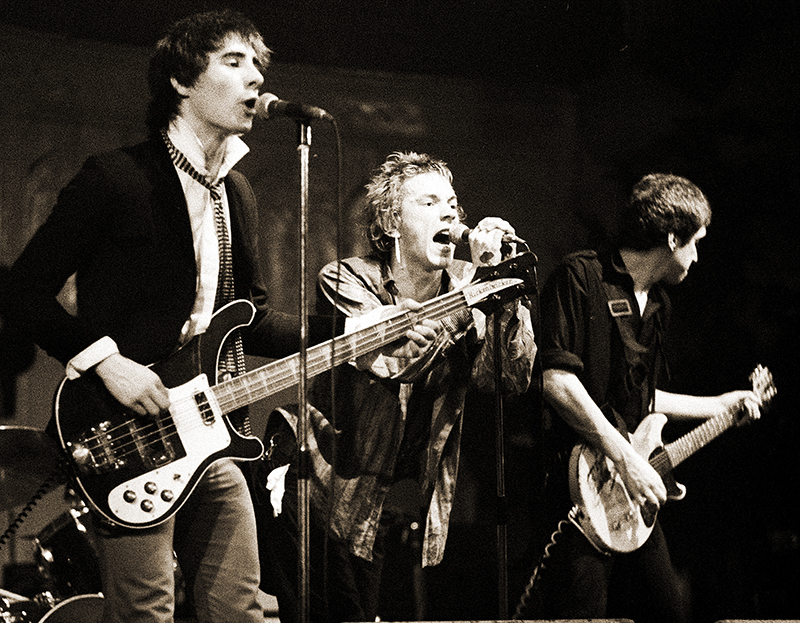 Grown men wearing capes. Stadium concerts with self-indulgent instrumental solos. Lyrics that had nothing to do with reality. Rock stars living in castles. By the mid '70s, all of it aptly described the state of rock music.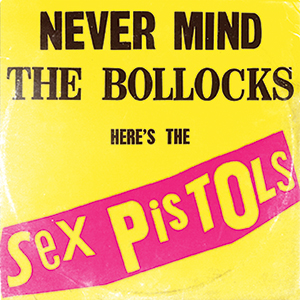 The punk-rock movement offered an alternative. And while the Ramones, Iggy & the Stooges, and the Dictators made music that could've been called "punk rock," the Sex Pistols were the first group to gain real mass-media attention and record an album that impacted the charts with Never Mind the Bollocks, Here's the Sex Pistols.
Formed in London in 1975, the Pistols were singer John "Johnny Rotten" Lydon, guitarist Steve Jones, bassist Glen Matlock, and drummer Paul Cook; early on, they learned how to attract a following of disenfranchised youth and stand out with a fashion sense "opposite" of Yes and Zeppelin – short/spiky hair, torn clothing, etc. But, while their shenanigans resulted in publicity galore (including a December of '76 live appearance on British TV during which two members swore, prompting nationwide outrage), the Pistols found it hard to build a lasting relationship with a label – EMI and A&M had brief affiliations with the band (resulting in two classic singles, "Anarchy in the UK" and "God Save the Queen," respectively) before each grew reticent and dropped them in quick succession.
Finally, Warner Brothers was courageous enough to take the band on for a full-length debut. One teeny problem – one of the band's primary songwriters, Matlock, had exited and was replaced by Sid Vicious, a chap who possessed very little talent for playing bass. As a result, Jones pulled double-duty for the sessions (though Matlock played on the single version of "Anarchy").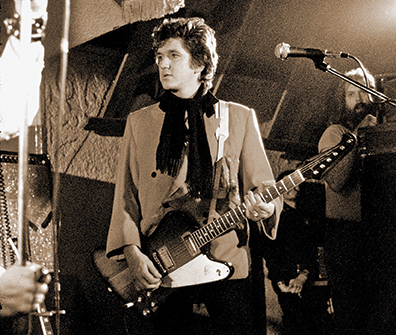 Working with producers Chris Thomas and Bill Price, sessions for the album took place from March through August of '77, at Wessex Sound Studio, in London.
For the sessions, Jones used a white '74 Gibson Les Paul Custom, a Les Paul Custom Black Beauty, a Fender Twin, and – for "Anarchy in the U.K." only – an MXR phase pedal. The bass was a Fender Precision through an Ampeg amp. Speaking to Vintage Guitar in May of 2017, he recalled how he obtained the white Les Paul.
"It used to belong to Sylvain Sylvain, from the New York Dolls," he said. "Then, [Pistols manager] Malcolm McLaren started managing the Dolls for like 10 minutes, and I don't know how Malcolm acquired it, but he brought it back from New York and gave it to me."
Unfortunately, the whereabouts of this now-iconic instrument (which sported two decals of '50s pin-up model) are unknown.
"It went to the wayside like everything else – in a drug haze," he said. "There was a guy managing the Professionals (Jones' early-'80s/post-Pistols group) and it ended up with him, along with my amp. He claimed it was money owed to him, which is suspect. When the band went to go back to England, I decided to stay in New York and all the equipment went back there… I guess the manager sold it to somebody."
Front to back, there is not a single weak track on Bollocks, which showcases Jones' knack for devising power-chord progressions that stick in your noggin (namely "Anarchy" and "Queen" but also "Holidays in the Sun," "Pretty Vacant," "Liar," and "Problems"), and as a reaction to the indulgent rock-guitar solos of the time, Jones kept leads to a minimum (and very basic).
"'Problems' has a good, long guitar solo," he said. "There are a few. And there are two little sections in 'Anarchy' [but] I would barely say they were guitar solos. They're 'parts' more than anything. And, 'Anarchy' was the only track that had a pedal on it – the MXR. I had it worked out before we recorded it because we used to play it live."
Released on October 28, 1977, the album rocketed to the top of the U.K. album charts, while peaking at a meager #106 in the States. But only a few months after its release, the band was kaput, resulting in Bollocks being their sole full-length studio recording. It proved a steady seller, however, eventually earning platinum certification in the U.K. and U.S.
In the decades that followed, Megadeth, Mötley Crüe, and others would take turns covering "Anarchy," and Kurt Cobain once listed Bollocks as one of his favorite albums. It was also included as part of Rolling Stone's 500 greatest albums.
In a recent interview, Matlock said he remains impressed by the disc and its standing in the rock pantheon.
"I think it stands up as well as anything by Gene Vincent, Little Richard, or Elvis' Sun Sessions," he said. "Anything that was done well at the time should sound as fresh and vital as the day it was made, regardless of the current musical climate. And I think it does."
---
This article originally appeared in VG November 2018 issue. All copyrights are by the author and Vintage Guitar magazine. Unauthorized replication or use is strictly prohibited.
---