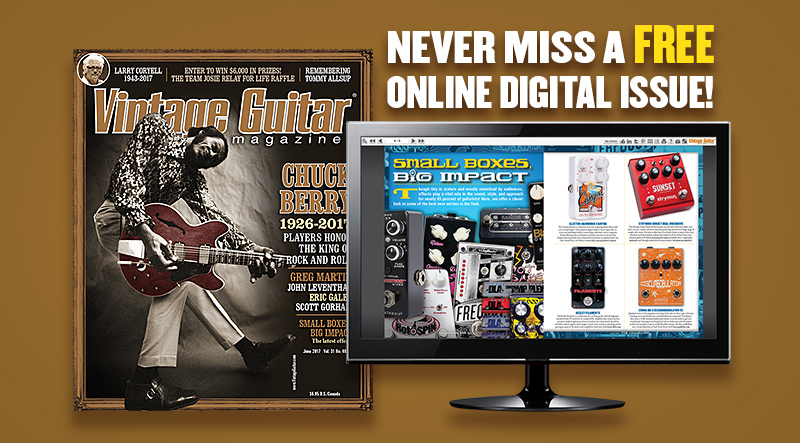 Vintage Guitar is sharing the FREE online digital issue!
Never miss a FREE online digital issue – submit this form now!
Be notified when the next monthly FREE digital issue is available, also receive exclusive contest and giveaway info and newsletters from VG.
You can unsubscribe at any time.

---
3 Ways to Get Your Vintage Guitar Fix!
1. FREE Online Digital Edition This method allows you to read VG in a web browser (Chrome, Firefox, Safari, etc) and works on most computers or hand-held devices. This method does not allow downloading the issue and the user must be connected to the internet.
2. Paid App Digital Edition Download the FREE "Vintage Guitar magazine" app from the Apple app Store or Google play. Subscribe to Vintage Guitar through the app or Digital Subscription Service for access to a downloadable version of VG.
3. Print Edition Receive the print edition by subscribing through our Subscription Service. You can also receive the "Paid App Digital Edition" for FREE.
Special Introductory Subscription Offer!

Click to take advantage of this special introductory offer, or select an option below!
Add the low cost digital option to your existing print subscription by calling 1-800-395-7760 and mention the code: RBE416

BEST OFFER!

Print & Digital Subscription

Print Subscription

Digital Subscription