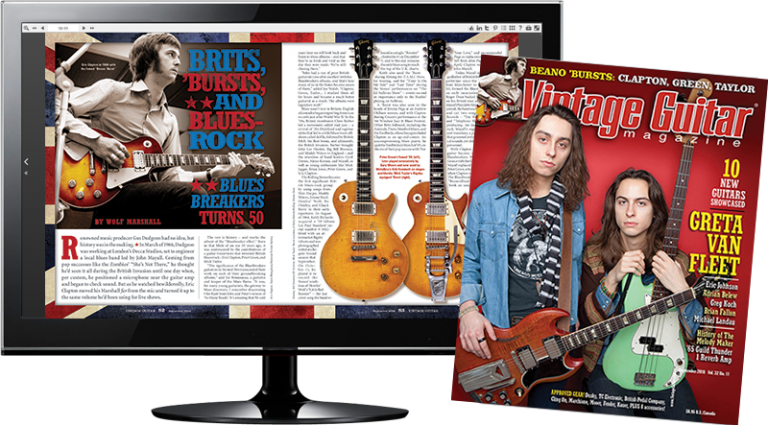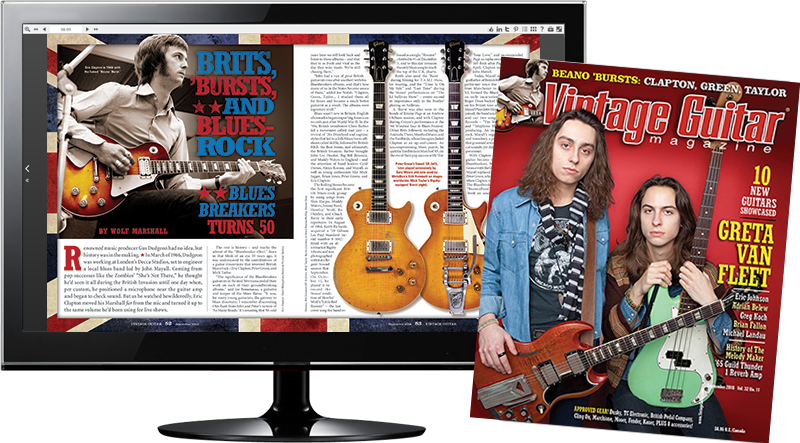 Find what's in this issue, enter the latest exclusive VG contests, or learn the 3 ways to get your Vintage Guitar fix! Don't forget to check out VG Classifieds and the playlist for this issue of VG on Youtube.
Table of Contents
Their story, attitude, and music are classic rock; four kids from small-town America filling concert halls by making loud "Les Paul through a Marshall" rock and roll. Meet Greta Van Fleet. We also interview Eric Johnson, Adrian Belew, Greg Koch, Michael Landau, Vinny Roth, Brian Fallon, David Rawlings, and Dany Franchi. It's been more than 50 years since John Mayall released Blues Breakers with Eric Clapton and introduced the world to 'Burst-driven Brit Blues; we look at its impact. Other in-depth examinations include the Gibson Melody Maker, Washburn Stage A-10V, and the Guild Thunderbird I Reverb amp. Plus, Peter Blecha tells the story of Sol Hoopii's Rickenbacher B-6! Let our "Hit List" reviews help you choose the best new music, and VG Approved Gear guide your next big purchase. You're sure to enjoy the September issue, available now!
36 Successful Starter
The Gibson Melody Maker
In terms of sales, Gibson solidbodies of the late '50s and early '60s mostly lagged behind Leo Fender's wares. One exception came in the form of a budget-friendly model aimed at an underserved beginner market in the days before competition from Asian builders. | By George Gruhn and Joe Spann
40 Strung-Up Whodunit
The Washburn Stage A-10V
In the '60s, it was easy to identify the builder of odd-label Japanese-made electrics – the answer was always "Teisco!" Riddles persist today, but practically any unidentified Japanese maker becomes "Matsumoku." That's certainly true of this guitar. | By Michael Wright
46 Wet/Dry Bag
The Guild Thunder 1 Reverb
As soon as guitarists began to use reverb-equipped amps in the '60s, many bemoaned how the effect muted their sound. Then, Guild helped lead the way in adding reverb while keeping everything else that was good about a tube amp. | By Dave Hunter
82 Brits, 'Bursts, and Blues-Rock
Blues Breakers Turns 50
History was made when, in 1966, a producer positioned a mic near Eric Clapton's Marshall, then watched bewilderedly as the young virtuoso moved the amp. The resulting "Bluesbreaker effect" underscored the contributions of a guitar triumvirate that invented British blues-rock. | By Wolf Marshall
88 Loud Launch
Greta Van Fleet's Jake and Sam Kiszka
The band's story, like its attitude and music, is classic rock; four kids (three of them brothers) from small-town Michigan drawing accolades from generations of music fans cheering the return of rock music that starts with a Les Paul plugged into a Marshall. | By Ward Meeker
94 Hawaii'N Steel
Sol Hoopii's 1938 Rickenbacher Model B-6
As the most-famous musician from his home territory, the "King of the Hawaiian Steel Guitar" could play any instrument he chose. For the longest stretch of his life, he favored this one. | By Peter Blecha

first fret
14 Reader Mail
18 Eric Johnson
New Music and a Signature-Strat Twist
20 In Memoriam
22 Ask Zac
22 Vinny Roth
Guitar Stew
24 Adrian Belew
New Home With Gizmodrome
26 Dany Franchi
Bitten by the Blues in Italy
28 David Rawlings
Gothic Folk
30 Brian Fallon
Return of Gaslight Anthem
32 Greg Koch
A Son's Intuition
33 Michael Landau
Post-Punk Attitude
departments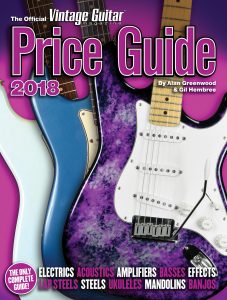 50 Vintage Guitar Price Guide
78 Spotlight on Guitars
98 Upcoming Events
112 Vintage Guitar Classifieds
128 Showcase
136 Readers Gallery
columns
54 The (Way) Back Beat
A Euphonic Legacy: The Larson Brothers, Finale and Postscript | By Peter S. Kohman
62 Fretprints
All the King's Men | By Wolf Marshall
68 Q&A With George Gruhn
70 Dan's Guitar Rx
A Bridge (Nearly) Too Far | By Dan Erlewine
74 Shop of Hard Knocks
Smoke 'Em If You Got 'Em | By Will Kelly
reviews
104 The VG Hit List
Ry Cooder, Blackmore's Rainbow, Sister Rosetta Tharpe, Marillion, Kid Ramos, Ben Harper and Charlie Musselwhite, Son Volt, Johnny Marr, Nick Moss, more!
105 Check This Action
Gone Fishin' | By Dan Forte
118 VG Approved Gear
Dusky Mandorla Boost, TC Electronic Flashback II, British Pedal Dallas Rangemaster, Cling On Acoustic Pickup, Marchione OM, Mooer Micro Preamp/ Baby Bomb 30, Fender Eric Johnson Thinline Strat, Kauer Super Chief. PLUS, 8 accessories worth their weight!
123 Gearin' Up!
The latest cool new stuff!
FROM READERS
› Reader Mail
Send letters to ward@vintageguitar.com or mail to: Vintage Guitar, Inc. Attn: Reader Mail, PO Box 7301, Bismarck ND 58507.
› Readers Gallery
Check out the current issue Readers Gallery or VG's Online Readers Gallery
Send your photos to: ward@VintageGuitar.com or mail to: Vintage Guitar, Inc. Attn: Readers Gallery, P.O. Box 7301, Bismarck, ND 58507.
Readers submit photos with the understanding that they may be used in any VG, Inc. project. Due to the volume of photos we receive, we are unable to return them, please do not send us your only print.
3 WAYS TO GET YOUR VG FIX!
1. Print › › Receive the print edition by subscribing now. Order print copies of the current issue or back issues in the VG Shop.
2. App › › Download the FREE "Vintage Guitar magazine" app at the Apple app Store or Google play. Subscribe to Vintage Guitar through the app or Digital Subscription Service for access to a downloadable version of VG.
3. Browser › › Read for FREE in a web browser (Chrome, Firefox, Safari, etc.). The browser edition works on most computers or hand-held devices.