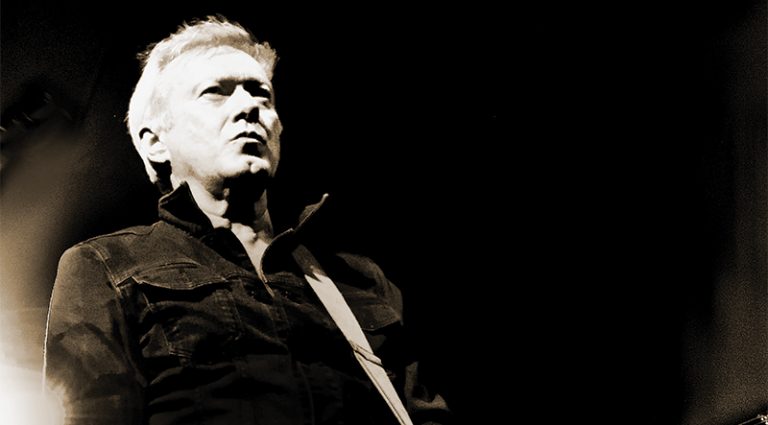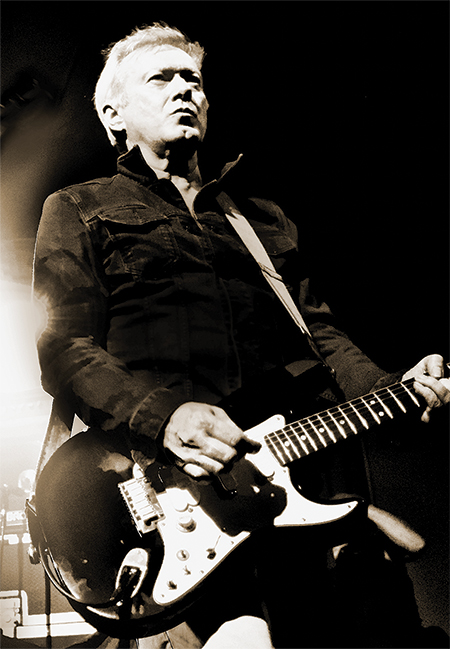 One of the most original-sounding guitarists to emerge from the post-punk/new wave movement of the late '70s was Gang of Four's Andy Gill. While he didn't take many solos, his slashing, funky playing on classic albums like Entertainment! stood out – and inspired acts like the Red Hot Chili Peppers (Gill produced that band's debut album). Gang of Four recently released Live… In the Moment.
How did you develop a guitar style?
"It's complicated yet simple" is the sort of dumb answer, because there were so many types of music I loved. When I was young, Hendrix was a big obsession, with his flowing, soloing, colorful, expressive style. But there were more groove-orientated things that got me quite excited – a lot of Motown things which are not guitar-driven at all. With Motown, the way the grooves were put together really got under my skin. And people like Steve Cropper, who is an amazing, underrated rhythm guitarist. Nile Rodgers is a descendent of Cropper in a way – someone who totally knows their chords but has got an incredible rhythmic feel. That very-rhythmic thing, abstract feedback, and those drones, again – a bit on the Hendrix side of things; if you like, a very "paint-ily" approach to making noise on the guitar. And then reggae and that feeling for space – it's the antithesis of all those rock guitarists who are throwing as many notes as possible in their solos. Reggae is the kind of antidote for that. I didn't really like any punk guitarists at all, but the great pre-punk Dr. Feelgood – Wilko Johnson was an enormous influence on me. Listen to "Damaged Goods" and you know where that kind of vibe comes from. It's all over the place.
Gang of Four remains a unique-sounding band.
The guitar within Gang of Four is very unlike traditional rock, where there's a hierarchy where you have the lead vocal at the pinnacle, and under that are the guitars, then the keyboards, and below that you've got the bass and the drums. The way that I put together Gang of Four was the opposite – everything was side-by-side. So the vocals worked around the guitar, the guitar worked around the bass and drums… it was in a horizontal line where everything relates to everything else.
I think of the Gang of Four approach as the band is the instrument. The guitar isn't the instrument; the band is the instrument being played. Many of the guitar parts in those songs, if you try and play it on its own, for the most part, it doesn't make a whole heap of sense. It's completely dependent on a symbiotic relationship with the other elements.
What are your go-to amps, effects, and guitars?
I've always had a bit of a love for transistor amps – basic solidstate amps of the '70s. People have forever gone on about the warm sound of valves. I used to find it ever so slightly irritating, so I was instinctively drawn a bit to transistorized amps – there's a brand in the U.K. called Carlsbro. It's a 2×12 combo, and it had a very detailed, pristine, clear but aggressive sound. I've had various models, but I've still got one from the early '80s, the time of the second album (Solid Gold) and I still use it. The other amps I really like are Peavey – I like the 4×10 open-back combo. When I play live, I usually have one of each.
I've never been big-time into pedals. I sometimes use the built-in tremolo on the Carlsbro, but in more recent years I was using a Peavey rack unit for a while. These days, I've been using a laptop; basically, the guitar goes in the interface, through some stuff in the laptop – various plug-ins – and into the amp.
The guitar I return to again and again is a Strat, and the one that I use most is from the late '80s with Lace pickups I particularly like because they tend to be less buzzy than some Fenders can be. I also have a Gibson 335 I used a lot in the '90s. It's a different sound, very cool character. I also had a Burns, but it got stolen, and there's a guitar I got fairly recently, a Reverend that I really like. I've been doing some songwriting at the moment using that, and I'm pretty impressed with it.
---
This article originally appeared in VG January 2017 issue. All copyrights are by the author and Vintage Guitar magazine. Unauthorized replication or use is strictly prohibited.
---