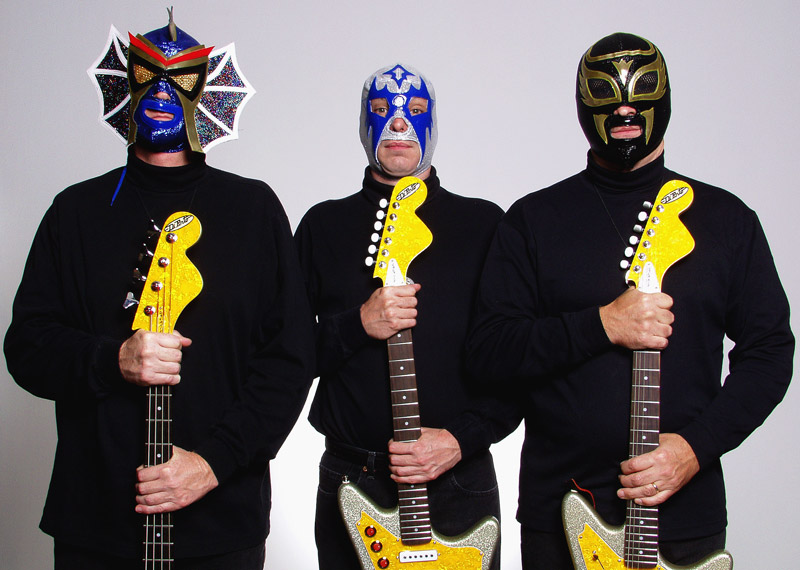 Blasting surf/instro rock and roll from Mexico City to Conan in supersonic guitar style, it's… Los Straitjackets! Besides a silver-sparkle DiPinto guitar staring you in the face, you'll find a typical band website, with the usual links for gigs, MP3s, a photo gallery, and an online store – where you can purchase CDs, masks, T-shirts.
Rewind… Masks? Oh, in case you hadn't noticed, the guys hosting this website don't just play some of the coolest instrumental guitar music on the planet, they do it wearing Mexican wrestling masks. Why? Because they are… Los Straitjackets!
By Dan Forte, DJ Johnson, and Ward Meeker
Forming in Nashville in 1994, guitarists Danny Amis and Eddie Angel, drummer Jimmy Lester, and original bassist Scott Esbeck quickly distinguished themselves from the burgeoning surf instrumental revival with their two-pronged guitar attack and eyecatching live shows. Onstage, the group wasn't afraid to mix humor with their considerable talents, with Amis (stage name "Daddy-O Grande") usually addressing the audience in Spanish. Why? Because they are… oh, we already covered that.
In 1995 they released their debut CD, The Utterly Fantastic And Totally Unbelievable Sound Of Los Straitjackets, on the Upstart label. That December they appeared on NBC's "Late Night With Conan O'Brien" – a major coup for a band on an independent label, let alone an all-instrumental outfit. (They've since appeared on the show five more times.)
Far from a sophomore jinx, their followup, Viva Los Straitjackets (Upstart), is their biggest-selling CD to date. Switching to the Yep Roc label, they followed with The Velvet Touch Of Los Straitjackets (with Halibuts guitarist Pete Curry replacing Esbeck on bass), the live Damas y Caballeros, Sing Along With Los Straitjackets (where they prove their versatility, backing such vocalists as Dave Alvin, Nick Lowe, Big Sandy, Raul Malo, and Paul Revere & The Raiders' Mark Lindsay), and their 2002 Christmas album, 'Tis The Season For Los Straitjackets. Their songs have provided soundtrack fodder for TV shows like "Ed," "Melrose Place," "Sex In The City," "Malcolm In The Middle," and "Buffy The Vampire Slayer."
This year they teamed with Eddy Clearwater on Rock 'N' Roll City (Rounder), and as Hal Horowitz wrote on allmusic.com, "Other than the participants' colorful choice of headgear (Ed.Note: the Chicago bluesman routinely dons an Indian headdress), this joint venture urges Clearwater to his most rocking and uninhibited studio performances." As if that weren't enough, their just-released Supersonic Guitars In 3-D comes complete with a pair of 3-D glasses.
Their CDs, coupled with their relentless touring, have made them, in all likelihood, the most popular band of the surf/instro revival. Because they are… LOS STRAITJACKETS!
---
DANNY AMIS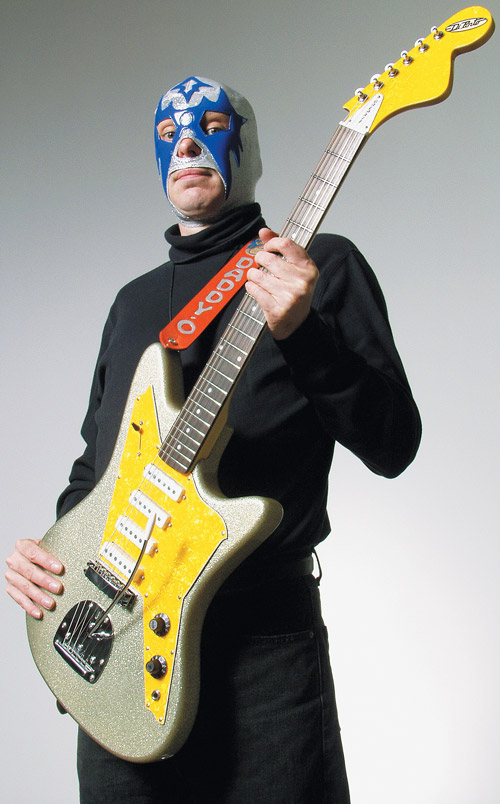 What were you and the other guys doing prior to getting Los Straitjackets up and running in 1994?
Eddie had been in a couple of different bands and was living in Austin. He came back to Nashville to do a Planet Rockers show, and I went to see him, and Jimmy happened to be there, too. Eddie mentioned that he was going to move back to Nashville, and I told him he could stay at my place. I don't remember if it was Jimmy or I who said, "Hey, let's get the Straitjackets back together."
I was really fired up about it because I just really wanted to play again. I hadn't been playing music for awhile.
Eddie stayed at my house and we talked about ideas. It was his idea to find a bass player and move me to guitar, because that's my main instrument. And I had written some original instrumentals.
We ran across Scott Esbeck, who's a friend of Eddie and Jimmy, and asked if he wanted to play.
So in July of that year, you recorded an album?
Yes, we recorded over at Brad Jones' studio in Nashville. It was just a demo, for fun, but I [asked] Ben Vaughn if he wanted to produce it, and within a day we had 13 tracks finished that were all releasable. So we said, "We should shop this around and see if a label wants it."
Ben gave us a long list of labels, including Upstart Records. They had a lot of surf instrumental stuff out at the time and were by far the most enthusiastic. And after meeting with them, it was obvious they were who we wanted to go with.
You've always been focused on original music, with only a smattering of cover tunes in your recorded repertoire…
Well, Viva was all originals, and Velvet Touch had two covers – one was a song Ben wrote that hadn't been recorded. The other was the theme from Titanic…
How was that selected?
We wanted to do something in the tradition of the Ventures – taking a current popular song and doing a cool instrumental version of it. And that year [1998], that was the song you couldn't escape, it just seemed like a good one.
Originally, I worked up a version that would've been more like "Pacifica." But Ben nixed that and said, "Let's do it more like 'Telstar.'"
Did it generate much feedback from fans?
Oh, yeah, we got a lot of attention doing that. It was a funny thing to do.
I'll never forget the first time we played it [at a gig], in Portland. I said something from the stage like, "Ahorita quieremos dar homenaje al gran director James Cameron, y tambien ala gran cantante Celine Dion, con este tema de amor, para las muchachas!' And somebody in the audience yelled, "No! Don't do it!"
It was great!
What can folks expect to hear on Supersonic Guitars In 3-D?
Really, the album is just getting back to what is we are, which is a band that plays all original instrumentals. We did the singalong album, the Christmas album, and the live album; those are the three previous records. So we're just getting back to what we did on the first couple of albums.
Is this the first album on which you worked with producer Mark Neill?
Yeah. We did some unreleased soundtrack stuff with him previously, so we've known Mark for a long time. He has been hounding us for years to produce us, so we finally took him up on it.
What do we hear in the guitar playing on the record, in terms of influences? Is Eddie more Link Wray and you more Hank Marvin?
Yeah, you nailed it.
Where does it come from, for you?
Well, back in 1980, I was playing in a group called the Raybeats. I replaced their bass player, who'd died, and they were doing the song, "The Rise and Fall of Flingel Bunt." I had never heard of the Shadows before that, and I was really intrigued by that sound. But I couldn't find any of their records.
Well, we went to England to play, and I scraped up enough money to buy a Shadows record at a store in London. It was a compilation. And I was completely taken by that sound. At first it almost sounded like easy listening music, and I was really scared that I liked it!
Are you to credit for the marketing and merchandise behind Los Straitjackets?
Yeah, the whole image and the idea of just throwing as many confusing things into the equation as a I could, just to get peoples' attention. And it worked… and the masks look really cool! I love wearing them.
The mask has gotta be hot while you play…
It gets hot onstage anyway. I think of it as a giant sweatband.
What's the connection between the band, the masks, and Mexico?
I'd been going to Mexico a lot at the time we started Los Straitjackets. It just sort of came into place. At the time, Eddie and I were listening to a lot of records by Los Teentops and Los Rockin' Devils and some other Mexican rock and roll bands.
We just really like the Spanish article with the English noun – it's a cool sound. And those Mexican bands made great records… Little Richard in Spanish!
And we got the idea for the masks because I happened to buy some at a wrestling match in Mexico City. I showed them to Eddie and said, "Hey, what if we wore these?"
We were trying to come up with a new name for the band because we'd changed the lineup and we were going to wear these outfits. And I think it was Eddie's wife who came up with the idea to call the band Los Straitjackets.
Then, just to make it even more silly, I decided to speak Spanish from the stage… 'cuz nobody does that!
Also, I produced a record down there by an instrumental band called Lost Acapulco. I didn't think it would do anything, but those guys became huge. Then, because they became huge, Los Straitjackets got a reputation down there. So when played down there, in Mexico City and Guadalajara, we had enormous crowds. We were like big stars down there, featured on all the television networks. It was amazing!
That was three years ago, and two years afterward, there were something like 20 masked instrumental bands in Mexico City. Prior to us playing there, there were none! It was a pretty cool thing.
Are these masked bands ripping you off?
No, they're not. You can definitely hear more of a Latino influence in their music. And they're definitely more punk than we are.
Speaking of punk, talk about the guest artists on the record… Billy Zoom, for instance.
Well, Mark Neill did most of that. They're all people we've known for a long time, but Mark contacted them.
And there's Jon Spencer…
Yeah. I met him years ago. In fact, he stayed at my house in Nashville a long time ago. I hadn't talked to him since, but he's on the record…
Were you in the studio with him?
No, he was added later. We cut the tracks, then let Mark do what he wanted to do with them.
Overall, the album seems edgier…
Yeah, it's edgy like the first album.
Right… punchier and sharper…
It's three-dimensional!
And it's got some quirks. Talk about the transition piece from track four to track five, "San Diego Shutdown."
That was Mark's idea, not ours. I don't know what that is, but I'm putting it on Mark's shoulders – I want him to have complete credit!
Is songwriting now a collaborative effort, for the most part?
By and large, yeah. The first album was songs Eddie and I had written over the years, but since then we've all been collaborating. Some songs are based on my ideas, some are Eddie's ideas. Pete has an original song on the new album. "San Diego Shutdown" was primarily Jimmy's.
You're originally from Minneapolis. What sort of bands did you first start playing in?
I had an instrumental band called the Overtones, in the late '70s.
You must have been one of a very few instrumental bands there at the time…
We were the only one! But I grew up listening to the Ventures and Link Wray. And I wanted to be in a band, but I just couldn't think of any original ideas. One night, I was in a nightclub to see some band, and the DJ played the theme to "Hawaii Five-O" and I thought to myself, "God, this sounds so good."
I remember going home that night, thinking, "That's the kind of music I want to play! That'd be a blast."
What was happening on the Minneapolis music scene at the time?
It was punk; groups like the Suicide Commandos, long before the Replacements or Hüsker Dü.
How long did your instrumental band last?
About two years.  And we opened for the Raybeats when they came to town.  Then, about the time my band was falling apart, one of the  members of the Raybeats died.  I asked them if they were planning to continue, and if they'd consider having me join the band.  They said, "Come on out."
How old were you?
Nineteen or 20.
Do you hear any more modern influences in your playing? 
I don't know…  There aren't really a lot of modern influences.  Ashley from Big Sandy and The Fly-Rite Boys would be one.  A lot of the surf players… John Blair would be one. 
But I haven't really latched on to modern players like I did the earlier ones.  For a period in the '80s and '90s there wasn't an emphasis on guitar.   
I ended up in Nashville because I liked country music because they were still using guitars.  But even there, they were burying it, drowning out the guitar tones with chorus…
But at least they were playing…
Yeah, there were guitar players there… 
Do you keep up on modern surf music?
Well, I don't listen to a lot of records these days…  I'm a fan of [Straitjackets bandmate] Pete Curry and his work in the Halibuts.  I like a good, strong, melody line.
The very first song you ever wrote was "Calhoun Surf" and every band you've ever been in has recorded it.  How has the song evolved over two decades and three bands?
Well, the Overtones' version was a little on the heavy side.  The band was aimed at Rolling Stones fans, and that shows in its verion.  The Raybeats version was a little on the sterile side.  But the Los Straitjackets version is the way I always heard it and thought it should be.
Did you lend input as to how the guys played it, or how it was recorded?
No, they were just on the same wavelength.
And then the Ventures covered the song…
They sure did!
What was that like for you?
That was probably the biggest thrill of my life, having the guys who inspired me to play guitar in the first place record a song of mine.  I couldn't have been happier.
When did they cut it?
About five years ago.  Their version was originally released in Japan on the Wild Again, II album.  It was released in the U.S. about a year later. 
How did you find out that they had covered it?
I got a note from a Ventures fan, congratulating me. And I don't know why they chose it, or how they ever ran across it.
Do you know which version theirs is based on?
They heard the Raybeats' version.  I can tell from their recording.  And they changed it – they added a drum break and a modulation.  But it's cool.
Have other bands covered it, also?
Quite a few have, yes.  None that I can really remember…  In the '80s, some California instrumental bands covered it.
Talk about your rig.  Is there such a thing as too much reverb?
Naw!
Are you staging the same setup as you play in the studio?
Somewhat.  Generally, onstage I play a Vibrolux Reverb, an amp I chose mainly because of how much it weighs.  It's a good size to carry, and it's just the right volume.
In the studio, we experiment a lot.  Pete's got quite a collection of amps, and we like to record with really small amps in the studio because you can crank 'em up and they'll sound loud without blasting the whole neighborhood.  We can actually hear ourselves and each other.
Does the whole band play in the studio at the same time?
Pretty much.  Especially working with Mark, who doesn't like to do it any other way.  We talked him into a couple of overdubs, just because you don't want to lose a good track just because someone made a mistake.
Any outboard reverb in your setup?
No, just what's in the amp.
Do you keep another Vibrolux for backup, or some other amp?
No, we just chance it.
Just the usual tube kit?
No, not even that.
(laughs)  What do you do if something goes down on the road?
Well, we just live with it… get it fixed the next day.
Are you exclusively using DiPinto guitars now?
Pretty much.  Two of us live in Nashville and two of us live in L.A., so we keep a set of equipment in each place.  Since 9/11, it's been a real pain to carry a guitar on a plane.  So the DiPintos have been staying in Nashville and we play them on dates in the Eastern states.  Then, in the Western states, we've been using Fenders.  But, Chris [DiPinto] just sent us another set of guitars that'll be in California.  He's also sending a set of his Belvederes to try.
What sort of input did you lend to the DiPinto Los Straitjackets model?
The color.  Otherwise, it's the same guitar.  I like the pickups in it, and the way they're configured.  You can get a pretty wide variety of sounds.
Prior to getting the second set of DiPintos, which Fenders were you using.
I was playing a '62 Jazzmaster reissue from '94.  Eddie's got an early reissue of the '56 or '58 Strat.  And Pete has always used an early-'60s P-Bass – a real one.
I always like the idea of using a reissue, especially because the Japanese reissues of the Jazzmaster were so good, and if you lose it, it's only $600.  I have an original '62 Inca Silver Jazzmaster, and I'd never be able to replace it if it were lost.  I bought it in 1980 from a friend, and it's got a slight greenish tint to it.
But I've found that using a good reissue is more dependable and not as big of a risk.
What's the connection with Conan O'Brien?  You've been on his show six times..
Well, Conan tells us we're his favorite band.  Whenever we do the show, he comes into rehearsal to watch, and makes me show him how to play the song on guitar.  He told us once he'd give it all up to be a rockabilly singer!
He's a quick study?
Yeah, he is.  He's very good. – Ward Meeker
---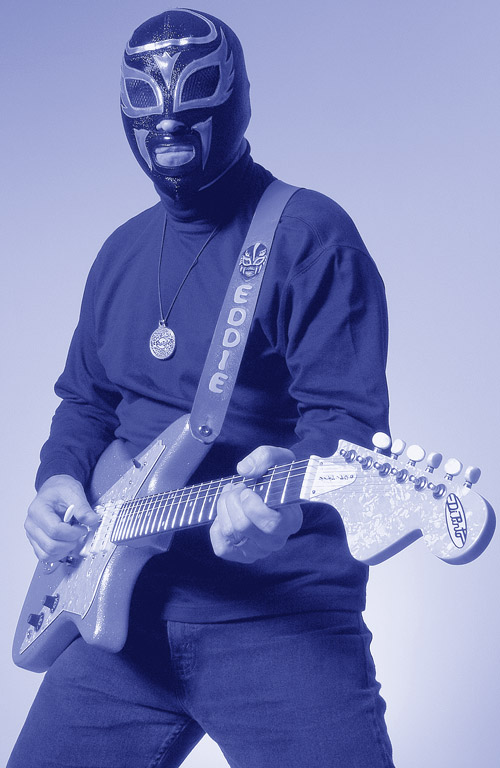 EDDIE ANGEL 
Eddie Angel's history is an interesting one.

 

Born Edward Heeran in Albany, New York, in 1953, he grew up in a quiet neighborhood… at least it was quiet until he became enamored of the guitar and started putting his stereo speakers on the window sill, cranking the volume, and shooting baskets while committing every nuance of a song to memory. 
The direction Eddie went with the guitar took him into genres far from the mainstream.  Over the years he has become an influential player in rockabilly, garage, roots-rock, and surf.  He's played in The Bad Boys with Tex Rubinowitz and The Planet Rockers with Sonny George, led Eddie Angel's Dinosaurs and The Neanderthals.  As a solo artist he recorded Eddie Angel's Guitar Party, which is still a favorite among garage fans 10 years after its release.   
More recently, Heeran and his Los Straitjackets bandmates backed blues legend Eddy "The Chief" Clearwater on the Bullseye Blues album, Rock 'N' Roll City.    
In 1994, he co-founded Spinout Records with his wife, Melanie, the plan being to release one single.  The label is still going strong and sports a catalog of over 75 albums, including releases by Los Straitjackets, The Neandrethals, and under-the-radar outfits such as The Sons-in-Law of the Daughters of the Utah Pioneers.   
As his own band continues to gain critical recognition, Eddie continues to grow as a musician.  The man known for the wicked tone and the hot licks spends much of his down time learning classical guitar, reading from fake books, sitting near the stereo and absorbing the recordings of Andres Segovia and Julian Bream, among others.  When he needs a break, he switches to jazz.  He's currently learning at the recorded feet of one of his favorite players, Laurindo Almeida. 
Clearly, Eddie Angel has never lost the joy of discovery.  One wonders if his current neighbors are waking to the sounds of a basketball and Almeida.
Your fans might be surprised to know that just before you started playing guitar, back in elementary school, you were discouraged from getting into music at all.
Yeah, they gave a musical aptitude test when I was in the fifth grade to try to weed out the nitwits, and I failed it (laughs).  I'd been trying to get into school band.  I persevered, though.  I got a clarinet and took lessons so I could get into the band, and then I progressed from that to guitar.
What prompted the switch?
That was 1965, I was 12, and I was just at that age when the guitar is suddenly a lot cooler than the clarinet.  Plus, The Beatles had a big impact on me.  They really hit me like a ton of bricks.  The clarinet went under the bed.
Did you take lessons on guitar, too?
I was pretty much self-taught, except I had one guy who gave me a couple lessons.  He taught me to play "Walk, Don't Run."  I had the Play Guitar with The Ventures record, and that was it.  I learned by listening to records constantly.  That's all I ever did, and it drove the neighbors crazy.
What guitar were you learning on?
My first guitar was an Airline.  Well, I had an acoustic that was a piece of junk first, for six months, but I have no idea what it was.  I learned to play on an Airline electric that had one or two pickups, volume and tone controls, and a solid body.  A real cheap model.  I also had an Airline amp.  It was a package.
How long did you stick with that setup?
I think within a year I had a Hagstrom III, and I kept using the Airline amp.
Which guitarists made the biggest impact on you, back then?
George Harrison, of course, and Zal (Yanovsky), from The Lovin' Spoonful, was someone I liked a lot.  Also, I didn't know it at the time, but I liked Scotty Moore and Carl Perkins. 
I grew up with older sisters  listening to Chuck Berry and Elvis and stuff like that, so I had an affinity for that style.  I like Harrison and Zal because there's a real country influence in their playing.  Through Scotty Moore, I loved rockabilly guitar, even though I didn't know what it was.  I liked anything with a twang.  It would kill me when, in the middle of a pop song by The Beatles –"All My Loving" for instance – Harrison would play a rockabilly solo. 
To me, it couldn't get any better than that.  I didn't know what it was I liked about it back then, though.
When did  all the influences start to make sense?
I'd say about 1980, when I was playing with a rockabilly guy named Tex Rubinowitz (The Bad Boys) in Washington, D.C.  That's when I started thinking about what it was I did, because I was really playing Chuck Berry and Scotty Moore leads.  I thought everybody could do that, but playing with him really put in perspective that that music was okay.  It was good to play, and it wasn't something to be embarrassed about. 
Up to that time I didn't know, because everybody else was playing like Jimmy Page.  I couldn't play like that. 
Once you'd made that distinction, what became the most important music for you, that made your tastes evolve beyond the mainstream?
I became aware of Link Wray while I was playing with Tex, and I became a fan to the point where he's my number one guitar hero. 
When punk rock came out, I immediately related to it, but I was never in a punk band, not like the other guys were.  Danny was.  I related to it because it reminded me of '50s rock and roll, and to me, Link Wray was punk rock. 
Punk was around as soon as rock and roll was born.  It was guys who couldn't really play, putting a band together and doing it anyway.  When I say "punk," I mean bands like The Ramones.  I didn't like the bands with political messages.  Even early on, I knew that didn't have anything to do with rock and roll, for my money.   
Also around that time, Tex helped me zero in on rockabilly and what it was.  He got me into Gene Vincent. 
When I moved to Nashville I met a guy from England who had the serious rockabilly stuff no one but collectors has.  Through him, I met people at Toe-Rag Studio in England who knew more about garage than I did, so I learned a lot from them, and I started seeing the common thread between surf, garage, and rockabilly. 
Around the mid '60s was when it changed.  But prior to '66, it's all stuff I can relate to.
Through the professional years, what equipment helped shape the various sounds you use today?
Certainly Fender.  Through the years I played either a Strat or a Tele.  My first good guitar was a '66 Gibson ES-335, but that doesn't have much to do with my sound today, even though I love it.  It's been Strat or Tele through an early-'70s Fender Vibrolux for 20 years or more.  Even when we started Los Straitjackets, we were all playing Fenders.  Then we switched to the DiPintos, which, to me, are pretty cool because they're more garagey.  It's more the rock and roll/garage aesthetic. 
Do you use reverb tanks?
I don't use any outboard gear.  All I have is the vibrato pedal that came with the Vibrolux amp.  I don't have anything against outboard gear, but my main reason for not using any is that I'm somewhat technically challenged.  I can't even figure out the remote for my TV, so pedals always wind up being more of a problem for me than they're worth.  But I think if you plug directly into the amp, you get the best sound.  It's the best pure signal from the amp. 
In the studio we've used reverb tanks, but live, I just like to know nothing's going to be shorting out or doing anything screwy. 
Years ago, I used a Boss Delay pedal for rockabilly, but for what we do in Los Straitjackets, I just don't need it.
A lot of the players in the instro-surf genre insist on a vintage-only policy.  Even before the DiPintos, you weren't really into modeling vintage axes, were you?
No, I never was.  I never could afford to be!  The Strat I have is a Japanese reissue, and the Tele was actually made by Tex, out of parts he had.  My 335, though – that's a valuable guitar.  The only other things I have that are collectible are a Höfner violin bass made between '68 and '72 and a mid-'60s Mosrite electric 12-string.  I also have a Silvertone Danelectro and a Jerry Jones Longhorn that looks like a Danelectro Longhorn.  I used that with The Neanderthals.  I've also got a real cheesy guitar called a Galanti.  It's a pawn shop guitar with three pickups and six buttons, but it's great for certain cheesy sounds.   
Around the house, I play a Yamaha classical I bought from Chris DiPinto.
What can you tell us about the DiPinto guitars? 
We love the way they look, first of all.  They all have that kind of look that reminded me of when I was a kid and I'd look in the window of the pawn shop and stare at the guitar with the most bells and whistles on it; the one with the most pickups and toggle switches, that was the one I wanted, and that's kind of what these have.  It's a total rock and roll look.  [And] they didn't look like a Strat or a Tele or a Paul.  It's hard to come up with something unique-looking and isn't all wacky-pointy, and also sounds good and plays good. 
We were such Fender guys, it was hard to find another guitar that would work.  The DiPinto is perfect.
How can a listener pick out Eddie Angel on a Los Straitjackets record?
Whenever you hear a Dick Dale or a Hank Marvin-type thing, that's Danny.  Whenever you hear a Chuck Berry or Link Wray thing, that's probably me.  Sometimes there's grey area, but the real difference is the Dale/Marvin and Berry/Wray mix.  It really works for us. 
The band has a real chemistry.  Every time we get together to make a new record, it's no problem.  It just comes out.   It hasn't always been that way in other bands I've been in.  It's almost effortless.
This kind of music is almost timeless, too.  Old roots, new sound.  You have fans of all ages, and really, most people haven't got a clue how old you are.  Do you think the masks you wear might make it a moot point and keep Los Straitjackets timeless, as well?
Yeah, I think so.  That and the music. 
A long time ago, (singer/songwriter) Steve Forbert told me that in music, you have to be able to sell a contradiction.  He gave R.E.M. as an example.  Everyone thought they were doing something new and great when they were really doing something that had been done before.  If you're playing retro music, you have to sell a contradiction, and I think that's what the masks help us do.  Otherwise, we're just another band playing guitar instrumentals, and people wouldn't be that interested. 
But having said that, I also think we back it up.  We're more than a gimmick, but in this day and age, we're not exactly playing mainstream music, so the masks definitely help us sell it.  As far as being timeless, I see Dick Dale and Link Wray up there, and I think maybe we'll be up there when we're in our 70s, with our masks on, still doin' it.  You never know. – DJ Johnson
DJ Johnson is a guitarist, bass player, and founder of Cosmik Debris Magazine (cosmik.com), a monthly online publication.  He lives near Seattle.
© 2003 DJ Johnson; all rights reserved. Reproduction or transmission of all or any part of this article, in any media, without the author's written consent, is strictly prohibited.
---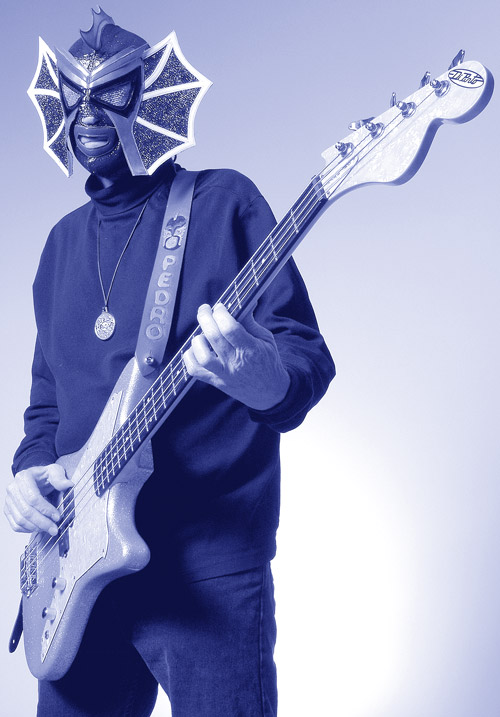 PETE CURRY
In typical fashion, Pete Curry is talking about a CD he appeared on, but marvelling about everyone else's playing – in this case guitarist Deke Dickerson's Major Label release In 3-Dimensions, some of which was cut at Curry's Powow Fun Room studio, featuring legendary drummer Earl Palmer. 
"I couldn't believe I was playing bass with him," exclaims Pete.  "And he was playing my drums.  And Deke's one of my favorite musicians.  I never go out to see anybody play, but I'll go out to see him.  He can play anything; he's a natural."
Curry's multifaceted career would suggest the same could be said of him.  But to hear him tell it, the turning points in his musical career were almost accidental.  Starting on drums in Northern California, one of his first public performances was subbing for the drummer in one of the seminal psychedelic groups, the Chocolate Watchband, at age 14.  After he moved to Los Angeles, the Halibuts – one of the first surf revival bands (this was some 15 years before Pulp Fiction re-popularized the style) – came to record at his garage studio and then called him to sub on rhythm guitar one night.  Even though he didn't consider himself a guitarist, he soon took over the lead guitar chair in the band – which is still together, although its fifth and most recent CD, Life On The Bottom, was released in 1996.
By that time, Curry was a sometime member of several other instrumental surf bands, including Jon & The Nightriders (his first gig as a bassist, except for a stint in the polka band Rotundi), the Wipe Outs (also known as the Deoras – on drums), and the Hillbilly Soul Surfers (alternating on drums and bass).
He joined Los Straitjackets in 1999, playing bass on their third CD, The Velvet Touch Of Los Straitjackets.
What's the first music you remember getting excited about as a kid?
I had older sisters who liked rock and roll, so I got into it pretty young.  I really liked Little Richard and Jerry Lee Lewis.  The first record I bought was "Witch Doctor" [by David Seville], and then I got "I Wonder Why" by Dion & The Belmonts and "Yakety Yak" by the Coasters – all in 1958.  My dad knew the guy who serviced jukeboxes locally, so every year for my birthday and Christmas I'd get a box of 50 used 45 records from the jukebox company.  So I had nine or 10 copies of "White Christmas" [laughs].
What instrument did you first take up?
When I was nine I started playing drums at school.  I got a drum set when I was 12.  I played along with records a lot, and with some guys from school.  The thing that got me really hot on music was a friend's older brother, Jo Kemling, who was in Chocolate Watchband, and their very first gig, their drummer had to do a gig with his old band.  I was four or five years younger than them, but I had a drum kit.  It was a beach party, and it was probably within the first 12 times I'd ever played in front of people.  In San Jose at that time there were bands on every corner, pretty much.  I later had a group called the Elements.  It was the most exciting time of my life.  I recently got some of the old posters from shows we did, and the bills were, like, the Surfaris, Stained Glass, and the Elements.
At what point did you start recording things?
When I was 19, somebody loaned me a tape recorder, and a couple years later I got one of those Sonys that had sound-on-sound.  My roommate and I lived above his parents' garage, and I had all these 45s, so every day we'd pick one and try to re-record it playing all the instruments.  Then I got a four-track.  There wasn't much to do in Santa Cruz, so I moved to L.A.  Eventually I met Chris Ashford, who wanted to produce the Halibuts, and came to my studio.  I really wasn't playing much guitar then, but one of them couldn't make a gig, so they asked me to sub on rhythm guitar.  It got me all excited about playing, like I'd been in high school. 
When you first start playing, you can see the progression almost on a daily basis, until you get to a point where you feel like you're not getting any better.  So that was great.
What took place between your '60s period and hooking up with the Halibuts in the early '80s?
I got really into country music.  I signed up at the musicians union, and started getting calls to play drums at weddings and lounge things.  I got thrown into a bunch of situations.  I backed up Jim Backus once.  We played the "Gilligan's Island" theme, and he came out and sang a song and told jokes. 
I was in kind of an early punk band, had a day job as a cabinet maker, then played drums with a Waylon Jennings impersonator in Arizona for a year.  I decided I didn't care if I ever played drums again.
The Halibuts really did set out to be a "surf" band.
Oh, those guys were all surfers.  We weren't trying to sound like Dick Dale; I always thought we were more influenced by the Astronauts.
Learning that style while you were learning lead guitar, what components went into it?
When I first joined, I didn't really have an appropriate guitar, so I went and got a pawnshop '66 Jazzmaster.  And I had a silverface Deluxe with a JBL in it, but I got a black Dual Showman pretty quickly.  But as soon as I could find one, I got a blond one (with dark grillecloth) with a single-12 bottom.  And an outboard Reverb tank.  But lately I've been using a Vox AC-10, which sounds great with Jazzmasters.  It's a 10-watt Vox with two 10″ speakers, and it's so underpowered it's got a little hair – but not much.  I'm not as close-minded as I used to be.  Whatever works or fits the song.
Is the '66 still your main Jazzmaster?
No, I got rid of that because I thought I wanted a Jaguar.  I realized that was a mistake.  So I got a slab-neck '60 Jazzmaster.
When you started playing bass in surf bands, did you follow the style according to the Dick Dale rules?
You mean all downstrokes? Well, that's how I play guitar, too.  Well, I double-pick the fast, reverby stuff, but everything else is all downstrokes.  But I'd also been in a polka band, where I played a fretless bass with my fingers, trying to get it to sound like a tuba.  So in Los Straitjackets, sometimes I play with my fingers, sometimes I use a pick.
Most of the songs on the new Straitjackets CD are group collaborations.
We rehearsed here at my studio for a week, and threw out ideas, then cleaned them up in the studio.  So most of the songs were written with everybody playing.  Which is different from how I usually work, laboring over things.  Everyone quickly found something that worked.
Ben Vaughn produced The Velvet Touch…, various cuts on Sing Along… were produced by Mark Linnet or R.S. "Bobby" Field, and Supersonic Guitars was produced by Mark Neill.  How radically different are those producers' approaches?
Totally different.  Ben Vaughn worked at Mark Linett's studio.  Ben came to rehearsals and really helped with arrangements and keeping everything focused.  Mark Linett had a lot of old stuff, but he had a more modern approach.  A lot of mics on the drums, with lots of high-end on the cymbals.  And, generally, we all played to get drum tracks, and most of the time I got the bass track at the same time; then they worked on guitars.  The Bobby Field way was a lot more aimed at getting everybody at once, but he had a very relaxed pace.  Mark Neill has a completely different approach – really old school – where he just used two or three mics on the drums, the bass was never direct, and everybody played at the same time with no overdubs, all in the same room with no headphones.
Describe the Powow Fun Room.
Well, it used to be my wood shop before I gutted it.  The ceiling is pretty high, about 12 feet at the top.  There are four rooms – the biggest one is about 20′ by 18′.  I've got my old WFL [1950s Ludwig] drum kit.  The board is an early-'80s Soundcraft – no big deal – and I got a 2″ 16-track Studer machine.  I've got some converted Ampex things, tube amps and preamps, plate reverb.  It's kind of live-sounding, I think, and big enough for four or five people to play in without stepping over each other. 
My last studio was half this big and just one room.  We ran a snake into the house, and we'd put the drums in the kitchen.
The band recorded the Christmas CD in your studio.
Yeah.  Before I joined the band, they had already done a single with Mike Campbell and Mark Linett producing.  But the rest of the CD was done here.  When we cut it, I still had my old 3M machine, so we recorded on that, but mixed on the Studer.  I'm pretty proud of it.
Describe your DiPinto bass.
They're cool instruments.  It's got a neck kind of like Precision, and it plays well; it's balanced nice.  We've been using them a lot. 
I've also got a six-string model, which is like a Fender Bass VI – with a wang bar – except it's got four pickups.  I've only played it a couple of times, but on the recordings, that's what I used about 80 percent of the time.  That or a Höfner, or an Epiphone hollowbody.
Onstage, what kind of amp do you use?
Have you ever heard of a "Fender Peteman"? It's an old Bassman that Billy Zoom converted; he simplified the preamp to make it sound more like a blond one.  I use a JBL D140 or an EV – two 15s. 
That's what's cool about Los Straitjackets; stage volume isn't very loud.  Those guys play through Vibroluxes.  And we never use monitors.  It works great.  We're self-balancing.
So it minimizes at least some of the problems working with different soundmen from venue to venue.
Here's the deal: the show is about 90 minutes or two hours long.  How much grief is worth trying to educate people who don't have any interest in that kind of music and can't hear it right?  So you have to make the best of the situation.  If sound guys are willing to even talk to you about what you want, I try to tell them to mix it more like a jazz group than like a rock group.  My big thing is to consider the drums one instrument, instead of five or six.
Putting on your Halibuts surf-band hat for a moment, what do you think the crop of surf revival bands are doing right and what are they doing wrong?
Oh, man [laughs]!  Well, the drums are usually too loud.  I don't really listen to much new music and don't profess to be an expert on it.  This morning I listened to some Soul Stirrers, Nina Simone, the Beat Generation box set, Blind Boys of Alabama, James Brown, Ennio Morricone, Roy Orbison.  And I always have the Rhino Duane Eddy set, Twang Thang, in my car.
Most people would lump Los Straitjackets in with the "surf" category, too.  Do you think that's accurate?
It's instrumental rock and roll.  If you know the difference between rock music and rock and roll music, then we can use the phrase "instrumental rock and roll."  If you don't think there's a difference, like most people probably don't, then it doesn't work as well in terms of defining what we do.  And that includes slow songs, fast songs, and lots of different stuff.  I don't think we're locked into anything, and it's getting more that way. – Dan Forte
© 2003 Dan Forte; all rights reserved. Reproduction or transmission of all or any part of this article, in any media, without the author's written consent, is strictly prohibited.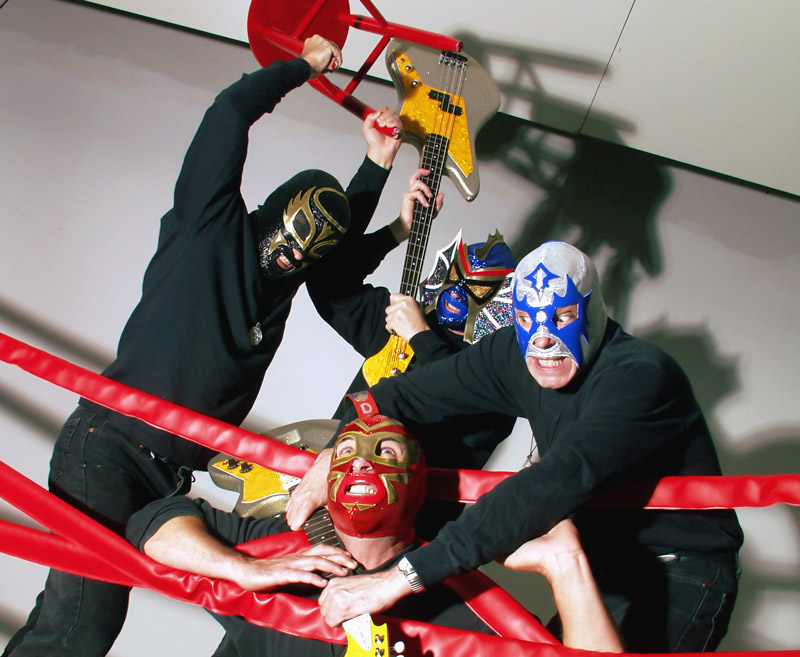 ---
This article originally appeared in VG December 2003 issue. All copyrights are by the author and Vintage Guitar magazine. Unauthorized replication or use is strictly prohibited.