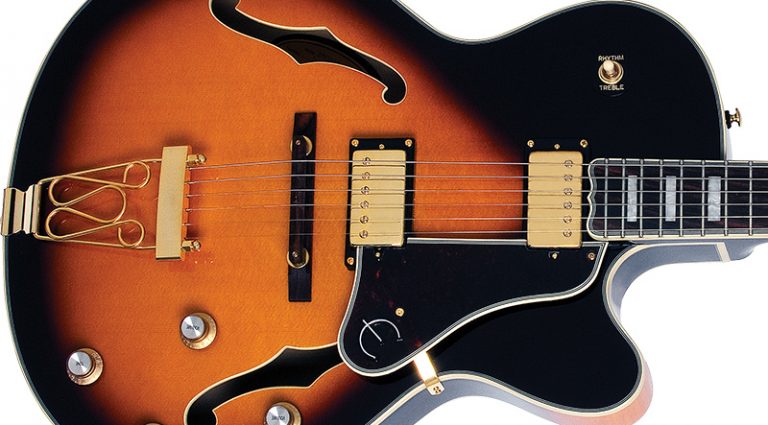 In the early 1950s, the grand old luthiers like Epiphone and Gibson couldn't believe there would ever be a market for solidbody guitars. In contrast to their glorious archtop hollowbodies, the electric planks lacked beauty and artistry and tone. But times and tastes changed, proving that notion wrong – at least on the point about there being a market for solidbodies, but not on the supreme beauty and artistry of an archtop.
Building hollowbodies is a much more involved affair than building solidbodies, so to find a guitar of the quality of Epi's Joe Pass Emperor-II PRO for this price is indeed a find.
The large, Rubenesque body with maple sides and spruce top is about 3″ thick – something you can really get your arms around. The maple neck, meanwhile, is tapered and thin, designed for quick, effortless playing. The guitar is crafted in Indonesia, but uses Gibson USA ProBuckers.
The rosewood fretboard is highlighted by block pearloid fret markers with a Graph Tech NuBone XL nut and crowned by that famous headstock inlay – one of the most stylish ever. Grover 18:1 tuners provide butter-smooth, accurate tuning.
So what would Joe Pass think?
Pass was known as the "president of bebop guitar" for his mellifluous-yet-inventive riffs. He was a genius of harmony, proving himself an ideal foil in his famous duets with Ella Fitzgerald, as well as group recordings with a who's-who of jazz greats, including Duke Ellington, Count Basie, Dizzy Gillespie, Chet Baker, Herb Ellis, and more. But this guitar bearing Pass's name isn't just a jazz box.
The neck ProBucker-2 offers a graceful mellow tone, ideal for jazz or ballads. Switching to the bridge ProBucker-3 naturally provides a more trebly voice, but also more grunt.
It's when both pickups are used together that the guitar really sings. Dialing in a softer tone, then cranking up the grind, takes you from Pass' smoothest sound to T-Bone Walker's rich, woody jump-blues drive to a true rock and roll bite. And the harder you pick, the more you can make the guitar talk. In addition, there's coil-splitting for each pickup when you pull up on either volume knob.
The body is not as light as a '50s carved archtop guitar, but overall it weighs only about seven pounds. Our sole complaint? That large, classy headstock doesn't balance well with the body, making the guitar want to tip downward.
Joe Pass would be proud. And the fit and finish is astonishing for the price, almost everything those grand old guitar-makers could hope for.
---
This article originally appeared in VG March 2016 issue. All copyrights are by the author and Vintage Guitar magazine. Unauthorized replication or use is strictly prohibited.
---