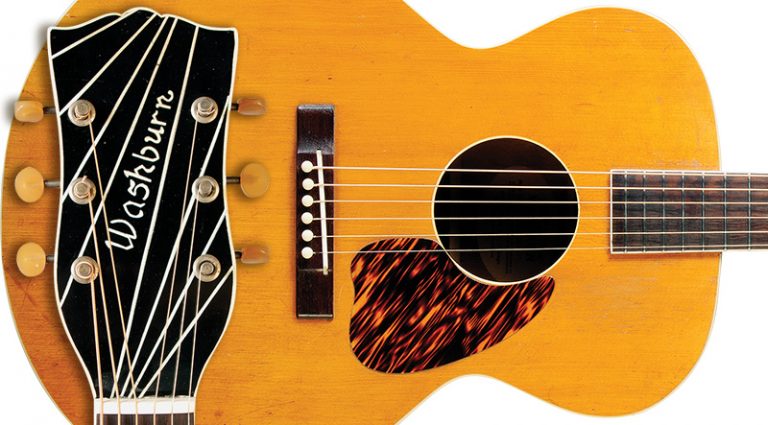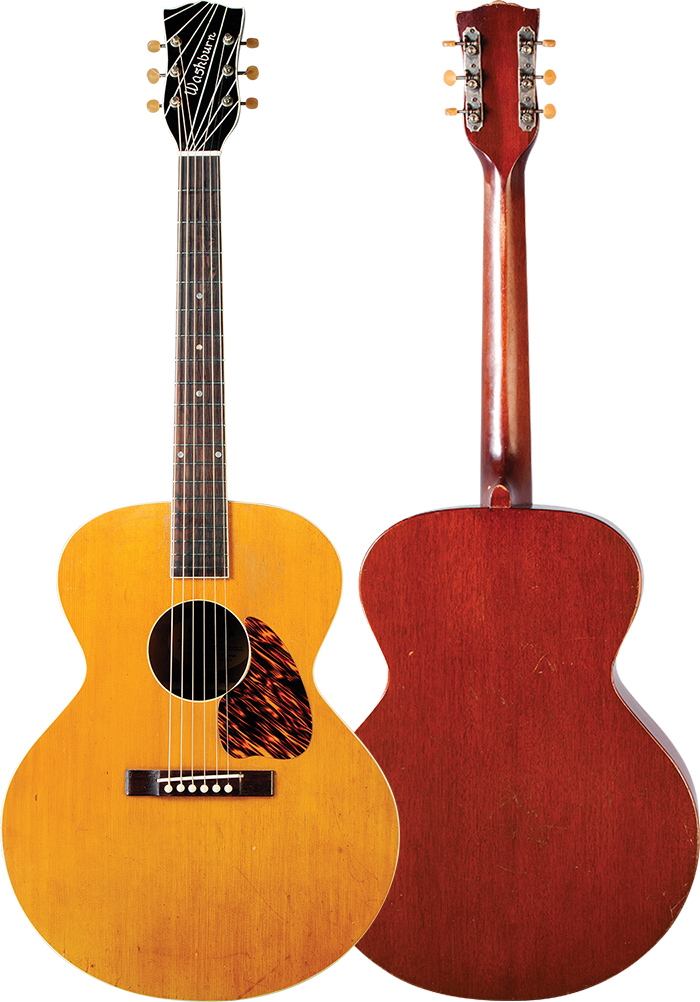 From the late 1920s through the early '40s, Gibson produced instruments under a variety of brand names for retailers like Montgomery Ward and mail-order houses like Tonk Brothers.
While the majority of these were budget models with less ornamentation than their Gibson-branded counterparts, and none were given Gibson's adjustable truss rod, the instruments sold so well that, in 1933, Gibson began producing its own budget line under the Kalamazoo name. By '35, instruments produced for Montgomery Ward under the Recording King brand represented 12 percent of Gibson's production, making them the largest retailer of Gibson product that year.
The Washburn 5241 Classic Model, which Gibson built for the Chicago-based Tonk Brothers in 1939 and '40, is in some ways a typical example of the genre. Tonk Brothers began doing business in the late 19th century as a manufacturer of pianos and piano supplies. By 1928, when it acquired the Washburn brand from Lyon & Healy, the company had become largely a mail-order operation that offered a variety of musical instruments and supplies. To make guitars, Tonk Brothers also contracted with Kay and Regal, and while it remains unclear which company built the earliest 5241, some examples built by Regal bear a strong resemblance to their Gibson-made counterparts.
A strong case for Gibson's primacy could be made with this 5241 because the guitar seems to be based on the Recording King 1052, which Gibson was building for Montgomery Ward in June of '39. The first Gibson-built examples of the 5241 did not begin shipping until three months later, in September. Other than a few cosmetic differences, the Montgomery Ward 1052 and the Washburn 5241 are virtually identical. 
A major difference between the Gibson-built Montgomery Ward 1052 and the Washburn 5241 was the total number produced. Gibson built more than 700 for Montgomery Ward in 1939/'40, while the Gibson shipping ledgers show only 57 sent to Tonk Brothers during the same period. The total number of Regal-built 5241s remains unknown, but the Gibson- and Regal-built versions are easily differentiated by counting frets; Gibsons have 19, Regals have 20. Also, Gibson-built versions have the distinctive "firestripe" pickguard, while the Regal has a black celluloid pickguard (or none at all).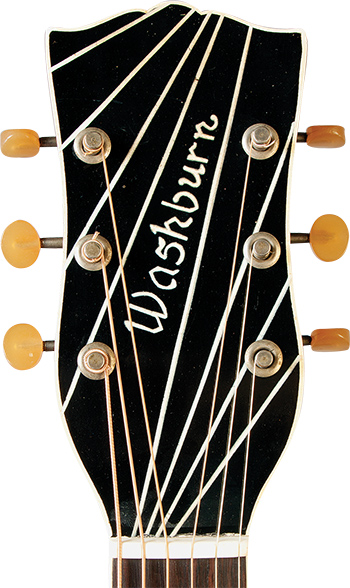 Specs on the Gibson-made 524 include a 16″ body width, spruce top with transverse ladder bracing, mahogany back and sides, white binding on the top edge of the body, 14-fret mahogany neck, bound rosewood fingerboard with pearl dot inlays, bound peghead with white stenciled stripes and diagonal Washburn logo (although some examples have been seen with engraved strips and logo), strip tuners, bound sound hole, and rosewood bridge. The 1939 Tonk Brothers catalog points out the "natural finish" on this model as a special selling point. Gibson had used a natural finish on their Roy Smeck models as early as '34, but it was not common.
One distinguishing feature of all off-brand guitars made by Gibson was that they did not have an adjustable truss rod in the neck. The exception is two Ray Whitley dreadnoughts which have an unusable truss rod; it would have been adjustable, had they simply routed the peghead to open the access cavity. It's a strange, anomalous fact that the two Whitley models do have a truss rod, but it is not exposed or visible (it can be seen on an x-ray or if one removes the fingerboard, and a strong magnet held near the neck will detect it). It's most certainly non-adjustable.
It is worth noting that no pre-war Gibson from the regular production line duplicates the body size of the Washburn 5241 model. In fact, not until the advent of the J-185 (in 1951) did Gibson reproduce this body profile. However, the depth of the 5241 is similar to archtop guitars of the period, a dimension in which the later J-185 is different.
The Washburn 5241 model is a rare pre-war flat-top with construction quality comparable to Gibson's own lower- and mid-grade models. Its width and depth gives the instrument a unique voice among flat-tops from the period.
---
This article originally appeared in VG March 2016 issue. All copyrights are by the author and Vintage Guitar magazine. Unauthorized replication or use is strictly prohibited.
---