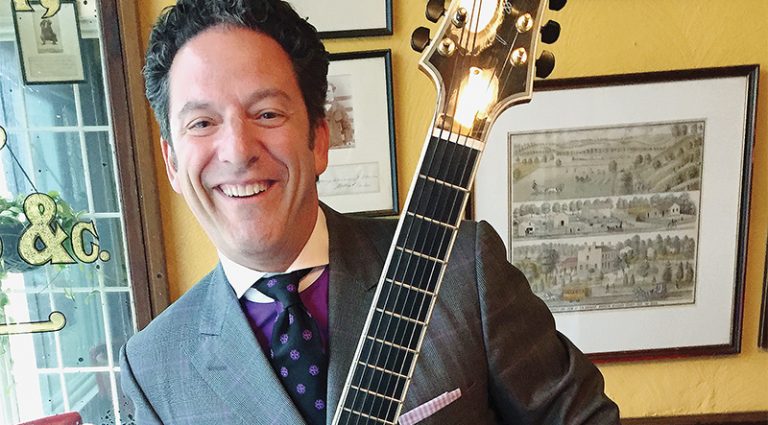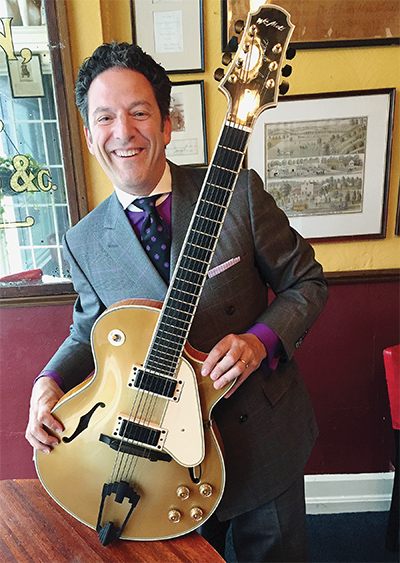 John Pizzarelli wasn't surprised to receive a FedEx package from Sir Paul McCartney in 2014, given that he (and his dad, Bucky) had played on Kisses On The Bottom, McCartney's album of pop standards. Since he appeared with McCartney on the 2013 Grammys, Pizzarelli assumed the box contained photos or video from that event. Instead, he found a personal letter suggesting he record an album of his post-Beatles ballads.
When the letter from McCartney arrived, Pizzarelli, who'd recorded an album of Johnny Mercer standards in mid 2014, was pondering a followup to Double Exposure, his 2012 album of jazz-pop mashups. Given his affinity for the Beatles, a McCartney songbook made sense. He notes McCartney "probably has the best connection to Tin Pan Alley – he always had an affection for that. I think that shows in his songwriting too."
Midnight McCartney indeed emphasizes ballads, among them "Junk," "Some People Never Know," "No More Lonely Nights," "Maybe I'm Amazed," and "Silly Love Songs." For contrast, he added a few upbeat tunes – "Let 'Em In," "Hi, Hi, Hi," and "Coming Up," the latter featuring guest vocalist Michael McDonald. Calling it "one of the few things I didn't see myself singing," he reworked "Hi" as an instrumental, inspired by Wes Montgomery's "Sundown."
Along with his quartet (bassist Martin Pizzarelli, drummer Kevin Kanner, and pianist Konrad Paszkudzki), Pizzarelli's wife, singer/actress Jessica Molaskey and their daughter, Maddie Pizzarelli, added background vocals. Guest sidemen included Bucky, tenor-sax great Harry Allen, organist Larry Goldings and Brazilian pianist Helio Alves, and percussionist Duduka DaFonseca.
Pizzarelli emphasizes jazz on his albums, but on this specific project, hoping to reach a wider audience, he used it more sparingly. "I think we tried to put jazz where we needed it, where it was right," he explains. "Silly Love Songs," "Be My Valentine," and "Some People Never Know" got Brazilian treatments. "We used the bossa nova in sort of different forms," he says.
The same applies to "Wonderful Christmastime," a favorite of Maddie's. "I thought it could be a nice little bossa nova, then came up with the idea of the samba," he explains. He conceived the intro while riding in a cab, enroute to rehearsal, adding, "We played that thing for 15 or 20 minutes! We were having so much fun that it killed the rest of the rehearsal." At the recording session, they finished three songs, leaving "Christmastime" until the end. "By the time we got there, (the musicians) were on fire. It was just great!"
Pizzarelli has long endorsed Missouri luthier Bill Moll's custom-built steel string and classical guitars including the beloved seven-string sunburst he has used onstage for years and calls simply, "the archtop."
Speaking to Moll (who semi-retired in 2013) last year, "I said, we should think about gettin' a new guitar. My friend (guitarist) Rick Haydon, we were all together, and Bill said, 'I just don't want to build the same old guitar. If you're gonna get a new guitar, let's do something fun.'"
Pizzarelli suggested a goldtop. "I thought an ES-295, not a copy, but that idea, with f holes and all. Bill got all jazzed by it, and when I saw the guitar that October (2014) in St. Louis, I just flipped. It's just one of the greatest things I've ever seen. Everything worked out well with the black metal tailpiece and the two (Kent Armstrong) humbuckers. I have one in my [Moll], but these were the two big ones."
The first half of the McCartney album is the older archtop, and the solos on the other half are the new guitar. "Coming Up" is on the goldtop. "The solo on 'My Love' is on the sunburst. I used my classical (with an RNC pickup) on all the bossa-nova things, and on 'Maybe I'm Amazed.' In the studio, we ran the classical into the board, but also had (engineer) Bill Moss mic it. The combination really is stunning."
His instruments travel in Jeff Hoffee's heavy-duty custom cases since, he grimly notes, "The airlines really go out of their way to put big holes in those cases, but the guitars are in perfect shape. It's amazing, the dents and the dings (airline handlers) can put in a case."
Pizzarelli is satisfied with the outcome. "At this point in my career, I'm as comfortable as I've been, singing. I know what to expect from the music when we go into the studio now. I'm more comfortable with everything – all the moves that we made were really positive. Putting that record together, I think we really pulled it off as well as we ever have."
---
This article originally appeared in VG January 2016 issue. All copyrights are by the author and Vintage Guitar magazine. Unauthorized replication or use is strictly prohibited.
---