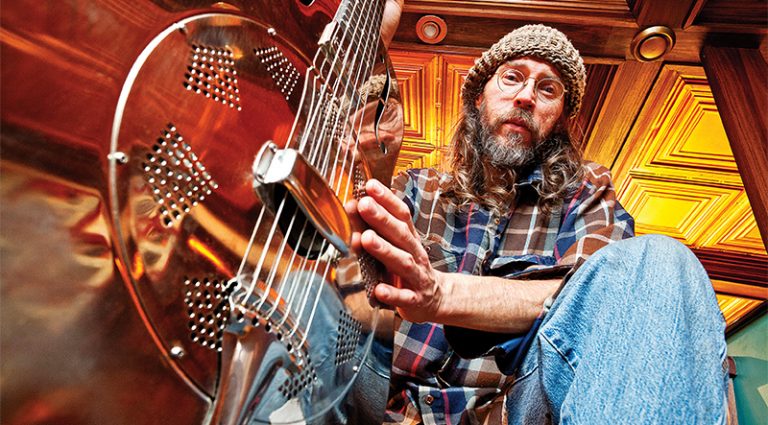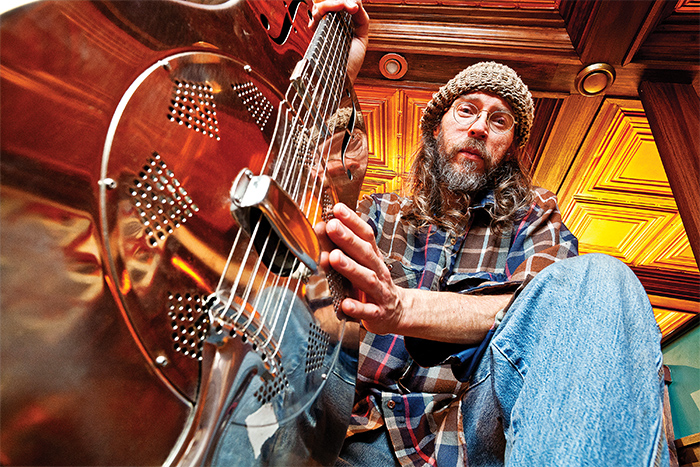 Charlie Parr makes new music from olden times. And he makes it the old way – not only using just the simplicity of a National resonator, a bottleneck slide, boot-stomping rhythms, and his voice, but also traveling like a modern-day Delta blues man.
Instead of Robert Johnson's Hudson Terraplane, though, Parr is driving – and living in – a secondhand Kia Soul. While on the road, he cooks many a meal on the manifold of the little car that could.
Parr is a veteran of the road and he's now on tour playing songs from his new album, Stumpjumper; rollicking spirituals rolling with spirit, deep blues with dirt under his fingernails, and raw, intense folk songs that might make Lead Belly and Woody Guthrie stir in their graves.
Following his ghostly 2014 instrumental duet EP Hollandale with Alan Sparhawk of Low, this new disc is a return to form, of sorts. Stumpjumper is Parr's first recording with a band. Parr's well-traveled National and 12-string Fraulini remain front and center on a CD that may just be the best of his dozen-odd outings.
Parr hails from the Spam capitol of Austin, Minnesota, where he grew up sans TV but with a vast family record collection that inspired his later music – Mance Lipscomb, Lightnin' Hopkins, Jimmie Rodgers, Faron Young, and Harry Smith's Anthology of American Folk Music. Later, the Clash's debut joined the collection, which Parr says fit in somehow. "The Clash were just kind of a loud folk band," he says.
Still, it was the sound of one person with an unaccompanied guitar that moved Parr:
"There's something about Mance Lipscomb just playing that's like – yeah! He still does that to me, still knocks my socks off. That sound makes me so happy. When I was a kid and got my first guitar, that Mance Lipscomb and Lightnin' Hopkins sound was the sound I wanted the guitar to make."
Recordings of Son House slashing at his National resonator pushed Parr to track down a '30s Dobro and later, an ancient Duolian "with mojo through the roof."
"Nationals are as much musical instrument as mechanical creation," Parr philosophizes. "I took one on tour to Australia and the airline made me check it and its neck got broken. So I'm in a bar in Australia and I've got the guitar apart on a table, and I telephoned Don Young [of National Reso-Phonics] and he walked me through field dressing my old Duolian for the tour. So I played for 30 days with popsicle sticks, a chunk of a stairway banister, and zip ties holding the guitar together."
For years, Parr played his National so powerfully that he suffered tendon damage in his right hand. He was forced to revise his technique to thumb-and-index plucking with fingerpicks.
"With the National, there's a certain tone that I want and you have to have enough power in your arm to get that resonator to move. In order to get the sound, you have to have the string tension and you need a little more strength in your picking to get that resonator to start working. When it works the right way, it just hums and buzzes and makes all these amazing sounds come out of it."
Ask about life on the road with Parr, and the conversation quickly turns from music to car-engine cooking.
"This is an old, old thing," he says. "People have done this forever. Freight-train engineers used to do it on their steam trains. Truck drivers on their engines.
"My Kia is ideal because it's got a little four-banger and the exhaust manifold comes straight out of the back of the motor and I've hooked up a little harness made of 20-gauge wire to hold food. It's a perfect spot – behind the motor, so the air coming through the front of the engine compartment gets stopped by the engine and doesn't blow right on your food and keep it from cooking.
"Most of the time, you're steaming your food. Timing and the weather play a part. If it's raining, you're not really going to be able to cook much. If it's super hot, you've got to be really careful; I've driven 17 miles in Texas heat and had done food. And on the other hand, I've driven 150 miles across Montana and just been barely able to warm something through.
"I cook a lot of beans and rice. I've done curried vegetables and hobo stews. Quesadillas are easy. If you can wrap it in a burrito wrapper, I've probably cooked it on the manifold."
---
This article originally appeared in VG January 2016 issue. All copyrights are by the author and Vintage Guitar magazine. Unauthorized replication or use is strictly prohibited.
---