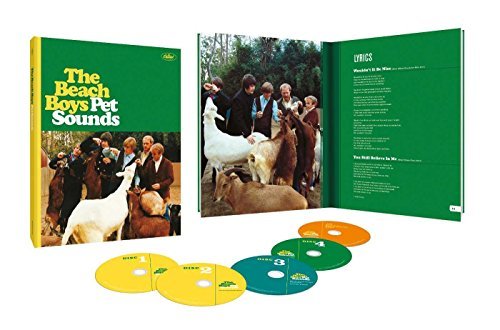 It's ironic – and tragic – that Brian Wilson leads off his long-awaited memoir explaining the voices he hears in his head. He's referring to the mental illness that has troubled his life and career, but he soon segues into the other voices he hears in his head – a near-mystical ability to envision songs with layers upon layers of vocal harmonies that became the enduring legacy of the Beach Boys.
From Brian, his brothers, and cousin Mike Love's 1961 single "Surfin'" through the glory days of 1964 when the Beach Boys were one of the biggest bands in the land, to the then-unfinished masterpiece Smile, his autobiography chronicles his inspirations, production and recording concepts, and yes, his illness – and subsequent resurrection in later years.
Wilson tells of his love for Rosemary Clooney's "Tenderly," the Four Freshman, and Phil Spector's productions – all of which colored his conception of the American teenage pop opera. And he talks about first discovering the electronic voice of the theremin, which he'd famously later use in "Good Vibrations," as well as conceiving of and recording the intro to the band's trademark song, "California Girls," while on acid. Wilson's story of the inner workings of the Beach Boys and his own musical genius makes for a page turner.
It's also a chilling read at times. His narrative is anything but straightforward as he bounces back and forth in time, free-associating events and layering stories atop each other. If you're at all a fan, you need this book.
Two new musical collections arrive at the same time, providing insight into how Wilson and band made their music. Becoming the Beach Boys is a two-CD set collecting multiple takes and even rehearsals of just nine songs cut between 1961 and March '62 before they signed with Capitol. There are 63 tracks showing how the band built their earliest songs, the most fascinating perhaps being their construction of "Surfin' Safari" and "Surfer Girl," including multiple takes, overdubs of backing vocals, and the final master.
At the same time, Jim Murphy's book Becoming the Beach Boys is a deeply researched, 436-page look into the early days of the band that began as the Pendletones.
The 50th anniversary of the Beach Boys' 1966 masterwork Pet Sounds is celebrated with a deluxe edition comprising four CDs and a Blu-ray Audio disc in a hardbound book. This includes the remastered original album in mono and stereo, plus a new hi-res instrumental mix, as well as session outtakes, alt mixes, previously unreleased live recordings, and hi-res mono, stereo, and 5.1 surround mixes.
In addition, the documentary Classic Albums DVD/Blu-ray tells the behind-the-scenes story of the making of the album, including 30 minutes of additional interviews.
Finally, Brian Wilson & Friends is a CD/DVD set from his 2014 show at Las Vegas' Venetian Theatre featuring Al Jardine.
This article originally appeared in VG's December '16 issue. All copyrights are by the author and Vintage Guitar magazine. Unauthorized replication or use is strictly prohibited.