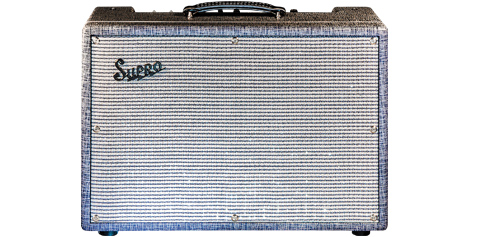 Supro's Dual-Tone 1624T, Coronado 1690T
Price: $1,595 (Dual-Tone[LEFT]); $1,795 (Coronado)
Contact: www.suprousa.com
If there was a time machine handy to scoot us back to 1964, where we would naturally stock up on new guitars and amps, a blue-and-silver Supro would be at the top of most guitarists' must-grab lists.
Happily, time travel isn't necessary. Fifty years on, new Supros are available with all of that vintage '64 vibe.
While the most famous Supro these days may be the bassman's Thunderbolt – granted, it is famous among guitarists – back in the day, both Jimi Hendrix and Jimmy Page used Supro models that were built for guitar players and offered features beyond the one-trick-pony Thunderbolt.
The all-tube 1624T Dual-Tone 1×12 is Supro's all-rounder. It's got the wattage to play small clubs, tube-powered tremolo, an affordable price, and it's made right here in the U.S. of A.
Need a little more oomph? The 2×10 1690T Coronado boasts 35 watts of Class A power and is Supro's top-of-the-line amp.
But these are not simple reissues or replicas. Instead, they are based on a "vintage design by Valco" that's "re-engineered and modified" by mastermind Bruce Zinky (former Fender amp designer, responsible for the stellar Custom Shop Vibro-King, and builder of Smokey Amps) and David Koltai (Pigtronix). Since their debut in 2014, the Supros have been the talk of the industry.
To take any guesswork out of the equation, we plugged in a suitable vintage guitar: a '64 Rickenbacker 365.
The Dual-Tone offers 24 watts via a pair of 6973 power tubes plus a quartet of 12AX7EHs through a specially designed 12″ speaker. The Rick sounded beautifully clear, chords ringing out like chimes.
The Coronado provides more wattage in a Class A design, all delivered via a dual 6L6 output stage, 5U4 tube rectifier, and dual 10″ speakers.
Both amps feature two channels, both sporting tremolo. Switching over to channel IN1+2 on either amp provides two preamp channels in one, with double the input signal and double the gain. This was an original '64 concept, and Mr. Page utilized it well on the solo in "Stairway To Heaven," which gives Supro a dictionary-perfect definition of the term "street cred."
Plugged into the Coronado's IN1+2 jack, the Rick sang like a full choir. The sound was rich and thick. While the Dual-Tone had a distinctive wide-ranging boom to its big 12″ speaker, the extra horsepower and smaller 10 speakers of the Coronado allowed the Rick to overdrive that amp at lower volumes. The result was a creamy-smooth sound that had more bite the further the loud knob was twisted northward.

Still, even at higher volumes, both of these amps remained amazingly articulate. Their voice had punch but was still clear, and their tone had an edge but was still warm. Think Vibro-King.
The net result is that you want to play these amps – and keep on playing them. We logged many an hour with them, and they proved rock-solid reliable, which can't always be said for their vintage brethren.
The cabinets and baffle boards of original '64 Supros couldn't always handle a roadie's thoughtless abuse. These new amps weigh more than a vintage Coronado we compared them to, and happily a good portion of that weight is in sturdier cabinet construction.
Now brace yourself: these new Supros are arguably better amps than the '64 originals. True, they use printed circuit boards, but the tradeoff is that the amps are affordable – especially given their specs and the Zinky pedigree.
Finally, with their baby-blue rhino-hide tolex and silver grille facing, they just might be the coolest-looking amps out there. Whether you're playing the blues in a juke joint, classic country in a roadhouse, or rock and roll in a club, these amps will get noticed, both for their style and their tone.
Forget building that time machine out in your garage. Go for the modern Supro time warp instead.
---
This article originally appeared in VG August 2015 issue. All copyrights are by the author and Vintage Guitar magazine. Unauthorized replication or use is strictly prohibited.
---