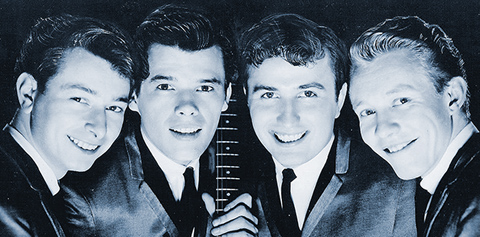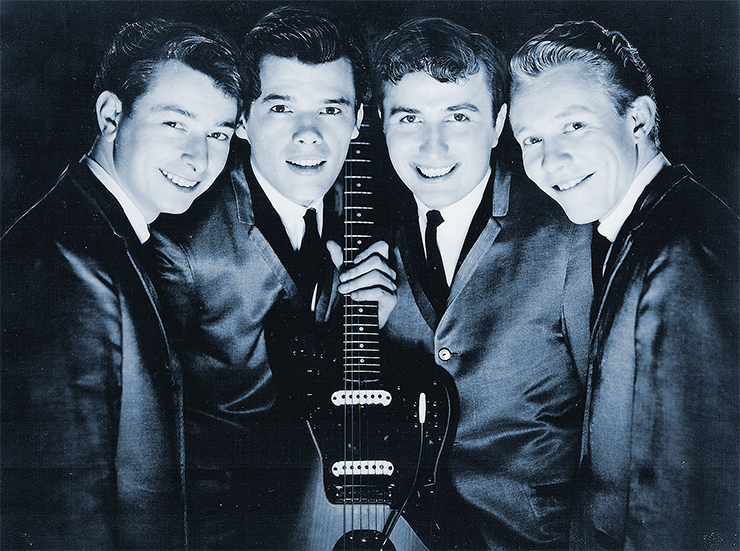 Surf's up – again! Thanks to the prodding of guitarist/impresario Deke Dickerson, The Trashmen recently recorded their first album in 25 years.
"I was an obsessed fan," Dickerson says of the band, whose 1963 hit "Surfin' Bird" vaulted it to near-legendary status. "They were doing rockabilly mixed with surf, and it was unique in that era."
The band formed in '62, when 19-year-old guitarist Tony Andreason was somehow inspired to play surf music in Minnesota – a place where "hang ten" usually means warming cold toes by a fireplace.
"There were great groups in Minneapolis – Gregory Dee and the Avanties, the Underbeats, the Accents," recalls rhythm guitarist Dal Winslow. "But they all played the same stuff – Chuck Berry, Buddy Holly. Our niche was Steve Wahrer playing drums and singing Jerry Lee Lewis. We went to the West Coast and heard Dick Dale and [other surf groups]. We had a different sound, and just needed to do something that set us apart."
Minneapolis disc jockey Bill Diehl urged the group to record, so the guys anteed up to do a demo at a studio in the basement of George Garrett's record store. Diehl heard it and was an instant believer, though he asked them cut it to two minutes for radio and helped organize a professional session at record distributor Vern Bank's Kay Bank Studios.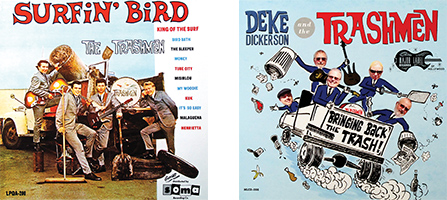 "It was great," Winslow recounted. "The classic giant room, Neumann mics, a live echo chamber. Recording was a challenge because we came in with two Fender Bandmasters and Steve was not a quiet drummer – plus, he was singing while he was drumming. But we cut it live."
"Surfin' Bird" was the first single. Part Dick Dale rave-up, part teen angst, it was pure juvenile delinquency. Afterward, they introduced it to the crowd at Chubb's Pavillion, in Eagle Lake, Minnesota. "The place went bananas," Winslow remembers. "We had to play it four times." It also hit #4 on Billboard's Hot 100 and is now a garage-rock/proto-punk classic.
Soon after, with some green in their pockets, Andreason and Winslow traded their Strats for the Jaguars seen on the cover of the album. The band then hit the road, playing everything from small-city circuits to international tours.
"We played Venezuala in '65, and sold all our equipment because it cost so much to ship back. When we got home, Fender had shipped us new Candy Apple Red Jaguars."
Bob Reed held onto his Dano bass, though… until it broke in half while riding in the band's trailer.
"We found a big wood screw and cranked it into the neck joint," Reed laughs. "I put a diaper over it to keep it from gouging my stomach." He soon upgraded to a Candy Apple Red Fender Jazz that's still in his possession. The band also traded up to Showman and Dual Showman amps.
The title track of the band's '64 sophomore LP, Bird Dance Beat, went to #30.
As always, though, musical tastes changed and the band hung up its Jaguars in '67. "We just didn't want to play the music people wanted to hear," Winslow said. "James Brown, horns, R&B, acid rock. Plus, people quit dancing."
"It got groovy," added Andreason.
The band reunited briefly in the late '80s and recorded Comic Book Collector before Wahrer's passing in '89. In recent years, they've played festivals.
"We had no idea we had such a huge following," said Winslow. "When we walked onstage in Australia, Europe, or Japan, and asked, 'What's the word?,' audiences would go crazy."
Still, it wasn't easy to get back into the studio. "We've never been a studious group," Winslow laughed. "We needed Deke to be the driver."
In 2012, they cut a four-track vinyl EP, I'm A Trashman. "Everyone flipped for it," Dickerson said. "So, I told them, 'We don't have to do much more to get a whole album.'"
In May, 2013, they gathered in a Minneapolis studio. Despite the years, the group was full of giddy jokes befitting the creators of a hit song with few decipherable "lyrics." Andreason and Winslow played Strat '57 reissues, while Reed plucked a Danelectro similar to his original. The only missing element was Wahrer; his place was filled by Reed's son, Rob. The result – Bringing Back the Trash – is pure vintage Trashmen, with reverb-soaked surf guitar, wild drumming, and thumping bass. Made the old-fashioned way – live, with no overdubs, guitars and bass in one room – engineer Jim Reynolds recorded to Hi-8 digital tape, then Dickerson mixed and mastered the tracks, his goal "…to stay true to the vision of the Trashmen, showcase Tony's awesome playing, and not get in the way."
For kicks, the band re-recorded "Surfin' Bird" with Dickerson singing lead. The track is not on the album, but…"It's such a demented recording," he said. Like a choir, the Trashmen responded, "Well, look who made it!"
---
This article originally appeared in VG July 2015 issue. All copyrights are by the author and Vintage Guitar magazine. Unauthorized replication or use is strictly prohibited.
---