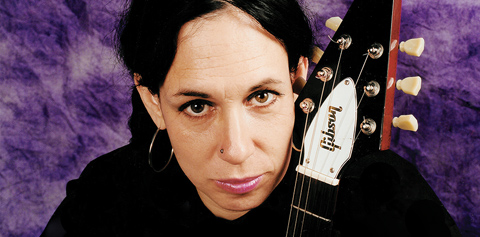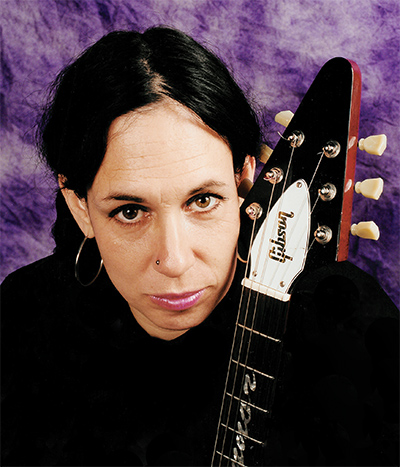 Her overnight success was decades in the making, but a video gone viral of a jaw-dropping slide guitar performance at the 2014 North Atlantic Blues Festival has helped bring Joanna Connor to the world. With nearly a half a million views, the performance displays scholarly blues virtuosity and crowd-pleasing pyrotechnics. In recent years, she has kept a lower profile, but her music catalog reaches back to the late '80s. She holds a residency at Kingston Mines blues club in Chicago, but be forewarned – Connor plays blues her way.
That video has gone crazy viral.
I'm surprised by the whole thing. I didn't know the video existed. Back in November, it had 100,000 views. Three weeks later, everything started to go crazy. I was getting calls from filmmakers, "America's Got Talent," guitar companies, and booking agents from all over the world. It's been pretty funny. People are coming out to clubs who've never been to Kingston Mines. I was in shock. It's like a Cinderella story.
Your background is in traditional acoustic slide.
I was fortunate to find a teacher who taught me early blues like Blind Blake, Son House, and Memphis Minnie. He was a Ry Cooder fanatic. Because of my mom, I listened to a lot of different kinds of music. She always talked about Taj Mahal and Ry Cooder. She also liked The Beatles and Jimmy Cliff. Then Led Zeppelin came along. Then James Brown and disco came along. I listened to so many different things.
In the '70s, everything was on the radio; Steely Dan was the top thing you'd hear. Musical influences of all kinds were in my head. I liked everything. It was no big deal to go from Led Zeppelin to James Brown and The Eagles. My mom took me to see Buddy Guy when I was 10 years old, so all this stuff was floating around in my head.
I started singing in bands when I was 17. We covered everything from Neil Young, Western swing, and blues. I grew up in Massachusetts playing classic '50s-style Chicago blues. It's been a journey.
How does that fit into your live shows?
A lot of blues purists complain about what I do. I can't turn off all the things I've heard all my life. It would be unnatural to me. I want to play blues, but I want to interject things that are in my head. The "blues Nazis" do not dig it at all.
I've never been a favorite in the blues world. The W.C. Handy Awards never reached out to me, but that was okay. When I play in Chicago, I want to give them that piece of the traditional because I love that stuff, but I don't want to be limited to that. I offend a lot of people, but that's okay because I'm used to it (laughs).
How so?
I offend them with my choice of music, because I'm loud, proud, and a big lady. I've always had a band that played all over the map musically. I rub people the wrong way, but other people love it because it's so different. There are "sweethearts" in the blues world, but they couldn't hold a gig in Chicago. In Chicago, they don't go for that.
I love Debbie Davies, Sue Foley, and Samantha Fish, but they're not rattling too many chains. They do what they do and that's their choice. They usually have an all-white band and they're not offensive to anybody. I'm not knocking them, but they play it safe. As an artist, you have to be true to what feels good to you.
In my band, I go by who gives me the groove. My band is all black. We'll do straight up Stax or Al Green. I have a rhythm guitarist who knows all that stuff. Then we'll play Led Zeppelin. It freaks some people out. My mother was politically active, loved music, and I grew up with The Black Panthers in my living room, Women's Liberation, and jazz musicians (laughs).
Which gear do you use?
My only guitar is a Les Paul 1960s reissue that I got in 1990. It's set up with low action for regular leads. That comes from being a backup player for so many singers. I also use a Digitech Hot Rod distortion pedal, a Boss Chorus, and a Rocktron Short Timer Delay. I use house equipment for amps, either a Victoria or a Fender Twin.
What's next?
Right now, I'm in negotiation with a new label and releasing a live album. I have an agent again, so there's more festival gigs coming. My daughter will be in college in 2016, so I'll be free to travel more.
---
This article originally appeared in VG August 2014 issue. All copyrights are by the author and Vintage Guitar magazine. Unauthorized replication or use is strictly prohibited.
---