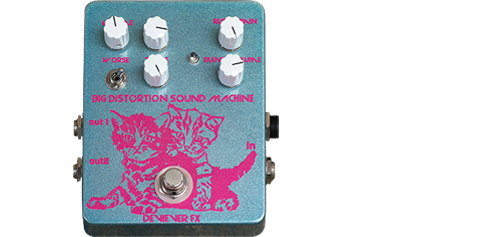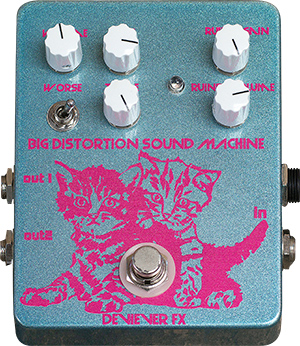 Devi Ever:FX Big Distortion Sound Machine
Price: $200 (list)
Contact: www.devieverfx.com
Want fuzz, crunch, and overdrive? How about all at once?
The Devi Ever:FX's Big Distortion Sound Machine is a gnarly pedal that pushes the sonic envelope with guitar, electric bass, or whatever tool (it would be insane on electric piano, for example).
The Big Distortion Sound Machine is really two Devi Ever pedals in one box. There are the innards from a Torn's Peaker fuzz and distortion circuit, iced with its Ruiner box, a wonderfully sadistic fuzz. The kicker is that each "pedal" in the BDSM has its own output, so you can run them to separate amps.
The Torn's Peaker is a fuzz and distortion box with distinctly vintage tone. It isn't "classic rock" or "old-school tube amp" tone; more like ancient tube circuits and sliced speaker cones being overdriven to glorious overload. If you're looking for a safe, controllable distortion box, this ain't it. The Torn's Peaker side of the BDSM is all about stompin' your crunch to the limit; Billy F Gibbons, the Black Keys, and Nels Cline all use one – and those cats all know a thing or two about tone.
The Torn's Peaker side has controls for Gain, Zazz, TP/AE (a blend of the Torn's Peaker and that of another Devi pedal, the Aenima). Zazz adds textural tweaks, while the TP/AE takes it to the more-extreme Aenima circuit. Also, a humorously labeled "Worse" switch pumps the sound even more, bringing all sorts of burping, snorting glitches that sound all the more unpredictable.
The other elephant in the room is the Ruiner, a hybrid of two circuits that cascade to create lo-fi garbles of fuzz. The tone is glitchy in the best way, and has a certain brassy, square-wave goodness about it. This alone would be great for your alt-rock "8-bit" project, but when combined with the Torn's Peaker circuit, you have some seriously insane distortion with which to play. The bass boost alone is worth the price of admission, providing stack-like thump from even a small combo amp. The Ruiner merely provides Volume and Gain controls, but that's enough to shake things up.
Using a two-humbucker solidbody and a Musicvox combo, the BDSM covered a lot of territory – vintage garage fuzz from Blue Cheer to Neil Young & Crazy Horse to Sonic Youth – along with plenty of tooth for alt/grunge/metal from Nirvana to Soundgarden to the harrowing doom of Red Fang or Electric Wizard.
The pièce de résistance is the box's dual outputs. One cable from Output 2 gives a perfectly good "summed" mix of both circuits. But for total meltdown, send the Ruiner to one amp and the Torn's Peaker side to another – or even to other pedals, depending on how messed up your brain is.
---
This article originally appeared in VG March 2015 issue. All copyrights are by the author and Vintage Guitar magazine. Unauthorized replication or use is strictly prohibited.
---