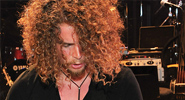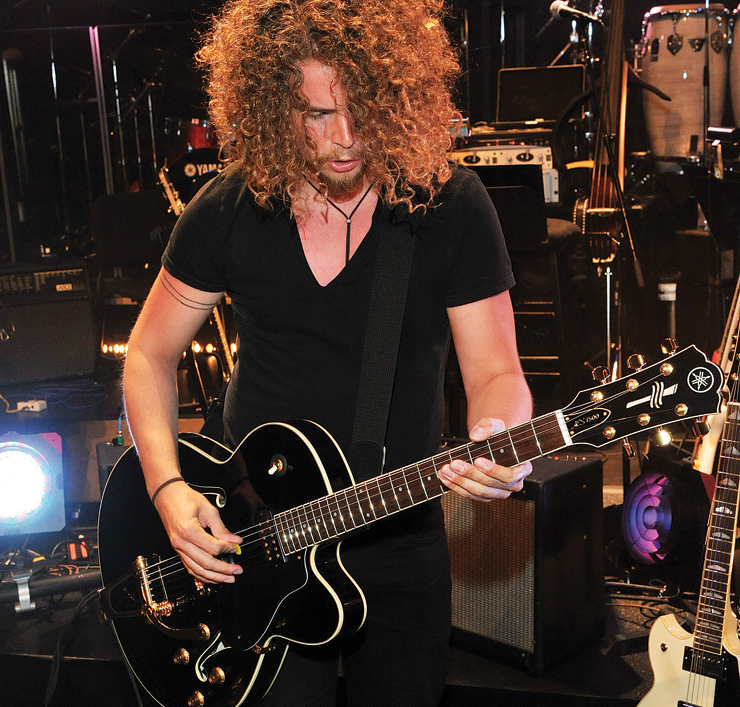 Some of the loudest buzz – literally and figuratively – in music surrounds the London-base power trio Leogun, fronted by guitarist/vocalist Tommy Smith. The band's neo-retro sound has drawn comparison to Led Zeppelin, but Smith is influenced by a long list of names.
"I'm lucky I was brought up in a household where music was very important," he said. "My mother and father were not afraid of loud music! I remember hearing Pearl Jam's Ten at about the age of five, and getting goosebumps."
Smith's first guitar was an acoustic from an Argos department store, "My first electric came later – a Peavey Raptor! I thought it was the greatest thing on the planet."
Leogun's first full-length album, By the Reins, exhibits influences from bands like Aerosmith ("Let's Be Friends," "Every Time I Lose") and Nirvana ("I Roll," "Another Lost Soul") in addition to Zeppelin.
"Led Zeppelin's work is about feeling," he said. "And I've tried to make music that has a 'heart on the sleeve' feeling. If that puts us in the same breath as Zeppelin, then I am extremely proud.
"I've always tried to write each song starting at the drawing board," he added. "I think that allows transparency when it comes to where my influences come from. It's about taking influences, weaving them into your own musical suit and tie, and hitting the town."
Smith once conversed with Zeppelin guitarist/founder Jimmy Page in what was obviously a memorable experience.
"People say 'Don't meet your heroes'; I say 'Choose your heroes carefully and you'll never be disappointed!'" Smith enthused.  "Meeting Jimmy Page was a massive moment in my life. He's directly responsible for my love of the guitar. But more than that, his music has influenced the way I think and feel. We didn't really discuss guitars. More just hung out like two guys in a bar! We just spoke about everyone who was staring at us… Well, just at him. It was fun. He's a legend."
While making By the Reins, Smith used a Yamaha SG 1820, a '78 Fender Telecaster Deluxe, and a '64 Gretsch Corvette. "The SG provided bulk – Seymour Duncan humbucking pickups will do that. The Tele gave me a smoother tone, and the Gretsch just added that chainsaw level of aggression whilst somehow remaining musical!" he said.
"Another Lost Soul" takes an acoustic turn (with cello), and Smith acknowledged the Nirvana inspiration.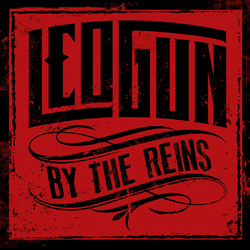 "The acoustic (guitar) was actually a prototype Yamaha," he recalled. "It resembled a Gibson J-200, but sounded as deep as a grand piano; it's a beautiful guitar. The string arrangement was an idea that started with me listening to 'Something In the Way' from Nirvana's Nevermind," he added. "The lone cello reminded me of the emotion I was aiming for. I suggested to [producer] Chris Gero that we put the cello on it. Then, as things do in Nashville, it turned into something much bigger. I'm very proud of this song."
As for amplifiers and effects, he noted, "If we have room in the van, I like to use two amps – a Fender Hot Rod Deluxe for that very aggressive midrange tone, and my '63 Silvertone. I love that thing – all-original tubes and speakers! I also love the sound of the two mixed together! Pedal-wise, I keep it simple – a Z-Vex Fuzz Factory and a Boss Octave. There are only three of us in this band, so we each have to be as big and as loud as possible."
The last song on By the Reins is the title track – a long, slow, and loud blues.
"This song is, and probably will always be, one of my favorites to play live," Smith commented. "It works so well as the crescendo moment in our set. I was confident that it would serve the same purpose on the record."
Asked if he had any particular favorite riff and/or guitar tone on the album, he said, "I particularly like the guitar tone and riff in 'What's It Gonna Take.' It just rips! Sometimes you actually find that tone you dreamed about the night before; that was one of those tones, man!"
Leogun has been touring with Kiss, which Smith pronounced to have been "…the single biggest and most wild thing this three-piece band from London has been lucky enough to do! The exposure, and the experience of playing in those places was priceless!"
Perhaps not surprisingly, the initial accolades for Leogun have meant that Smith and his associates are already planning further recordings and touring.
"I'm constantly writing new material," he said. "I am excited already about how Album Two is going to sound!  Until then, we're going to keep playing our asses off in any venue we find!"
---
This article originally appeared in VG January 2014 issue. All copyrights are by the author and Vintage Guitar magazine. Unauthorized replication or use is strictly prohibited.
---