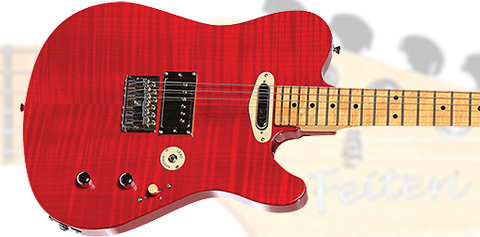 Buzz Feiten Blues Pro
Price: $2,395 (list)
Contact: www.buzzfeitenguitars.com
Buzz Feiten is a Woodstock alumnus who has played with a who's who of music artists and lent his guitar artistry to some of music's most acclaimed albums. A recording artist in his own right, Feiten has worked with artists including The Rascals, Aretha Franklin, Rickie Lee Jones, Stevie Wonder, Bob Dylan, and James Taylor. And that's the short list.
He's also an accomplished inventor and guitar builder. His long-renowned Buzz Feiten Tuning System allows players to tune their guitars more accurately, and his line of solidbody electric guitars display a keen eye for detail and ergonomic feel. In short, Feiten is a guitarist with first-hand knowledge of the demands of live performance, recording, and real-world functionality, and it's all reflected in his guitars.
The Blues Pro is one of Feiten's favorite models. It was made for the seasoned guitarist who needs a guitar with resonance, bite, and aggression. It has an alder body with a two-piece, flame-maple top and 25.5″ scale. The flame maple top focuses the low end and sharpens the top end, while the midrange stays crisp. The guitar's Trans Red finish and unique body shape (with comfort cut) are striking and well-balanced.
The Blues Pro is a straightforward blues, rock, or country axe – a hybrid Tele with humbucker muscle and resonant cluck and spank. It has one Volume and one Tone control, a three-way pickup selector, and pickups in the neck and bridge positions. The custom-designed Tele neck and humbucker bridge pickups feature Alnico V magnets. The Blues Pro also has a proprietary Rhythm and Lead mini-toggle for the bridge pickup, which offers series and parallel tones.
The Blues Pro's custom top-load nickel-plated bridge has 2.156″ string spacing. The combination of a wider bridge and nut string spacing accommodates the guitar's wide vintage C neck made from two-piece northern maple/rosewood (quarter-sawn). And with a radius of 14″ and a scale of 25.5″, this neck is a handful. The fretboard also sports 6100 nickel steel frets and a nut width of 1.7″. The thickness at the first fret is .950″ and 1″ at the 12th fret.
This Feiten Blues Pro was put through its paces with a number of vintage Fender amplifiers and an Orange TH30. The aforementioned neck could be a deal-breaker for the average guitarist, but the Blues Pro wasn't created for the average player; Feiten's guitars appeal to a specific playing and tonal approach. The shape and size of the neck, as well as the choice of pickups, play important roles in capturing Feiten's sonic philosophy. And though its girth is wide, the neck grows on you.
On clean settings, the Blues Pro yields a tough, thick, surly quality, even with the neck pickup. While a softer touch can elicit a close approximation of jazzier tones, the Blues Pro compels you to man up, dig in, and get into honky-tonk mode. The guitar has a sharp, punchy quality that becomes even more pronounced as the pickup selector is moved to the middle and bridge positions.
The Rhythm/Lead mini-toggle, as mentioned, works only on the bridge pickup. Rhythm mode (parallel) provides clear vintage humbucker sounds with smooth clarity and articulation. In Lead mode (series), pronounced bite, cut, and volume are increased, which come in handy when you want to pop out of a band's mix. Notes ring out plump and clear. Chords produce clang and chunk.
The Buzz Feiten Blues Pro is more comfortable basking in overdrive for blues-rock or country, than in heavier saturated metal. Though the guitar's vintage-style pickups aren't equipped to handle high-gain high-jinks, its feel and sound will inspire earthy chicken pickin' and twang. For the blues, rock, or country picker who wants a unique performance friendly guitar, the Blues Pro accomplishes its mission of resonant aggression and clarity.
---
This article originally appeared in VG March 2015 issue. All copyrights are by the author and Vintage Guitar magazine. Unauthorized replication or use is strictly prohibited.
---