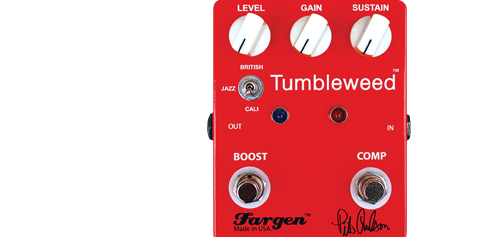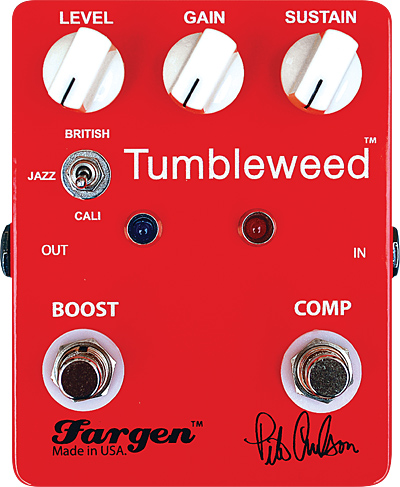 Fargen Pete Anderson Tumbleweed
Price: $299 (list)
Info: www.fargenamps.com.
Pete Anderson is a touring roots and country guitarist probably best known for his work with Dwight Yoakam during the latter's tenure atop the country charts in the '80s and '90s. His deft Telecaster playing and conservative production techniques turned Nashville on its ear and helped launch the modern Americana movement. Ben Fargen is the up-and-coming amp and pedal designer who is helping to redefine what is eminently gig-worthy yet stylish. Recently, Anderson and Fargen collaborated on the Fargen Pete Anderson Tumbleweed, which they envisioned as the ultimate roots-rock pedal.
The Tumbleweed is actually two effects in one box: a finely crafted three-flavored clean boost along with a compressor that does more to "master" one's sound than to simply squash it into dynamic-less submission. It has standard input and output jacks on the sides, and each effect has its own stomp switch and LED indicator. Additionally, the Boost has a Level knob, along with a British/Jazz/Cali character switch, while the Compressor has Gain and Sustain controls. The Tumbleweed is made in the United States and can be powered either by battery or a standard 9-volt DC power supply.
The Tumbleweed was tested with a 1967 Telecaster and '82 Gibson ES-335 into a trusty '65 Fender Deluxe Reverb. The compression is of the Ross/Dyna flavor, but unlike other varieties, it has a greater range of less compressed tones. While the Tumbleweed could certainly get squishy at the top of the dial, we were thankful for those less compressed tones when using the higher output of the 335.
Unlike many boost units that are simply repurposed overdrives, the Tumbleweed really does act as a clean boost – the only drive tones come from the amp's input being hit hard, not from the unit itself. The Boost's three voicings offer midrange and treble emphasis on the British setting, a much darker tone on Jazz, and the unit's most transparent response and highest output when set to Cali. The British and Jazz modes are great for giving an amp a different tonal flavor; the Cali is the best mode for straight-ahead boosting.
The Tumbleweed is a fantastic pairing of effects for the roots-oriented player who appreciates fine, clean, and pushed amp tones. The boost is a fantastic tool for changing level and/or tailoring EQ for guitar changes, or for simply adding tonal versatility. The compressor is thankfully quiet and capable of everything from subtle smoothing to aggressive squash.
---
This article originally appeared in VG September 2014 issue. All copyrights are by the author and Vintage Guitar magazine. Unauthorized replication or use is strictly prohibited.
---