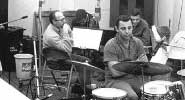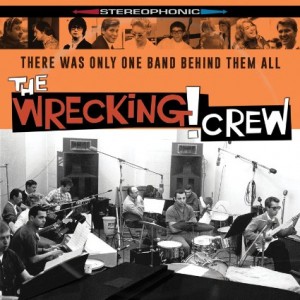 The Wrecking Crew, the documentary about L.A.'s well-paid but largely anonymous session players ranks with the very best music documentaries. Director Denny Tedesco, son of legendary studio guitarist Tommy Tedesco, did a fantastic job. The DVD, with tons of bonus features, should already be in your collection.
The four-CD box-set of the same name, subtitled "There Was Only One Band Behind Them All," contains 48 songs and several interview clips, showcasing the Crew's range. It's nice to have something as crude as "La Bamba" in the same collection as something as complex as "Good Vibrations." There's Tedesco's simple lead on "Let's Go" by the non-existent Routers and Phil Spector's "Wall of Sound" on the Ronettes' "Be My Baby."
Some of the biggest guitar highlights are Louie Shelton's electric flamenco flourishes on the Monkees' "Valleri," Ray Pohlman's Fender Bass VI lead on Jack Nitszche's "Lonely Surfer," Tedesco's gut-string fills on the 5th Dimension's "Up, Up & Away," and Roger McGuinn's Rickenbacker 12-string on "Mr. Tambourine Man." He was the only member of the Byrds used on that session. In recent years, the late Jerry Cole, who played rhythm on the date, claimed that he played the 12-string, but that's not true.
The fourth CD, titled "Crew Cuts," features songs the session players recorded under their own names, from Al Casey's 1963 hit, "Surfin' Hootenanny," to Barney Kessel's "Begin The Blues" and two tracks from Tommy T.'s last CD, Best For Last, cut in '92.
The one faux pas is pretty major. Since the film was about people getting credit for their work, it's strange (and disappointing) that most of the box's songs don't give dates or credit composers or producers. That info should have been available on the same union contracts from which the session players' names were culled. A much bigger booklet was needed, with a master song list, as opposed to the collection of remembrances from Leon Russell, Dennis Budimir, Joe Osborn, and others – mostly culled from interviews in the film or DVD. Without it, yes, some questions are answered ("Who played guitar on such-and-such?") but others are raised.
---
This article originally appeared in VG's February '16 issue. All copyrights are by the author and Vintage Guitar magazine. Unauthorized replication or use is strictly prohibited.