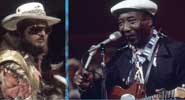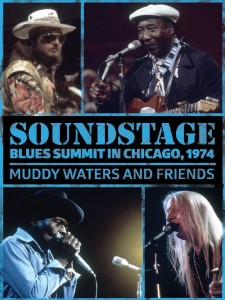 If you never saw Muddy Waters in person, please don't use the Soundstage DVD as a barometer. In fact, don't buy it. In spite of the blues-star guests, the lackluster hour-long program never gets off the ground. Maybe the setting was just too unnatural.
On any given night, Waters outstripped this 1974 TV appearance. And actually, Muddy is in fine voice, as usual, and plays some wild, frantic slide, particularly on "Long Distance Call." But the proceedings have a laid-back, lazy feel. If you want to get a hint at what the man was really about, watch his performances at the Newport Jazz Festival or in Europe for the American Folk Blues Festival.
Granted, Muddy's '60s lineups (with Otis Spann on piano, James Cotton or Paul Oscher on harp, along with Sammy Lawhorn and other guitarists) were significantly superior to his '70s outfit, with pianist Pinetop Perkins, harpist Jerry Portnoy, and guitarists Bob Margolin and Luther "Guitar Junior" Johnson. But they're not the problem. And neither are guests Johnny Winter, Junior Wells, Dr. John, Mike Bloomfield, Willie Dixon, Buddy Miles, Nick Gravenites, and Koko Taylor. But the whole is definitely not greater than the sum of its parts.
The sound is weak, and the overall presentation is almost as forced and stilted as the shuck-and-jive patter. Too bad, because this is truly a summit meeting, and several participants (Bloomfield, Wells, Winter, Taylor, Miles, Dixon, Perkins, Phil Guy, and of course Muddy) have since passed away.
Adding insult to injury, the "menu" photo of Waters is backwards, as if he were left-handed, and the personnel credits confuse Luther "Guitar Junior" Johnson with Luther "Georgia Boy Snake" Johnson from Muddy's '60s band, incorrectly listing the latter. And Margolin isn't credited at all!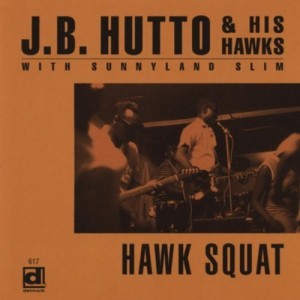 If you want an idea what it was like in Chicago's rough-and-tumble blues bars in the '60s, you could do a lot worse than J.B. Hutto and His Hawks. Hawk Squat was recorded in '68, when the slide guitarist was 42.
Hutto is backed by a combination of his regular club band (with Herman Hassell on second guitar) and players with more studio experience (guitarist Lee Jackson, bassist Dave Myers, keyboardist Sunnyland Slim).
You can't beat an Elmore James-style shuffle to kick off an album, and Hutto's "Speak My Mind" is no exception – although Sunnyland's organ is an odd call. Similarly, Bo Diddley drummer Frank Kirkland's floppy floor tom adds a crude element to "20% Alcohol." Hutto, whose nephew is Li'l Ed Williams, bellows the lyrics and digs in on his red Res-o-Glas Airline (nicknamed in collectors' circles the "J.B. Hutto Model" decades before Jack White came along).
This highly recommended reissue includes five alternate takes and atmospheric black-and-white photography of Hutto & Co. in action at Turner's Blue Lounge.
This article originally appeared in VG's October '15 issue. All copyrights are by the author and Vintage Guitar magazine. Unauthorized replication or use is strictly prohibited.
<iframe width="560″ height="315″ src="https://www.youtube.com/embed/I2122Bi1wMs" frameborder="0″ allowfullscreen></iframe>