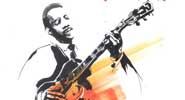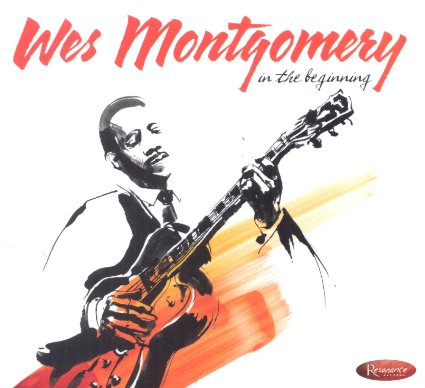 The social climate transformed the music: being a jazz musician of color in the 1950s forced you to express music differently in those days. Life and music were tumultuously intertwined. A factory worker by day, Wes Montgomery played Indianapolis' Turf Club at night and swung hard. He may have been asked to arrive through the club's back door, but on stage he ruled the cosmos. He burned with a confident zeal like his idol Charlie Christian, displaying the talent that foreshadowed his rise as the genius of jazz guitar.
This collection is jazz time travel. You suddenly arrive at the Turf Club. The year is 1956 and you make your way through the smoke-filled throng. Here you are amidst a loud but appreciative audience. The Montgomery-Johnson Quintette is playing "How High The Moon" and absolutely cooking.
Next stop is 1958 at Indianapolis' Missile Lounge. Wes is killing on "A Night In Tunisia." Then you're off again to 1949 and Spire Records in Fresno, California. There you hear a 26-year-old Wes bop at full throttle on "King Trotter."
This two-CD set contains 26 tracks of rare, never-before-released music spanning 1949 to '58. Most of the first CD features the Montgomery-Johnson Quintette with Wes on guitar, Buddy Montgomery on piano, Monk Montgomery on bass, Alonzo "Pookie" Johnson on tenor sax, and Sonny Johnson on drums. It also features a complete 1955 recording session for Epic Records produced by Quincy Jones, and live recordings from '57 from the C&C Music Lounge in Chicago. You're treated to an incandescent 12-minute version of "All The Things You Are."
What it lacks in auditory perfection is made up for with warmth; you feel like you're sitting near the band with a living, breathing, and interactive audience. Wes' guitar has an edgier, punchier quality as he goes toe-to-toe with "Pookie" Johnson. These recordings lack the rich atmosphere of his later studio work, but reveal his unbridled flashier side as he spikes beloved jazz standards with Django-esque ornamentations and playful harmonic flourishes. You hear a younger, rawer Wes, playing at the edge of his abilities.
In The Beginning includes a 55-page booklet with track information, rare photographs, excerpts from an unpublished autobiography written by Buddy Montgomery, plus recollections and essays from Jones, Bill Milkowski, Pete Townshend, Ashley Kahn, and producer Zev Feldman.
We have Buddy Montgomery's widow Ann to thank for releasing these historic recordings.
This article originally appeared in VG's September '15 issue. All copyrights are by the author and Vintage Guitar magazine. Unauthorized replication or use is strictly prohibited.