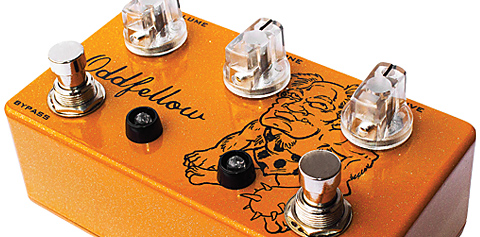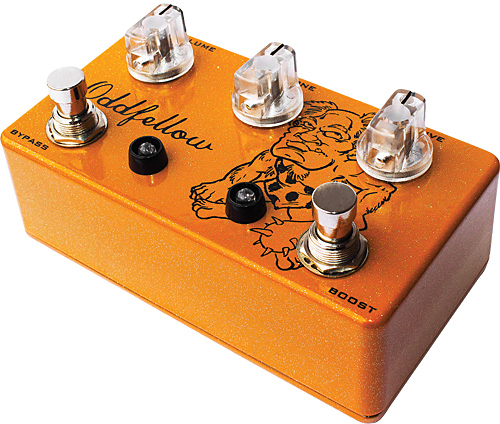 Oddfellow Caveman Drive
Price: $174.99 (list)
Info: www.oddfellowfx.com.
Handmade in California, the Oddfellow Caveman Drive is a boutique pedal whose simple layout belies its tonal complexities. But even before hooking this stompbox into your signal chain, right off the bat, you have to dig the cardboard box in which it comes. Sure, this looks like your basic box on the outside, but open it up and you'll find the Caveman nestled in fake fur. That's right, fur, along with adhesive feet and an Oddfellow decal. Of course, all this groovy packaging has nothing to do with the Caveman's tone, but as far as cool-factor case candy goes, a fur-lined box makes quite an impression.
For functionality, the Oddfellow Caveman Drive has a straightforward setup comprising just three knobs – Volume, Tone, and Drive – as well as two heavy-duty footswitches – one for Bypass and one for Boost. The Bypass footswitch engages a true bypass, so the user doesn't have to worry about the Caveman gunking up their signal path when disengaged. Meanwhile, the Boost is fixed, applying just the right amount of punch when it's kicked in.
Another great feature is the pedal's sideways orientation. While the Caveman features the basic MXR-sized housing, Oddfellow founder Jon Meleika turned it sideways and put the input/output and DC jacks on the back. Keep in mind, though, that the Caveman only runs on DC wall power, not batteries (a standard 9-volt DC 2.1-millimeter power plug, like a One Spot or other popular brands).
For testing, the Caveman was plugged in between a solidbody guitar with humbuckers and a Class A 15-watt tube amp with one Celestion 10″ speaker. This proved to be an appropriate setup for the pedal, since it's all very interactive and dynamic. On its own, the single-channel tube amp offered a range of tones, from very clean to fairly dirty, but adding the Oddfellow Caveman to the signal chain opened the rig up to many, many more tonal options. A pedal like this makes one think about classic guitarists of the late '60s and early '70s – guys like Clapton, Beck, Page, West, Kossoff, Ronson, Richards, Taylor, and so on. That, after all, was a generation that didn't rely on a ton of effects – there just weren't all that many commercially available, unlike today. As such, these players sculpted pure notes out of wood, wires, tubes, analog circuitry, and not a whole lot else.
Similarly, using the Caveman in concert with a decent tube amp will give the player a full palette of vintage tones from which to choose, from sweet and nearly clean, to dirty and dangerous. In particular, there are certainly lots of sounds from the Jimmy Page lexicon, for those who want to get the Led out. Page was the master of layering many electric guitar voices on those classic Zeppelin albums, and with the Caveman, a player can dial in quite a few of them. Likewise, there's a lot of great Richards/Taylor-era Rolling Stones tones to be found here, too.
If forced to pair the Caveman with another effect, a player would be hard-pressed to do better than an Echoplex or some similar tape-echo simulator. Sort of like a fine wine and aged cheese, some things are meant to go together.
As with all good overdrives, many variables go into in producing tones, including the player's attack. Simply hitting the guitar strings will deliver more grit, while softer picking will keep things from breaking up. The Oddfellow Caveman accentuates this with its dynamic voicing – use it to add as much or as little flavor as is desired, which is the name of the game in "transparent" overdrives. The idea, after all, is to let the guitar and amp shine through as much as possible, rather than burying them in a thick blanket of effects.
In addition to sounding great, the Oddfellow Caveman Drive comes in a heavy-grade metal chassis with a durable metallic gold paintjob. With looks, tone, and an affordable price, this Oddfellow will rock anyone's pedalboard.
---
This article originally appeared in VG September 2014 issue. All copyrights are by the author and Vintage Guitar magazine. Unauthorized replication or use is strictly prohibited.
---