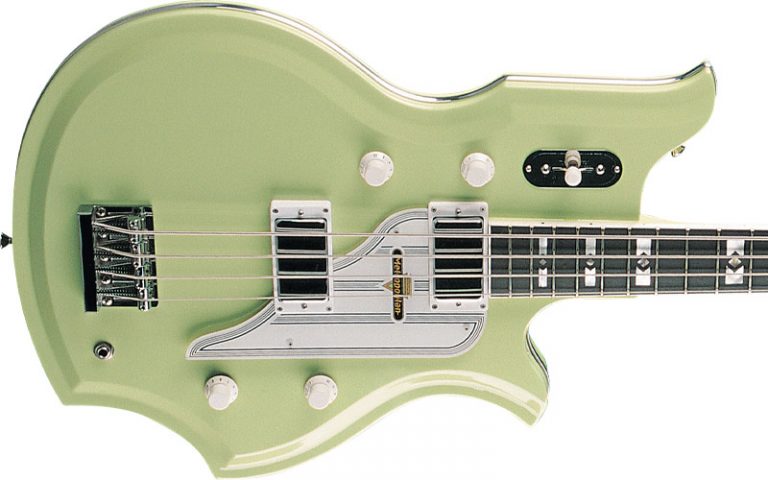 Many guitar aficionados are aware of the instruments proffered by Houston's Alamo Music. The Texas manufacturer has created unique low-end (sonically, that is) items, some as regular production basses, others as prototype and/or custom-orders.
Among the most unique and rare were no more than a half-dozen map-shaped Metropolitan Tanglewood basses created in the mid/late '90s. The company conceived and built Tanglewood guitars, neo-retro six-string items inspired by the map-shaped, Valco-made National instruments of the early '60s. National's guitars and a couple of its basses, were made in Chicago, and fashioned from wood or Res-O-Glas (molded fibreglas and resin). The Windy City progenitors were unique-looking, but their quality and sound were atrocious.
And as might be expected, the wood-bodied Tanglewoods are light years beyond their visual predecessors. According to Alamo's David Wintz, his firm had given preliminary thought to experimenting with a Tanglewood bass, but the definitive go-ahead came at the behest of Cheap Trick bassist Tom Petersson, a longtime collector, who special-ordered the first example.
The differences between Tanglewood guitars and basses were the neck and pickups. The bodies and control layout were the same, as were cosmetic differences between the Custom and Deluxe versions; the Custom had a bound ebony fretboard with butterfly inlays and a German carve on front and back of body, while the Deluxe had an unbound rosewood fretboard with dot inlay and a German carve on the top only.
Bodies of the full-scale (34″) Tanglewood basses were poplar or African fakimba, and the pickups were a new Rio Grande model called the Pitbull, which was developed specifically for this bass. The Pitbull is a humbucker designed to fit in guitar pickup-sized humbucker routing, and while Tanglewood basses were short-lived and few and far between, the Pitbull is still in the Rio Grande lineup.
Company records indicate that the few Tanglewood basses Alamo built were finished in standard Metropolitan colors – Shell Pink, Pearl Aqua Blue, Pearl Mint Green, and Basic Black. Our "model" model is a Tanglewood Custom from the late '90s in Pearl Mint Green.
As for the number of instruments produced, Wintz acknowledged that the Tanglewood bass would have needed a large demand to justify putting it into full production. However, that doesn't mean the company didn't have an interesting time creating these retro-vibe rarities, as Wintz affirmed.
"We enjoyed making 'em, and they're cool to look at!" he said.
That's an understatement.
---
This article originally appeared in VG's February 2004 issue. All copyrights are by the author and Vintage Guitar magazine. Unauthorized replication or use is strictly prohibited.