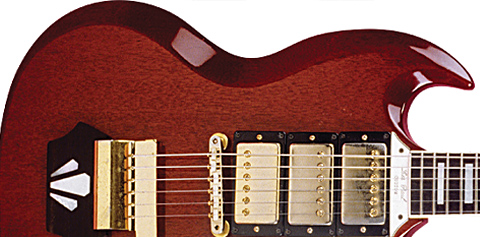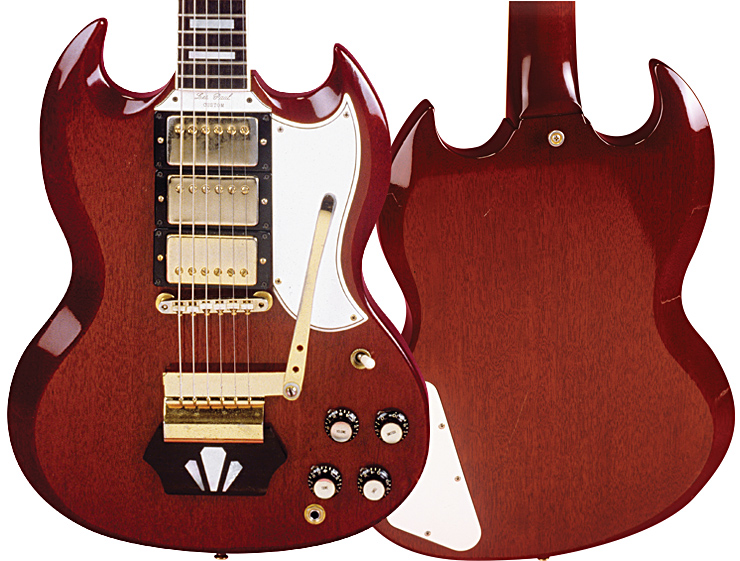 In its early years, the Gibson Les Paul Custom evolved through several body-style and spec changes and was the earliest Gibson solidbody to have a Tune-O-Matic bridge and stop tailpiece; the Les Paul model (a.k.a. "goldtop") did not have them until late '55.
First appearing in Gibson catalogs in 1954, the company actually made a few Customs in late '53, the first version being a two-pickup guitar with an Alnico V "soapbar" in the neck position, with its distinct rectangular/height-adjustable magnets, and P-90 in the bridge; both had black-plastic covers. It was made with a mahogany neck and body with no maple cap, and dressed up (to stand apart from the "regular" Les Paul) with a bound ebony fingerboard with pearl block inlays, multi-ply binding along with Gibson logo and split-diamond inlays on its peghead, "Les Paul Custom" engraved on the truss rod cover, waffle-back Klusons and gold-colored hardware (until chrome was offered as an option in the '70s).
The two-pickup Custom remained through mid '57, when it was given three of Gibson's new humbucking pickups. The two-pickup version had a standard three-position toggle switch, while the three-pickup's middle position engaged the middle and bridge pickup out of phase with each other, giving a twangy sound. Many players consider this less-versatile, not only in terms of sound, but because the there was little room for a player's pick to move across the strings without coming into contact with the pickup covers. The metal-capped "bonnet" Tone and Volume knobs first appeared – on all Gibsons – in 1960.
The guitar shown here was built in '62, when Gibson was transitioning from "patent applied for" (PAF) pickups to patent-numbered pickups, and guitars from that year were given PAFs, patent-numbered, or a combination.
The previous-version/single-cut Les Paul Custom was available with an optional Bigsby tailpiece for $75 more – at that time, significant money (Paul Bigsby was a small-scale manufacturer, so production costs were high).
The single-cutaway/triple-pickup version of the Les Paul Custom was made until very early in 1961, when it was moved to the SG body shape. Neck ornamentation remained the same, but the body was given beveled edges with no binding. The three pickups and Tune-O-Matic bridge remained, but the new body was given a white-plastic plate (engraved with "Les Paul Custom") between the end of the fingerboard and the neck-position pickup, a beveled plastic pickguard screwed into the top, and a vibrola tailpiece; the earliest had Gibson's new "sideways" Vibrato, which truly did not work as well, as it tended to throw the instrument severely out of tune. Most SG-shaped Les Paul Standards and Customs were given this vibrato, though some were given a Bigsby. As seen on this guitar, however, some '62 Les Paul Customs and Standards were given a next-generation vibrato and an ebony block with mother-of-pearl inlays to cover the screw holes drilled for the standard Tune-O-Matic/stop tailpiece. This was the precursor to the lyre-engraved tailpiece cover, and this version of the vibrato stayed in tune far better than the sideways unit and, in the opinion of most collectors and musicians, was more attractive. The Les Paul designation stayed on these SG shaped models through early 1963.
The single-cut Custom was offered only in black, and the SG-shaped Custom was offered in Gibson literature only with opaque white finish, but this guitar has the translucent Cherry Red lacquer normally associated with the double-cutaway Les Paul Junior, SG Junior, EB-0 and EB-3, and the SG-shaped Les Paul Standard and later SG Standard. While red finish was a color Gibson was tooled to do, it was not standard for this model at the time. With the exception of the unusual cherry red finish, this guitar conforms to normal '62 specifications of the model with the beveled edge laminated white plastic pickguard and white control plate on the back of the body.
During the "good old days," Gibson, Fender, and other manufacturers offered little variety of color. Gretsch was the first to get heavily into options, and even they primarily offered specific colors on models such as the Country Club, which was available with natural finish, sunburst, or Cadillac Green. The Jet Firebird was available with a red top and black back, the 6120 available only with orange, and the White Falcon and White Penguin were available only in white. The Fender Telecaster was blond and the Stratocaster was sunburst – any other color on them cost more in the early days. With Gibson, the early Les Paul Junior was available only in sunburst, the TV model in "limed mahogany," the Les Paul Standard was originally called Les Paul Model and had a gold top (with all-gold as an option). Gibson didn't offer sunburst on a Les Paul until mid 1958, at which time it became standard for the model.
Though we are now accustomed to seeing Cherry Red SG-shaped models, it's interesting that instruments today are offered with so many more options as an essential part of their marketing; it's almost unthinkable to imagine a high-end model being available today in one or two colors.
The number of custom-color/non-white SG Les Paul Customs that have surfaced over the past 50 years could be counted on the fingers of one hand, which makes this guitar an interesting historical oddball and a great conversation piece.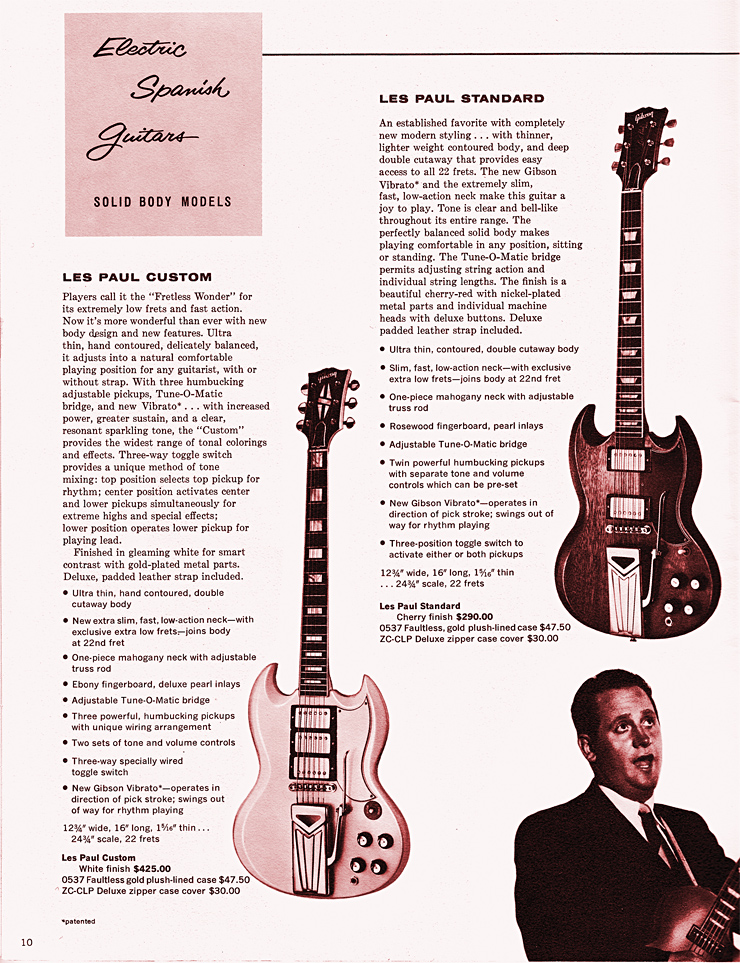 ---
This article originally appeared in VG August 2014 issue. All copyrights are by the author and Vintage Guitar magazine. Unauthorized replication or use is strictly prohibited.
---