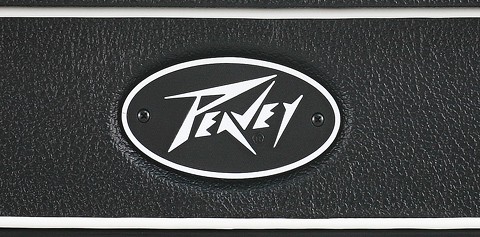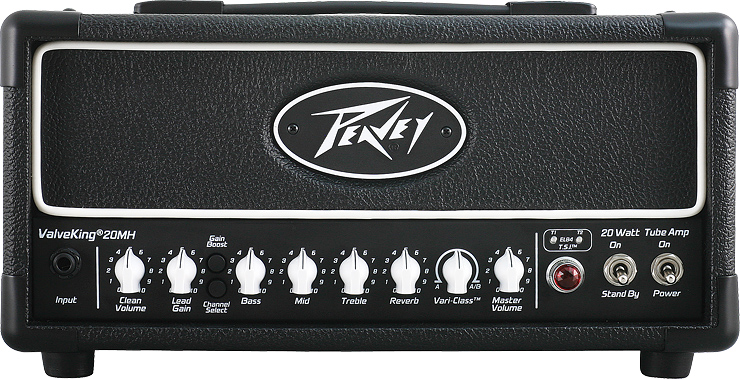 The Peavey ValveKing II Micro-head 20-Watt Amplifier
Price: $429.99
Contact: www.peavey.com
Famous for their sturdy build and quality overdriven sounds, Peavey's original ValveKing amplifiers were marketed to musicians who required great plug-in-and-go tones that wouldn't send them to the poor house. The new Peavey ValveKing II Micro-head has all the nifty tones everyone knows and loves, but also cutting-edge features for recording and performing, including a USB direct-recording output that connects the amp directly to a computer. It also has a built-in XLR Microphone Simulated Direct Interface (MSDI) that eliminates the need for miking and can send the amp's signal to a recording device or mixer.
The ValveKing II Micro-head even has a variable power control to adjust output to suit the performance environment without drastically altering tone; wattage can be switched from 20 watts for gigs to five watts or one watt for low-volume jamming or recording. The amp comes with two EL84s, three 12AX7s, and a three-band EQ, as well as a tube-monitoring indicator that keeps tabs on tube life.
The ValveKing II is small and light, and its no-nonsense black tolex covering with white trim is handsome. White chicken-head knobs really stand out. Controls, from left to right, are: Clean Volume and Lead Gain knobs; Gain Boost and Channel Select buttons; Bass, Mid, Treble, and Reverb knobs; the Vari-Class knob to fine-tune power sensitivity, response, and breakup of the power section between Class A and Class A/B; and finally the Master Volume knob. An LED and Stand By and Power toggles are on the far right of the control face.
Moving around to the backside, the ValveKing II's rear panel offers a voltage selector switch, a Power Output slide switch (20, 5, or 1 watt), speaker output, Impedance selector, and an Enable/Defeat toggle for the speaker. Rounding out the array are a Headphone Output, the MSDI, the Global Effects Loop Send/Return, Footswitch jacks, the Microphone Simulated USB Audio Record Out.
Running through a pair of Celestion Vintage 30s, the Clean channel elicits Peavey's signature southern rock charm. Single coils can be coerced into all kinds of tonal possibilities. From sweet to gritty, adjusting the Clean Volume knob in concert with the Master Volume is key to maneuvering through a plethora of sounds. Turning the Clean Volume knob clockwise produces volume and dirt, while cranking the Master Volume allows the Clean Volume to stay low for immaculate Telecaster hijinks. Chimey funk lines morph into crispy rock, with the three-band EQ instrumental in shaping and coloring. Falling somewhere between a Bassman and a Deluxe Reverb, the ValveKing II has a unique flavor all its own. The reverb shimmers, offering subtle wetness or full-blown surf sounds. Stabs at jazzier clean sounds fall short, though – this amp definitely resides on the rock side of the sonic spectrum.
The ValveKing II's Lead Gain channel is where the action is. Either the footswitch or the push of a button elicits smooth overdrive that's not too gainy or over the top. Warm-sounding dirt can be escalated to provide everything from mild Zeppelin grit to serious blues-rock sustain when engaging the Gain Boost. Reaching near metallic proportions, the lead sounds are thick and responsive, and unleash clear harmonics and articulation. Dropping the wattage from 20 to 5 to 1 decreases the volume incrementally, but there's still all the wicked bridge-humbucker saturation, just without the volume. Even at one watt, it's pretty loud. Adjusting the Vari-Class knob allows the user to run at full power Class A/B for maximum headroom, or all the way down for deep Class A, allowing more drive from the output stage.
The ValveKing II's aforementioned MSDI is a balanced XLR output that simulates the sound of a microphone placed eight inches from a speaker cone. It's very convincing, and with the USB Record Output it's super-simple to connect to a recording workstation.
While it runs the risk of being too small for loud club gigs (even for lower volume gigs the 1×12 combo version might be a better choice), the Peavey ValveKing II Micro-head is an awesome practice amp and recording tool that doesn't take up a lot of real estate. Peavey has put together a smart package for the modern guitarist who needs versatile rock tones, and superb computer compatibility.
---
This article originally appeared in VG July 2014 issue. All copyrights are by the author and Vintage Guitar magazine. Unauthorized replication or use is strictly prohibited.
---