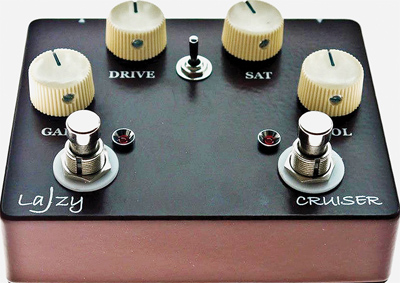 Lazy J Cruiser Deuce
Price: $420
Info: www.lazyjprojects.com.
The Lazy J Cruiser Deuce is more complex than your classic stomp-and-go pedal, though its functionality is intuitive.
The Cruiser Deuce's brown finish and cream knobs (Gain, Volume, Drive, and Sat, i.e., saturation) give it a vintage look; In/out jacks on the side, two footswitches, and a mini toggle round out the operative parts. It operates like a two-channel amp – Gain and Volume knobs control the Boost channel (activated by the left footswitch), while the Drive and Sat knobs control the Drive channel (right footswitch) and the mini toggle governs the degree of compression through the Drive channel. In the middle position, it offers no compression, up employs a medium degree, down offers the greatest compression.
Plugged in between a Stratocaster and a late-'50s Ampeg Jet set for a little natural breakup, the Cruiser Deuce's Boost (with Gain and Volume set at 12 o'clock) gave the amp greater clarity and presence.
With the Gain all the way on, the Strat produced overtones an octave higher on the sustained notes, even in selector switch positions two and four, where pickup frequency cancellation offered less output. Chords at full gain were crunchy but not too dirty, with audible note-to-note separation. And the seemingly endless sustain and harmonic richness of single notes was very musical.
Punching the right-side footswitch to engage the Drive circuit; set at noon, the controls caused other harmonics from the overtone series to blossom. Adjusting the knobs brought varying degrees of serious crunch, though the mini toggle effect was subtle at low volumes. Cranked, the levels of compression became more obvious. With both channels engaged, subtle adjustments of the knobs revealed various levels of expression as the channels interacted.
Run with a set-neck solidbody with a Charlie Christian-style pickup, it achieved that slightly overdriven sound of a late-'30s ES-150 through a small Gibson amp.
Experimenting a bit through a solidstate amp and an archtop with a Fishman Powerbridge, the Cruiser Deuce's Boost mode worked very well as a preamp to fatten the piezo bridge response over the entire frequency range. Because the Cruiser Deuce doesn't change the bass, mid, or treble levels, the lack of tone controls never felt like an issue with any of the guitars.
Got your eyes set on a boutique amp, but just can't swing right now? The Cruiser Deuce just might just do the trick!
---
This article originally appeared in VG June 2014 issue. All copyrights are by the author and Vintage Guitar magazine. Unauthorized replication or use is strictly prohibited.
---