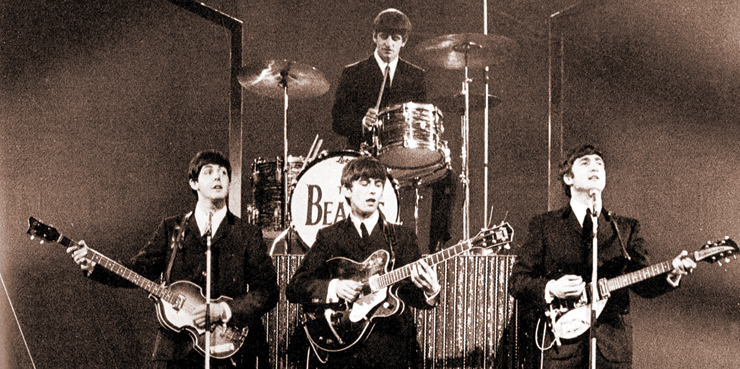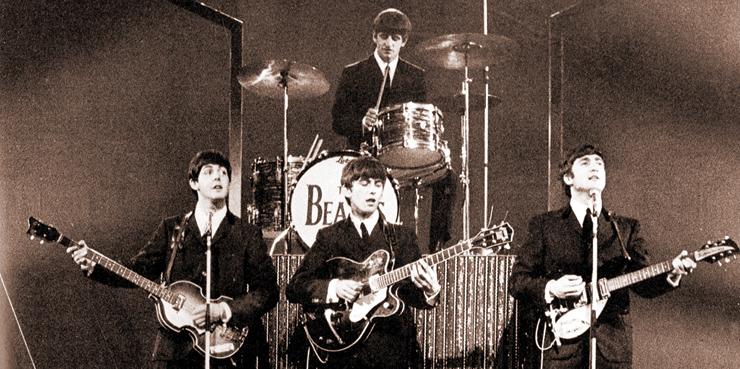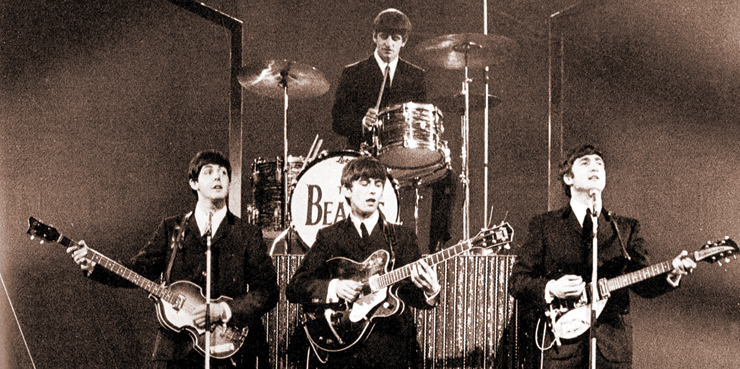 For Americans, the legend of the Beatles has a very specific starting moment: 8 p.m., February 9, 1964. That Sunday evening 50 years ago, the group appeared for the first time in the U.S. on "The Ed Sullivan Show," and spurred a phenomenon. The broadcast was watched by the largest television audience tallied up to that point – 73 million babyboom teenagers, baffled parents, the randomly curious – or 60 percent of the TV sets in use that night. Their second appearance, on February 16, was just as successful, and newly minted Beatlemania spread from the U.K. to the U.S. as the entire nation seemingly went mad over the Fab Four.
Fifty years on, the impact of that moment still reverberates, especially among musicians. Nearly any guitarist who watched that show will tell you that playing guitar in a band suddenly seemed like the only thing in the world that mattered. The exact "Why?" has been speculated endlessly; it has been suggested that for an America saddened by the Kennedy assassination a few months prior, the embrace of the Beatles signalled the end of a period of national mourning. Whether true or not, it led to an era of cultural change that remains ongoing.
Many critics slammed the group's TV debut; the next week's issue of Newsweek reported, "Visually, they are a nightmare.. Musically… a near-disaster. Their lyrics (punctuated by nutty shouts of 'yeah, yeah, yeah!') are a catastrophe, a preposterous farrago of Valentine-card sentiments… Odds are they will fade away, as most adults confidently predict."
To most younger Americans, this was just the "squares" talking. The rock-and-roll music of the '50s had created a teen culture centered on music, and the Beatles instantly established the new paradigm for young Americans in the '60s to create a cultural voice for the next generation. If the camera-eye sight of the band itself was not enough, the shots of screaming teenage girls in the audience was further incentive to any teenage boy – "Get a guitar, now!"
Guitar had, for years, been on the rise as the popular instrument for young players, but this created demand that would never be matched. While any guitar associated with the group has attained "Beatles guitar" collector status, the three used on the Sullivan show occupy the peak of this elite family, and stand as the Beatles instruments even non-musicians associate with the group. The guitars – seen only in TV black-and-white – are John Lennon's 1958 Rickenbacker Model 325, George Harrison's '63 Gretsch Chet Atkins Country Gentleman, and Paul McCartney's '63 Höfner 500/1 (forever after the "Beatle Bass"). Each instrument has is its own history apart from, and linked to, the Beatles phenomenon, but all three are forever wedded to this broadcast moment. In each case, the actual instrument used by a Beatle for that performance has specific features that have, ever since, proved frustratingly hard to replicate for fans and collectors. Manufacturers have long been known to change specifications without warning, but with these, minute differences mean a huge increase in a particular instrument's collectible mojo.

Rickenbacker debuted the 325 in early '58 as part of its new Capri line, and Lennon's was one of the first made. Bearing serial number V81, it was unusual in that had no sound hole and (at first) only two knobs. Rickenbacker displayed it at a mid-'58 trade show, re-wired it with a four-knob layout, then shipped it to Framus Werke, in Germany, that October. It found its way to a Hamburg music store to be purchased by Lennon in fall, 1960, during the group's first stint there. Rickenbackers were at the time unobtainable in the UK; Lennon's interest had been piqued by Toots Thielmans with George Shearing's group, and finding one in Germany must have seemed like kismet! Interviewed in '63, Lennon raved about the guitar's playability, which was understandable given his previous instruments!
With the heavy strings common at the time, the slim short-scale neck was perfect for Lennon's chord-bashing style. His chiming triplet rhythm on "All My Loving" (the opening song of their first Sullivan appearance) is a perfect example of how the little Rick worked for him. "Just feel the action… get a load of that sound," and "It's the most beautiful guitar… the action is really ridiculously low," he enthused to Beat Instrumental.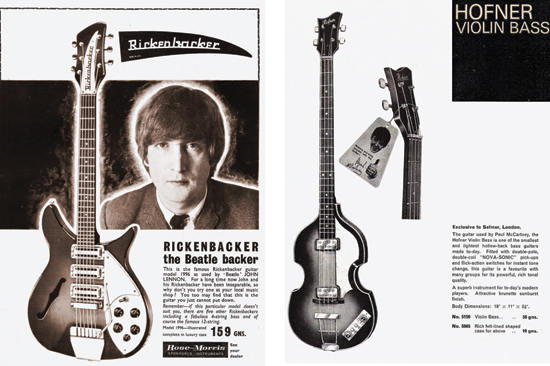 The 325's shorter scale was designed for ease of play before the advent of light strings, an idea kicked around by several manufacturers in the '50s. It proved unpopular in practice (feeling cramped to most players) and limited the guitar's long-term appeal (the other major 325 user in the '60s was John Fogerty). Lennon's 325 was extremely rare to begin with, and was soon unique, as he tinkered with it from the beginning. By the time of the Sullivan show, it had been extensively modified; were it not his, it would be "ruined" as a collector's piece today! By February of '64, it had been refinished to black, re-wired more than once, fitted with a Bigsby vibrato, seen several sets of knobs, and been bashed around by more than three years of non-stop gigging. The Sullivan show and ensuing Carnagie Hall and Washington gigs were its last stand, and by the group's mid-February Miami shows (which were also broadcast on Sullivan), Lennon had received a replacement 325 from Rickenbacker (also black but with a white pickguard) that became his signature guitar for 1964-'65. Oddly enough, Lennon claimed in '64 that he, "Didn't like it half as much as the first one." Still, Rickenbacker's U.K. distributor, Rose-Morris, was quick to exploit the connection.
Lennon's use of the 325, even modified, was an incalculable boost to Rickenbacker's fortunes. At the time, the company was still low-profile enough that many fans assumed John's guitar was of German or English manufacture, not sunny California. The '64 Model 325 listed at $399.50, but despite the Beatles endorsement seems to have not sold well. Still, with the prototype 360/12 soon played by George Harrison, Rickenbacker became forever identified with the Beatles. The 325 has maintained its iconic "Beatles" status, but the other full-scale thin hollowbody guitars of the 300 series, especially the 12-strings, have been the practical choice of most players, then and now. A 325 identical to Lennon's "Sullivan" guitar would be the ultimate Beatles collectible, but no such instrument exists unless it has been similarly modified. Few original '58s come to market, but Rickenbacker has made excellent reissues in its original and Sullivan-show livery.
Unlike Lennon's veteran, the guitar Harrison brought to New York was a recent acquisition – a '63 Gretsch PX-6122 Chet Atkins Country Gentleman. By '63, the "Gent" had been in production for six years, but recently modified (not to Chet's liking) with a new double-cutaway body and adjustable string mutes. Atkins originally wanted a semi-solid guitar, like Gibson's ES-335, but the 6122 had a closed thin body with heavy "trestle" bracing, but no center block. "The handsome showpiece of the fabulous Gretsch Chet Atkins line… with the styling and tone that have made it the most desired electric guitar in the world" was Gretsch's blurb before Harrison appeared with the model! Listing at $595 in November 'of 63, the "Gent" topping the Atkins line was very expensive by any standard. Harrison had really stepped up with this instrument, replacing his veteran '57 Gretsch Duo-Jet.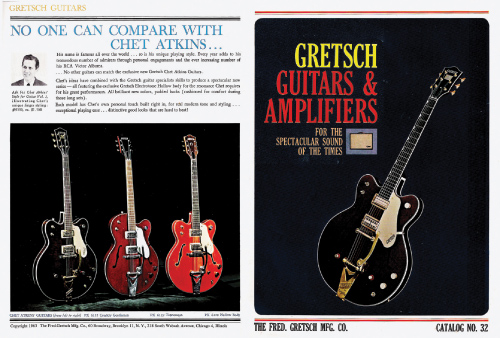 The "Sullivan" guitar was actually the second Country Gentleman he acquired in '63; an earlier one made that same year had already seen heavy use and was replaced, possibly after damage to the mute system.
The Gretsch line was distributed in the U.K. by Arbiter, which listed the Gent at a whopping £330. Harrison got his at Arbiter's Sound City shop in central London; an earlier version had the more-cumbersome dial-up mute, while a second, with the lighter "flip-up" mute, became Harrison's favorite by '64. It also had a very dark walnut-stain finish; on black-and-white TV it appeared nearly black. While a 1963-'64 Country Gentleman is not an exceptionally rare guitar, an exact Harrison-spec Gent has been a sought-after item virtually since '64, and difficult to find, as Gretsch almost immediately (and inexplicably) began to alter the instrument's features. By mid '64, the company equipped the Gent with the then-new bar-polepiece Super'Tron pickup in the neck position. This was Atkins' preference, but thousands of would-be buyers wanted a guitar like Harrison's, irrespective of the namesake endorser's wishes! Other changes included the pickguard markings, serial number on the headstock nameplate, and the deco-style buttons on the Grover Imperial tuners – all different by the end of '65. It's ironic that as Gretsch was desperately ramping up production of all guitars – especially the Country Gentleman featured on the '65 catalog cover – they were altering the image that had sold it in the first place. Harrison's original is sadly long lost, destroyed in a motorway accident in late '65, but the bass played right alongside it is still very much in service.
Another recent arrival in early '64 was Paul McCartney's replacement for his long-serving Höfner 500/1, acquired in Hamburg in 1961. His first bass had been used non-stop, getting battered in the process; photos from late '63 show the neck pickup taped in place. "I ordered another… it was the only left-handed bass available and I thought I'd better have a spare," he said at the time. This spare almost immediately became his stage bass, used almost exclusively through '66. The new left-handed 500/1 was acquired in October of '63 through Selmer, which served as Höfner's U.K. distributor. Selmer had held the Höfner franchise for years, but the violin-body bass was not offered until McCartney created a market. "Probably the best known instrument in the pop world today is Paul McCartney's 'Violin Bass guitar.' It's distinctive shape plus the fact that it is played the 'Wrong way round' by the Beatles quick-silver front man Paul has made it one of the most in-demand guitars in the country today," said Beat Instrumental. Oddly, though Selmer began importing the 500/1 in '63, it was not shown in their catalogs for some time. Eventually, McCartney's smiling face was put on a tag reading "Wishing you every success" and the group's management secured a royalty. Even so, it was not called the "Beatle Bass" – and was still relatively inexpensive at all of 58 guineas.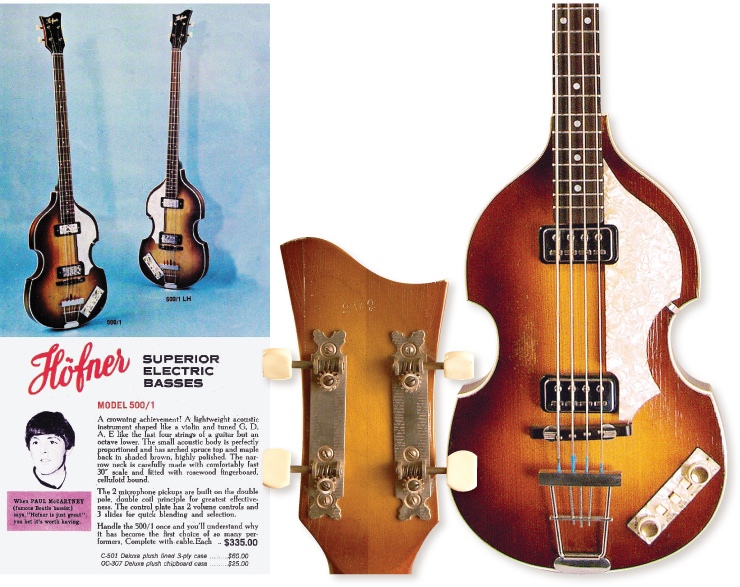 By '64, the Violin Bass was widely available in the U.K., but Höfner, like Rickenbacker and Gretsch, routinely changed construction and fitting details, so earlier and later examples have small differences that now drive collectors crazy! McCartney's mid-'63 500/1 has specific features – most unusually a two-piece maple laminated neck instead of the much more common three-piece construction. It was fitted with strip tuners instead of the individual units most often encountered – likely quirks of supply instead of design. In '64, Höfner added white-celluloid binding to 500/1 fingerboards, and the pickup configuration – four-pole/four-screw with side-mount small, black plastic rings on Paul's bass – differs year by year. McCartney's was, of course, factory left-handed, but the headstock is still the regular right-handed configuration – a feature shared with his Rickenbacker! Compared with most electric instruments, it was easy to build a left-handed 500/1; its symmetrical design meant only the control rout and fittings like the pickguard needed to be altered.
By '65, the entire Höfner line was distributed in the U.S. by Sorkin Music, based in New York. Far less expensive than the other Beatles instruments at $335, these sold well to many teenage bands. This makes '65 and later 500/1 basses fairly common, but with their top-mount pickup rings, bound necks, and other later features, they are not "Sullivan Show" spec – though likely few users at the time noticed or cared! Now, however, original 1962-'63 models are much more desirable, and Höfner has offered very accurate reissues.
McCartney still uses his '63 bass on just about every gig; it must be by this point the single most-filmed (and one of the most-heard) basses in history. Many other musicians have used a Beatle Bass (especially in the '60s), but only '70s reggae supersessioner Robbie Shakespeare made it his main squeeze. The quirks of the Höfner also make it alien to bassists accustomed to a Fender-style instrument; by comparison, the 500/1 is light and feels somewhat insubstantial. While the instrument's Beatles legacy has ensured its survival, many players have also enjoyed its unique feel and sound. Lennon once commented that the many fans, players, and songwriters who have obsessively studied the Beatles' sound over the years miss the point entirely; it was the band's originality and seemingly endless creativity that ensured its legacy.
As testament to that continuing influence, each instrument of that February '64 Sunday evening has been re-created with near-obsessive fidelity for modern fans and players to experience anew. Still, the thrill of playing an exact original version of the group's chosen instruments remains one of those bucket list moments for guitar fans of a certain age. Yeah, yeah, yeah, yeah!
---
This article originally appeared in VG March 2014 issue. All copyrights are by the author and Vintage Guitar magazine. Unauthorized replication or use is strictly prohibited.
---