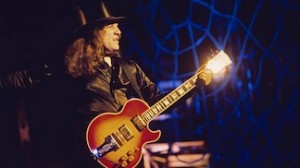 Guitar great Dick Wagner passed away July 30 after being hospitalized for respiratory failure. He had undergone a cardiac procedure two weeks prior. Wagner was 71.
Wagner emerged in the Michigan rock scene of the '60s, making a name for himself with his bands, the Bossmen and the Frosts, before becoming one of producer Bob Ezrin's main session guitarists, and one of the most sought-after session players around.
During his career, Wagner performed with and recorded tracks for numerous artists including Lou Reed, Meatloaf, Kiss, Aerosmith, Rod Stewart, Hall and Oates, and Peter Gabriel, among many others. On several occasions, he was brought in as a "secret weapon" and his session work was uncredited, as the artists did not want to reveal that other musicians had recorded tracks on their albums. A detailed discography is listed on Wagner's website.
Some of Wagner's best-known work is with Lou Reed (including the intro riff to "Sweet Jane") and Alice Cooper. After previous session work with Cooper on School's Out, Billion Dollar Babies, and Muscle of Love, Wagner went on to co-write and record tracks for Cooper's landmark 1975 release, Welcome to My Nightmare, including the mega hit "Only Women Bleed." It was a fruitful partnership.
"There was just a magic in the way we wrote together," Cooper wrote in a statement to The Detroit Free Press. "He was always able to find exactly the right chord to match perfectly with what I was doing. I think that we always think our friends will be around as long as we are, so to hear of Dick's passing comes as a sudden shock and an enormous loss for me, rock and roll, and to his family."
Wagner had first worked with guitarist Steve Hunter on Lou Reed's 1973 rock opera, Berlin. The duo then backed Reed on the subsequent tours, which were captured for Reed's Rock 'n' Roll Animal and Lou Reed Live.
Hunter wrote in a tweet, "Dick and I were lucky enough to play on some pretty cool records. The stuff we did together back in the '70s was truly magical."
Wagner suffered a heart attack in 2007 and spent several years recovering. He finally returned to the stage in 2011. The following year he released Not Only Women Bleed: Vignettes From the Heart of a Rock Musician, a memoir that contained stories from throughout his career. – Lisa Sharken