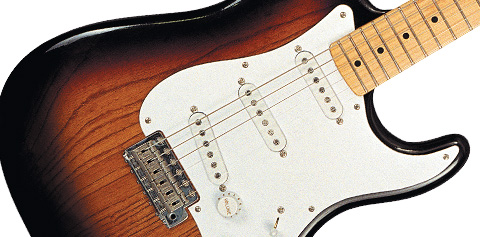 In celebration of the 50th "birthday" of its famous Stratocaster model, Fender has taken the reissue concept to new heights.
And why not? Arguably the most popular guitar – electric, acoustic, you name it – ever built, the Stratocaster is the epitome of a pop music legend, and a huge part of Fender's history and lore.
Fender's latest ode to its own, the Custom Shop 50th Anniversary 1954 Stratocaster, made its debut at the January '04 NAMM show, just four months after the idea was pitched by Mike Tonn, Marketing Manager for Electric Guitars and Basses at the company's Arizona headquarters.
"People have asked us over the years to make a '54 Strat," said Tonn. "Although we have made 'versions' of the '54 in the past, they were never vintage-correct due to the fact that the knobs, pickup covers, pickguard material, and switch tip were very different back then, and tooling can be costly. Unless we were thinking of adding a '54 Stratocaster to the American Vintage series, it just did not make sense. But, as we sat to discuss what we wanted to do to commemorate the 50th anniversary, we all knew it was time."
And at first, the idea met with a little resistance…
"I didn't really want to [have the Custom Shop take on the project], because we'd already done a '54 reissue," admits Mike Eldred, Custom Shop Marketing Manager. "But once Dan Smith told me they were having original parts duplicated, I thought 'Okay, we could make it cool. Let's see how far we can take it.'"
And take it they did. From a special form-fit case to larger-diameter pickup magnets, designers went to great lengths to ensure the kind of attention to detail that could be appreciated by even the most curmudgeonly of sticklers.
"We knew we could do it," Eldred said. "But the problem with a Fender from 1954 is if you laid out four of them in front of you, no two would be alike. There would be small variations. So we took one apart and based the 50th Anniversary model on it."
That one was #0100, belonging to Richard Smith, renowned Fender expert and author of Fender: The Sound Heard 'Round the World.
In sheer mechanical terms, the new reissue has a nitrocellulose-lacquered, two-piece ash body (in the Custom Shop's "Closet Classic" style in two-tone sunburst) with offset glue seam, one-piece U-shaped maple neck with 25.5″ scale and 7.25" radius, synchronized tremolo with "ash tray" bridge cover, nickel/chrome hardware, bone nut, documentation, and the form-fit case. The degree of finish aging depends on the finisher, but it'll typically have a few small dings, checked finish, oxidized hardware, and aged plastic parts.
"Mike [Tonn] even got his hands on an original strap and sent it to one of our suppliers to see if they could replicate it," Eldred noted.
Because the guitar is a Master Built model, each carries subtle differences determined by the individual builder. This lends each a unique element that in a way harkens back to the variations in the originals – perhaps a slightly different body contour or different blend on the neck, etc. But other parts are just like they were in '54.
"Jackplate holes, the tremolo cover plate with round holes, pickguard dies, and the fiber dies, all used the original templates," said Eldred. "We even hand-stamped the serial number on the trem cover plate. Roger Centeno, who was hired at Fender in 1964, did the cover plates himself."
They even made sure they had the correct typeface on the control knobs.
Dan Smith, V.P. of Fender's guitar R&D, also notes they were particularly diligent in regard to the plastic parts.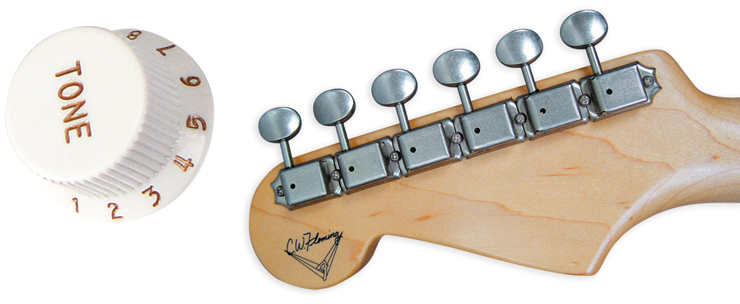 "One of the myths surrounding the first Stratocasters is that the plastic parts were made from Bakelite," he said. "Bakelite is a trade name for a synthetic resin made from formaldehyde and phenol, the end result being Phenolic. In its raw state, it's a translucent amber color and fillers like cotton linen and wood are added, along with coloring agents. Since it's amber in color, it does not lend itself to being used for anything white; darker ivory is as close as it can get. Plus, it cannot be injection-molded; it can only be cast or compression molded.
"So we procured original '54 Strat plastic parts and [had] them tested by the best laboratory in Southern California," he said.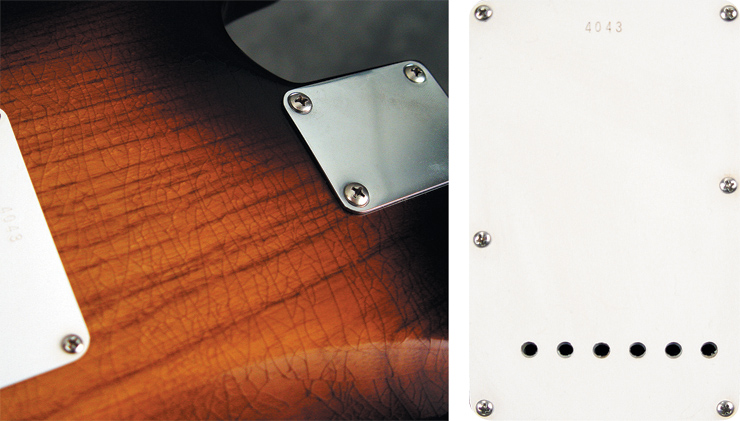 That means the 50th Anniversary Strat's knobs, pickup covers, switch cap, and tremolo cap are made of high-styrene ABS, and the pickguard is .070" PVC.
"The end result is a tribute reissue in which the case, strap, collateral materials and guitar have all been faithfully replicated for the first time ever," Tonn said.
Not surprisingly, the guitar has been quite popular. Though Fender won't divulge numbers, Eldred says orders have exceeded their expectations.
---
This article originally appeared in VG November 2004 issue. All copyrights are by the author and Vintage Guitar magazine. Unauthorized replication or use is strictly prohibited.
---