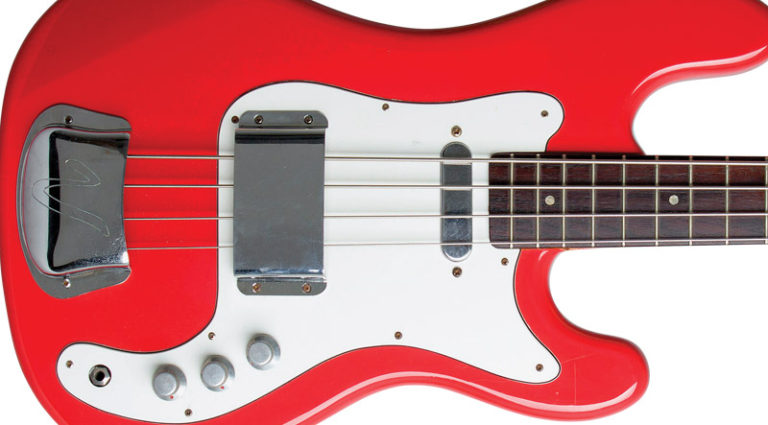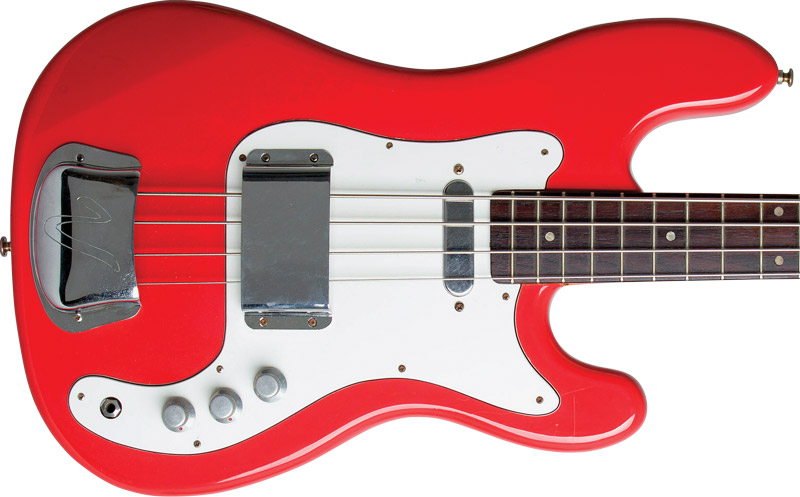 Despite the way collectors and dealers freely apply the term "lawsuit guitars," documented examples are few. One time it did happen was triggered by the Vox Symphonic Bass.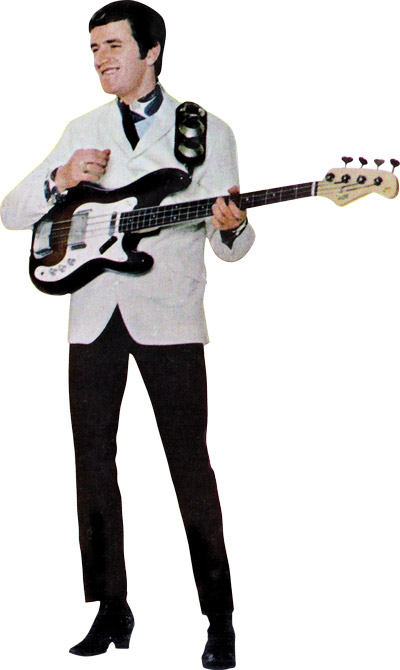 A report in the June '65 Musical Merchandise Review included the headline "Fender Files Infringement Suits" and detailed action in a federal district court with the defendant listed as the Thomas Organ Company, which for a year had been U.S. distributors of the Vox brand. The same issue (a NAMM convention special) partly illustrated why in a bound-in Thomas Organ ad/catalog trumpeting Vox as "The Million Dollar Sound – the sound of money." Besides Beatles-endorsed amps, Vox guitars were heavily featured, many looking like Bizarro World Fenders. "The top Beat Groups have made a lot of money with Vox," Thomas crassly announced to potential dealers. "So can you."
Fender could ignore this when JMI distribution was confined to the U.K., but not after SoCal-based Thomas Organ began aggressively promoting Vox in the U.S. With CBS' corporate money flowing, Don Randall announced, "No longer will Fender try to stop imitators by amicable negotiations."
There's little further evidence of how this progressed, but for the next few years it didn't keep Thomas from enjoying a windfall with Vox, though it did remove one instrument from the U.S. line.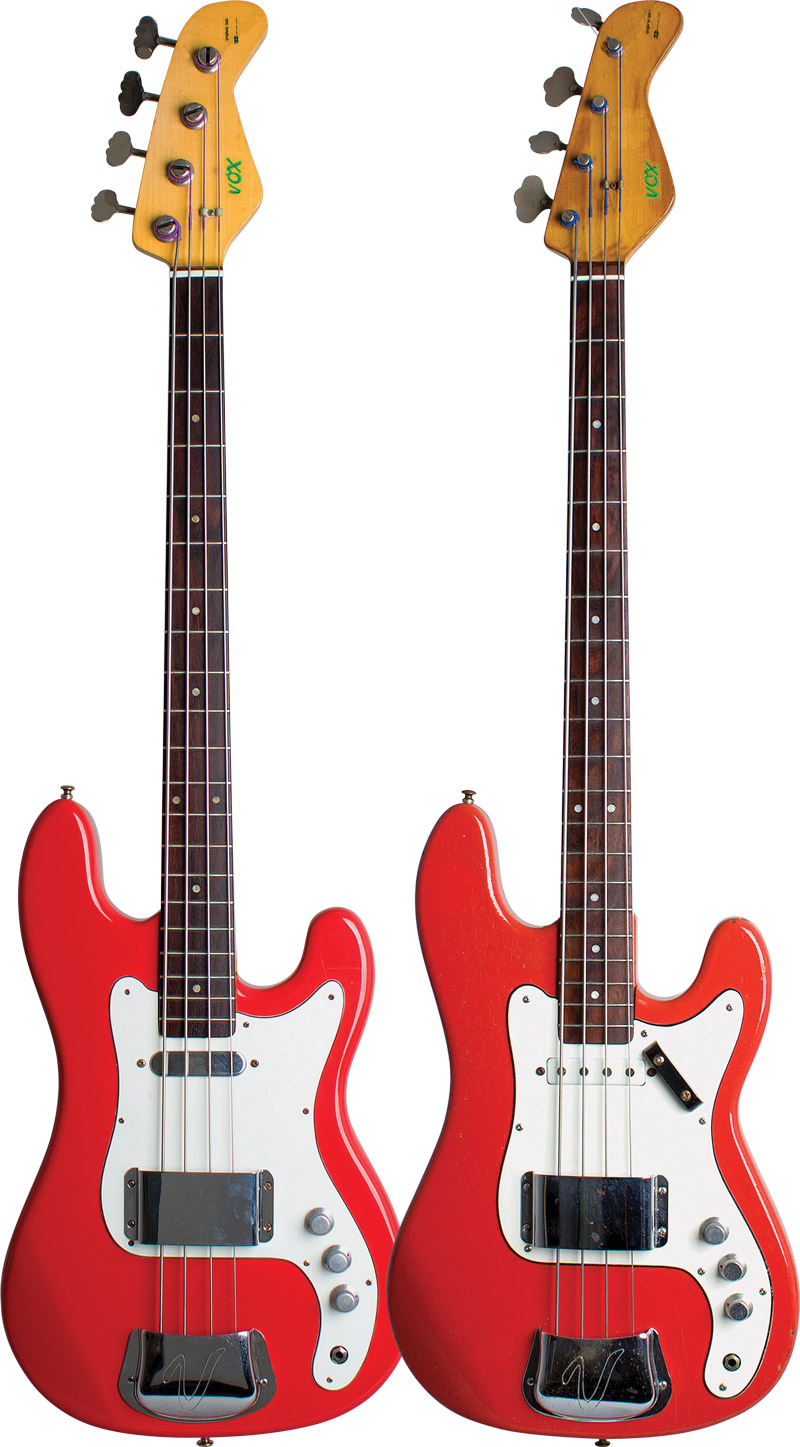 In that catalog, it was called the Stingray Bass; earlier literature used its original U.K. name – the Symphonic Bass – and even Fender dealers had to squint at the illustration to see the instrument wasn't one of theirs.
The Symphonic Bass first appeared in England in late '62 (shortly after the Phantom IV) as JMI/Vox's second "professional" four-string with a (very) Fender-like body and 34″ scale. Like the Soundcaster guitar, this curiously warped copy had an "almost but not quite" appearance, with subtle deviations from the Precision's lines. As Fender's U.K. distributor, JMI had plenty of opportunity to study them in detail; even the distinctive Phantom and Teardrop models had a structural design and hardware plainly derived from Leo's ideas.
The Symphonic has features from both the Precision Bass and Jazz Bass. The most-original piece of design is the two pickups – one middle position, the second near the fretboard. This gives the bass an arguably greater range of sound than the Jazz Bass, with its second pickup by the bridge. In the mid '60s (when basses were expected to be thumpier), this could be perceived as an advantage. Controls were two Volume knobs and a master Tone, like the Jazz.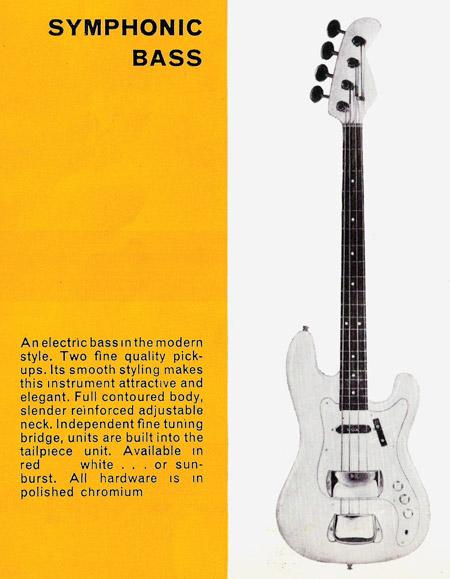 The Symphonic Bass kept its early V1 pickups until 1964/'65; a year earlier, the Phantom had been given improved V2 pickups with individual string magnets. The bass versions were adapted straight from JMI's guitar pickups (which were based on Strat pickups) with four larger magnet poles. They're similar to Fender's original '51 Precision pickup, though probably no one at JMI was aware of this. At any rate, they offer a more-powerful sound – bright and well-defined – and are less-microphonic than their predecessors. Their positioning yields an interesting range of tones.
The bolt-on neck is like a slab-board Fender down to the truss rod, though adjusting it requires some dismantling. The neck feels like a slightly slimmer P-Bass, with a just-narrower 111/16″ nut width that neatly splits the difference between the two Fenders.
JMI's Dartford factory did not fabricate all the parts of their guitars. Symphonic necks (and some bodies) from '63 on were primarily sourced from U.K. furniture maker G-Plan. JMI also sourced components elsewhere, but Symphonic parts were consistently from this subcontractor, signified by an ink-stamped "G" on the heels. The necks were made from domestic sycamore and given rosewood fretboards inlaid with pearloid dots. The bodies are usually a West African mahogany identified as agba.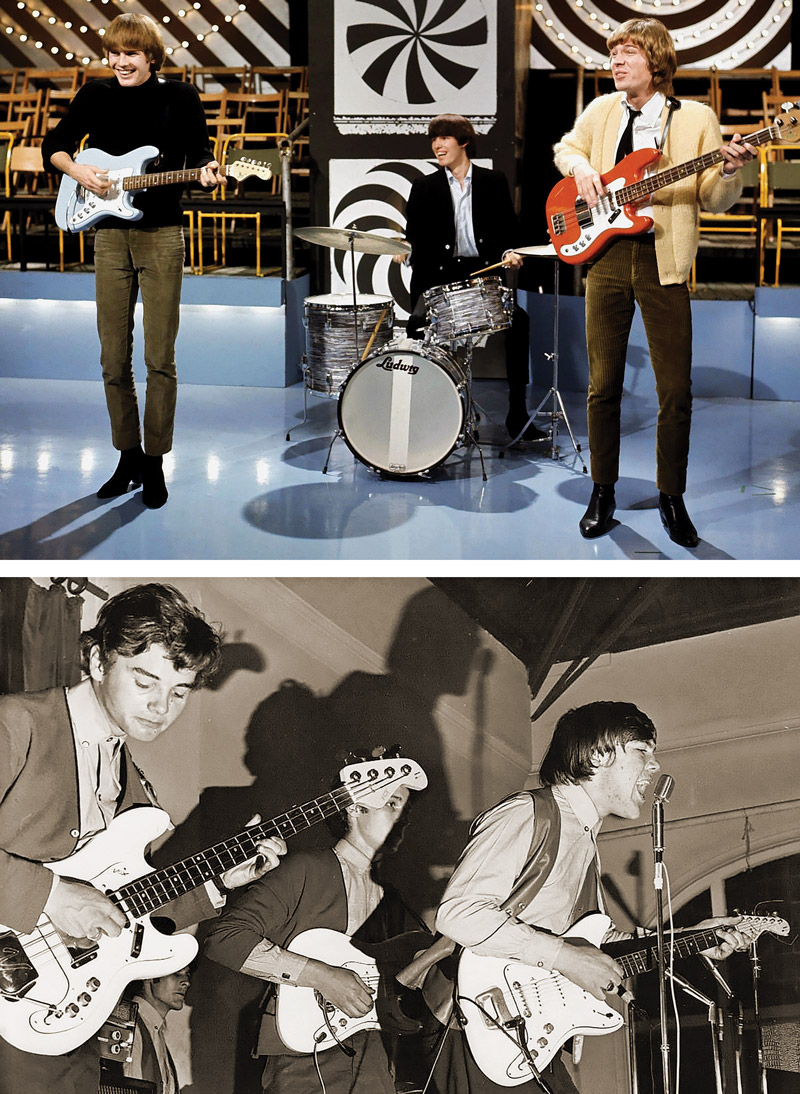 In different years, they show subtle changes in contouring and position of the neck joint; for some reason, the earliest models had the neck spaced an extra fret out from the body. In either case, the Fender-derived shape makes it the most comfortable of the long-scale Vox basses – the Phantom and teardrop-shaped Mark IV may have more visual appeal but those cutaways are there for a reason!
The bridge was a close copy of Leo's, down to individual threaded saddles; it and the center pickup sat under chrome plates modeled on the P-Bass. The bridge cover gained an embossed "V" logo in '64. The pickguard is three-layer plastic with a stunted Fender outline. Most had a "tug bar" below the strings, again in imitation of Fender.
The Symphonic's Fender-like headstock changed over time. Early ones are larger, with a noticeable curve to the upper edge to accommodate large-shaft bass tuners with slim butterfly keys. Sometime in '65, Vox added Kluson keys with smaller shafts that allowed the headstock to be a bit more compact and with a straight upper edge. In both cases the visual effect is still "Fender in a funhouse mirror."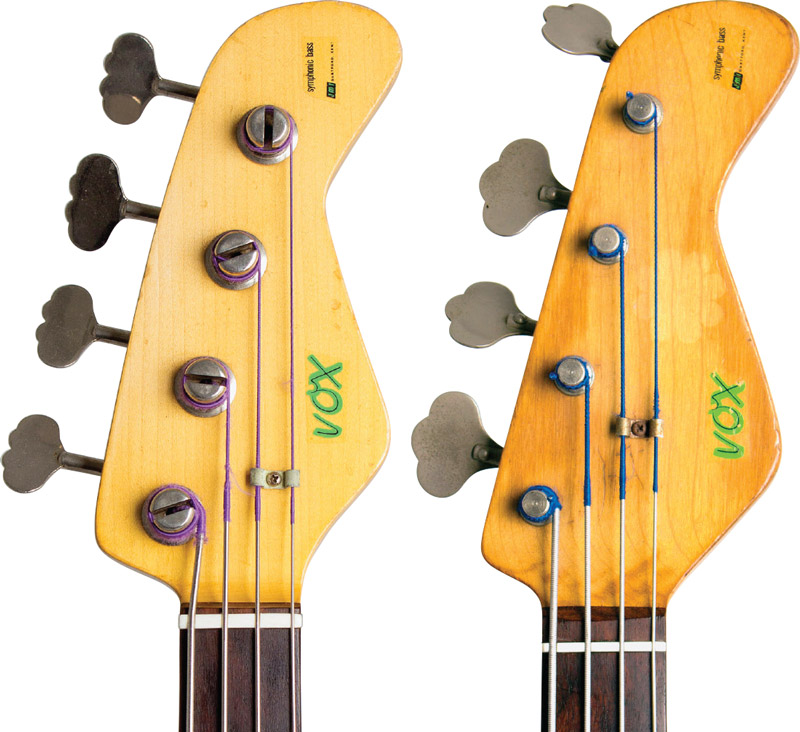 Priced slightly higher than a Phantom, at £ 94, it was much cheaper than a Fender – a red Precision would run you 135 Guineas in '64, a Jazz Bass a whopping 162. In the U.S. the reverse was true; shipping costs and import duties made Vox instruments comparatively expensive stateside.
In 1964-'65, JMI lost distribution rights for Fender products in the U.K. Various reasons are cited, including the reluctance of JMI to push sales of Fender amps and the similarities of many Vox guitars to Fenders. This did not stop them from cloning Fenders for the U.K. market; one of JMI's offerings for '66 was the New Escort, a blatant Telecaster rip-off.

U.K.-made instruments filled Thomas Organ/Vox catalogs in 1964. By the middle of '65, models sourced from Eko (in Italy) began to appear, replacing English instruments in Thomas' inventory (VG, January and February '14). After the Spitfire Bass was dropped, Thomas did not commission a similar Eko, leaving the Phantom IV and Mark IV the only full-scale U.S.-market Vox basses.
The Symphonic basses you see here were made about a year and a half apart. The one with chrome-covered V1 pickups has a neck dated May 1964, while the other is November '65. Both necks were made by G-plan, and neatly illustrate the headstock variations. The bodies sport JMI's version of Fender's Fiesta Red, in polyester finishes that have worn better than many Fenders from the period! This was the most popular color for the model, followed by Sunburst and White. The '64 never had a plastic finger rest, an eccentricity common on U.K.-made Vox instruments.
The Symphonic Bass wound up in the hands of few pro players. The Dave Clark 5's Rick Huxley had an early version, along with several Fender basses. He was spotted with his Symphonic through '68.
Even with its short catalog run, a few Symphonic/Stingrays did make it to the U.S. One popped up with one-hit wonders Bob Kuban & the In Men. For the most part, teen garage bands who were Thomas' most ardent Vox customers preferred the aggressive Phantom or Mark IV styling; if they wanted a Fender bass, it was easy enough to find a real one.
The Symphonic bass disappeared from Vox's U.S. line after mid '65, but remained in U.K. price lists into '67, likely as existing stock. The April '67 U.K. price was £95 17S – same as the Mark IV. Shortly after, JMI was reorganized and their U.K. guitar operation folded. By '69, leftover Vox guitars were being marketed by Dallas Arbiter. The Symphonic bass was listed as Arbiter Model 4537 at the bargain price of £69. These can have necks dated as far back as '65 but typically have no Vox decal or serial number, though the V on the tailpiece cover remains.
The Symphonic Bass' blatant copying of Fender was, in retrospect, a stylistic embarrassment for JMI. For the U.K. market, Jennings likely felt their less-expensive clone would woo players away from the real thing, but few were interested despite the instrument having many good points. And of course, today, original Vox designs are much more highly regarded.
---
This article originally appeared in VG's November 2022 issue. All copyrights are by the author and Vintage Guitar magazine. Unauthorized replication or use is strictly prohibited.