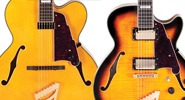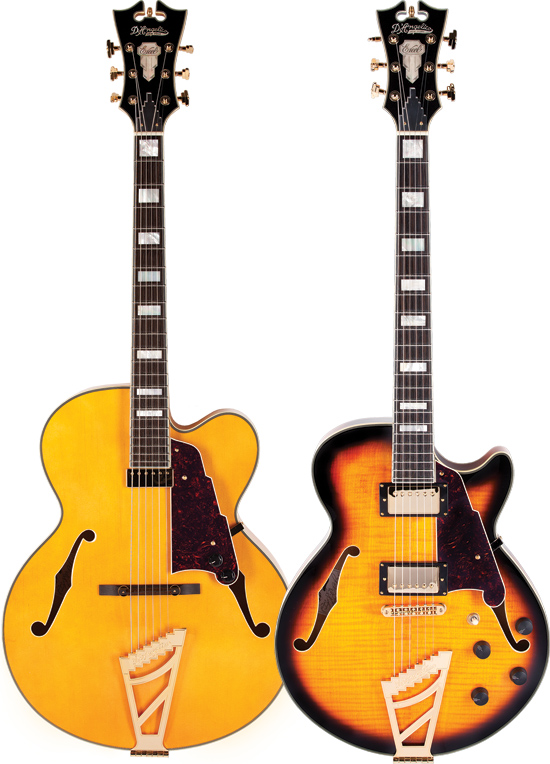 3rd Power Solo Dream/Switchback amps
Price: $1,859 list/$1,149 street (EXL-1); $1,999 list/$1,409 street (EX-SS)
Info: www.dangelicoguitars.com.
Images of John D'Angelico crafting masterpieces in his Little Italy shop haunt guitar enthusiasts to this day, implying an era of lost glory. Happily, D'Angelico guitars, long inaccessible to average guitarists, are being revived and reinterpreted in a manner that the master himself might have appreciated: exquisite art deco-inspired designs made affordable yet suitable for the spectrum of players.
The new five-guitar Standard Series resurrects classic D'Angelico features, down to the brass headstock ornament. Two guitars in the Standard Series, the single-cutaway EXL-1 and EX-SS, ought to satisfy most players' lust for D'Angelico. Stairstep tailpieces and pickguards, mother-of-pearl inlays, flamed maple, pediment headstocks, Grover Rotomatics with Imperial buttons, and multibound bodies – they're all here. Both test models featured a Vintage Sunburst poly finish morphing to black on the edges and at the maple/walnut headstock and neck heel. (Natural finish is also available.) Pickups are by Kent Armstrong, longtime go-to maker for jazz guitarists.
The EXL-1 is a 17″ archtop measuring a comfortable 3″ deep with a 25.5″ scale. Laminated spruce tops the soundboard's grand arch while highly flamed laminated maple decorates the back and sides. These timbers are affordable choices that also happen to be ideal for a warm, balanced electric response. Remember, John D'Angelico marketed the laminated G-7 model specifically for electric use. (The upscale D'Angelico Masterbuilt line offers solid timbers all around, at significantly higher cost.)
The EXL-1's bridge and fingerboard are rosewood, and the floating humbucking pickup is wired through tone and volume controls mounted closely together on the beveled tortoise pickguard. The quality of workmanship is preternaturally flawless, more so than even many classic-era models. But does the sound match the looks?
The designers have coaxed an impressive acoustic response from the laminate top, which features parallel braces. With a set of .012-.054″ nickel roundwounds, a stiff pick produced gratifying volume for acoustic chord and single-note work. The setup was easygoing enough for pianistic fingerstyle, particularly satisfying when amplified at a solo jazz guitar gig. Warm but defined, single-note lines were balanced up and down the fingerboard, though the discerning ear might desire some pole-piece tweaking.
The EX-SS has a similar jazzbox vibe, but with crucial differences. The lightweight body is 15″ wide and 1.25″ deep. The scale length is 25″, and the headstock, dressed up like the EXL-1, is proportionately smaller. The top is capped with flamed maple, and an interior U-shaped sustain block supports the tune-o-matic-type bridge. Two humbuckers are top-mounted, with a selector switch and stylish tone and volume controls for each. The EX-SS has all the rich detail of the EXL-1 in tailpiece, engraved pearl, tortoise pickguard – the works. And neither guitar feels neck heavy, despite the expansive headstocks.
The EX-SS was shipped artfully set up with .010-.046″ strings, including an unwound G. The light strings had flexibility without feeling floppy, thanks to the neck/headstock angle and the extra string length resulting from the ornate tailpiece. There was enough acoustic sound to make unamplified solo practice viable. Through a tube amp, however, fat jazz electric sounds were dialed in with the neck pickup, the rhythm was funkified with the pickups blended, and a good cutting lead was achieved from the bridge pickup. Clarity balanced with warmth. An Ibanez Tube Screamer thrown into the mix resulted in serious volume with satisfying, controllable feedback. Jazz, blues, rock, and fusion players would be at home digging into this distinctive axe.
The affordable D'Angelico EXL-1 and EX-SS offer great playability and aural response, along with enough bling to make any guitar aficionado's heart flutter. Plus, any guitarist taking to the bandstand with either model will likely earn a note of approbation from audience and bandmates… at least if his tux isn't too badly wrinkled.
---
This article originally appeared in VG December 2013 issue. All copyrights are by the author and Vintage Guitar magazine. Unauthorized replication or use is strictly prohibited.
---