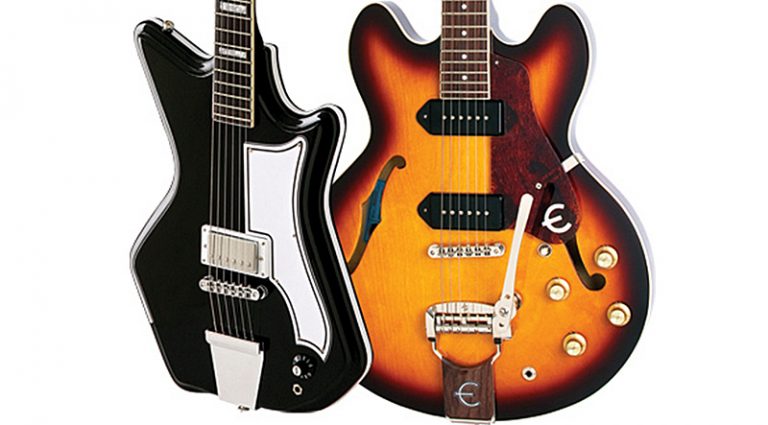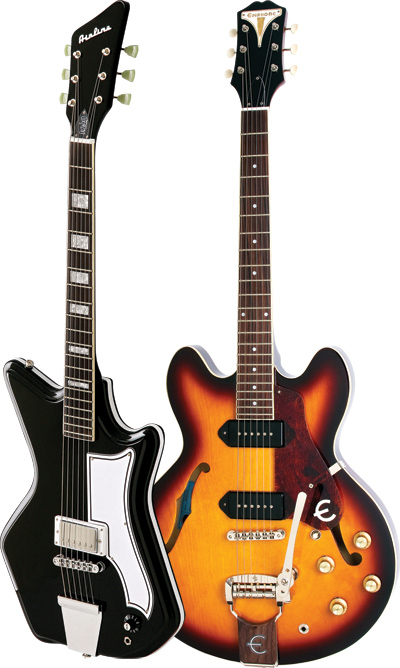 Fifteen years ago, you couldn't give away some of the less-popular guitars from the '60s, whether they were models with P-90s or cheapo imports from Japan and Germany. Today, however, they're in hot demand, which explains a surge of reissues among these once-neglected planks. As evidence, we'll look at the Airline '59 Custom 1P and Epiphone '61 Casino, both relics who've been given a new lease on life in the 21st century.
Kicking off with the Airline, this plank is made by Eastwood, a company whose numerous retro reissues have been scratching a big itch among guitarists lately. Originally built from 1958-68 by Valco, the Airline was a cheapie guitar made and sold through Montgomery Ward department stores (for you younger folks, this was sort of like a vintage Target store). The original Airline One Pickup model even had a single-coil pickup that was sneakily disguised as a humbucker. In recent years, the guitar has been made famous by Jack White of the White Stripes.
In true Eastwood style, they've updated the guitar, keeping the old-school looks, but putting modern firepower under the hood. Today's Airline '59 Custom 1P has a "vintage voiced" single-coil (again, in a humbucker housing – cool!), as well as one master volume. No tone knob, no switching – just one big-ass pickup. Coming in either fire-engine red or black, the 1P has a chambered mahogany body with a maple, bolt-on neck and rosewood fingerboard with ivoroid blocks and just 20 frets, which adds to its antique hipness. Its scale is a strat-o-riffic 25.5 inches, while hardware includes a Tone Pros locking bridge, simple tailpiece, and vintage-styled Wilkinson tuners. (Keep in mind Airline also makes the lower-priced 1P DLX that has a single humbucker and a less-ornate body.)
Cool quirks include white-rubber body binding, white headstock face, and white pickguard with a black border – no question, these frets were made for walkin'. It's also clever how Eastwood uses these decorative elements to give the guitar a certain cheapo-chic, yet really, it's a sturdy axe – just look at its solid, four-bolt neck joint for proof. Debits include a shallow slot on the low-E saddle (the string popped off the saddle more than a few times, indicating the slot needs better filing), and a fairly average neck of Asian manufacture. The guitar is certainly set up well, but its neck is like those on many other guitars coming out of that region – acceptable, but nothing out of the ordinary.
Plugged into a tube half-stack, the '59 Custom 1P roared, thanks to that single, feisty pickup. Cleans were big and punchy, while the guitar can handle all the gain you can load on. It may look "Summer in the City," but with enough crunch ladeled, it can certainly sound "Mississippi Queen," if you catch our drift. Granted a tone knob would increase its tonal vocabulary significantly, but if you want more flexibility, Eastwood makes two- and three-humbucker versions of the Airline, some with oodles of buttons and Bigsby tremolo setups. For sheer simplicity, however, the '59 Custom 1P will deliver the goods. It's a joyous rock and roll machine.
Next up is the Epiphone 50th Anniversary 1961 Casino Tremotone. Where the Airline is brash and snarly, this Casino evokes a stately baroque-pop vibe, notably since it was Lennon and Harrison's go-to axe, while other noted Casino-ists included Carl Wilson, Paul Weller, Gary Clark, Jr., and Noel Gallagher. However, the versatile guitar has also served many blues, jazz, and country players and ably so. Epiphone has upped its collectible factor by building exactly 1,961 guitars in the edition and including a reproduction '60s hardshell case.
Feature-wise, the '61 Casino has all sorts of goodies onboard, from a pair of dog-ear Gibson P-90 pickups to a Bigsby-like Tremotone vibrato. The guitar has a mahogany neck and rosewood fingerboard with 22 frets and dot inlays. The neck profile is called "Slim Taper," which is still fairly beefy, but it's a likeable and quick neck (it's not, however, a truly slim neck like that you'd find on various ES-335s). The scale is the typical Gibson 243/4″ and the nut width is 111/16″. There's nickel hardware, Wilkinson Vintage-style 14:1 ratio tuners, a Switchcraft 1/4″ jack, and that substantial Casino trem/tailpiece assembly (Epiphone also makes a non-trem version, if that's your taste). For visual appeal, the Casino has a nice antique-sunburst, body and neck binding, and an old-school Epiphone logo on the headstock. Yep, this guitar is a looker.
In the lap, the guitar – like most 335 shapes – is a little body-heavy, so a strap is recommended. We ran the guitar through a nice tube 2×12 rig and a 1×10 modeling combo and, not surprisingly, found a broad range of good sounds to play with. Unlike the "twang" of a Tele or the "quack" of a Strat, a semi-hollowbody with P-90s has a distinctly nasal, puckery tone. This gives it an innately funky vibe, good for all sorts of swampy chooglin' and classic R&B riffing. And while the Casino has that Fab Four connection, it's a killer blues guitar, with a more authentic sound than many of the humbucker-fitted guitars used in that genre. Better still, the Gibson P-90s used here are exceptionally quiet – crank the volume up and you'll be surprised how little hum there is.
We also dialed in a fat-and-jazz clean tone for that postwar/pre-PAF archtop sound. With the neck pickup on and the tone knob dialed back, this setting provided lots of rich goodness, though a set of flatwound strings would help even more. Add in a little dirt and you will find some rude tones for blues, New Orleans gumbo, '60s pop, and even some country pickin'. Pump up the gain more and there are a bevy of aggressive AC/DC-type sounds here.
With good looks, playability, tone, and oodles of vintage vibe, the '61 Casino 50th Anniversary and the Airline 1P are sweet retro guitars that most players will enjoy. With either axe, you'll have an electric rave-up, and happily so.
---
This article originally appeared in VG February 2012 issue. All copyrights are by the author and Vintage Guitar magazine. Unauthorized replication or use is strictly prohibited.