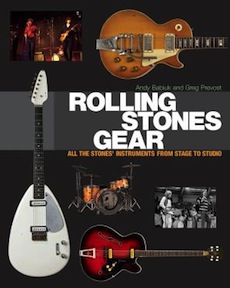 Andy Babiuk, author of Beatles Gear, recently finished a book that similarly documents the gear used by the Rolling Stones.
Slated for release in January, Rolling Stones Gear covers the group's personal background as well as every tour and studio session from their inception in 1962, with descriptions of instruments and equipment. It also documents every song recorded by the band, including demos and outtakes, with input from within the Stones' ranks as well as people involved with the band.
Babiuk, a VG contributor, was given extensive access to the Stones' equipment and compiled the history through the instruments. Nine years in the making, it is 672 pages includes hundreds of photographs and rare images, many never before published, including the  Stones' guitars and gear photographed for this book.