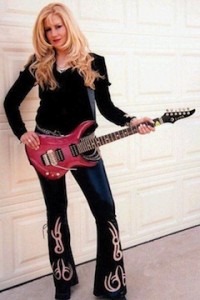 Janice Lynn "Jan" Kuehnemund, a rock guitarist and founder of the all-female '80s metal band Vixen, passed away October 10. She was 51 and was battling cancer.
A native of St. Paul, Minnesota, Kuehnemund and singer Janet Gardner formed the band while in high school and moved it to Los Angeles in 1981, where they recruited drummer Roxy Petrucci and bassist Share Pedersen. After being signed to EMI, they recorded a self-titeld debut album in '88 and scored two hits, "Cryin" and "Edge Of A Broken Heart," which  received heavy play on MTV and helped them earn opening spots on tours with Scorpions,  Ozzy Osbourne, and Bon Jovi. The band's second album, 1990's Rev It Up, yielded two more hit singles, "Love Is a Killer" and "How Much Love." Shortly after, the band was dropped by the label, and it broke up in 1991.
In 2001, Kuehnemund re-formed the band with Pat Holloway on bass. More recently, she performed using the Vixen name with new members, while Gardner, Petrucci and Pedersen formed JanetShareRoxyGina (JSRG) with Gina Stile.